---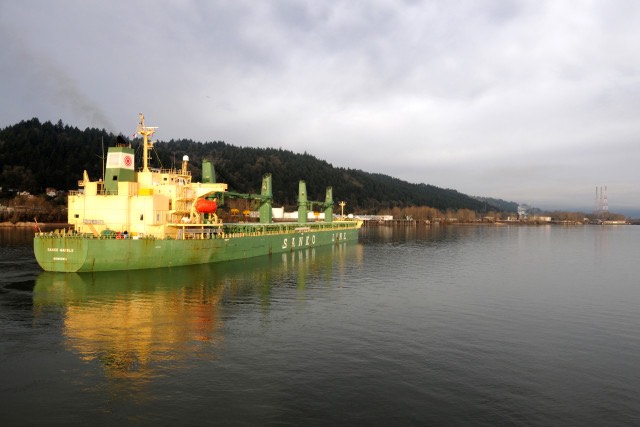 The Port of Portland is a huge operation, with three airports and more than 750 workers on Kate Davidson and Spencer Raymond. But as of the week of May 22, the port no longer provides one of the iconic services of a commercial marine port: container shipping.
That's because Westwood Shipping made its last Portland call over the weekend. South Korean-based Hanjin and German-based Hapag-Lloyd used to make up 95 percent of the port's container service. They pulled out last year amid big labor issues at the port.
"Frankly, that was really the spark that led to our current situation, which is that we have no container service in Portland," said Bill Wyatt, executive director of the Port of Portland. Wyatt says it will be at least a year until the port can recruit another container service.
So what is a port without container shipping? Wyatt talked with OPB's All Things Considered host Kate Davidson.
Q&A with Bill Wyatt
Kate Davidson: The port just lost its last container shipping service. What's the impact of that?
Bill Wyatt: In our container facility historically we might do 200,000 to 250,000 containers a year, so losing 170 a month [from Westwood] by itself is not significant. The bigger picture: not having container service is a significant challenge largely, though, for people who don't live in Portland.
KD: What kinds of businesses locally or elsewhere are affected by this loss of service? Can you describe them?
BW: They're primarily agricultural exporters, people who produce things like compressed hay for example, which is used for cattle feed in Japan and Asia. Peas, lentils, beans and onions and a variety of other agricultural products produced, some in the central Willamette Valley and some up the Columbia River.
KD: Is this the end of container shipping at the port?
BW: I don't this so. This is a very unusual time in the world of container shipping generally, irrespective of what's happening in Portland. The economics of container shipping are really bad right now. Just to give you an example, the cost of trucking a container to the port and then putting that container on a ship is actually greater than the freight rate on the ship between Portland and say, Tokyo. And that's a rate which I think probably caused Westwood to leave. They simply couldn't generate enough revenue.
The reason is old-fashioned supply and demand. The ocean carriers went out and purchased a huge volume of new, very, very large vessels. So there is way, way more capacity than there is demand for that capacity. Hence, freight rates have dropped significantly making the business very, very challenging.
KD: When many of us think of a commercial port like Portland, we picture container shipping, that kind of iconic image. But how big a percentage, actually, of the port's business is container shipping in good times?
BW: It's interesting. It's relatively small in the scheme of things. The Port of Portland, along with the other commercial ports on the Columbia River, have historically been bulk ports, or roll-on-roll-off, which is, in our case, automobiles.
We import several hundred thousand automobiles a year to our facilities in Portland. Some of those are distributed locally here in the Pacific Northwest, many of them get on a train and they go back to the Midwest. So Toyotas, Hondas, Hyundais.
We also export Ford automobiles manufactured in Michigan. We export wheat and soy beans and corn, and I would say that those are the commodities that really provide the bulk of shipping on the Columbia River. And that's why the port was really constructed in the first place: to handle those large, bulk agricultural cargoes.
---
Kate Davidson and Spencer Raymond
What's a Port Without Container Shipping? <-- Listen at original site.
Oregon Public Broadcasting, May 26, 2016
---
See what you can learn
learn more on topics covered in the film
see the video
read the script
learn the songs
discussion forum