---
A new spillway weir at Little Goose Dam means all the dams on the lower Snake River have been updated.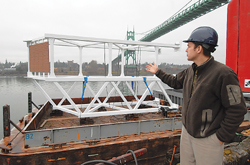 STARBUCK -- A big package from Portland at Little Goose Dam is destined to be the last step in a waterway to give salmon a smoother path down the river to the sea.
The object, a new spillway weir, will make the dam the final one on the lower Snake River to be equipped with technology to ease juvenile salmon and steelhead over spillways as they travel out to the Pacific Ocean.
Installation of the weir this week will mark a "milestone" in U.S. Army Corps of Engineers' projects to improve migration conditions for threatened and endangered fish species, said Project Manager Jack Sands.
"Once this weir is installed, surface passage facilities will be in place at all Corps dams on the lower Snake River," Sands said in a release.
Constructed in Portland by Advanced American Construction Inc., the $2.05 million structure will be fitted into one of the dam's existing spillway bays. The weir left Portland by barge Friday and arrived at the dam Sunday.
When assembled, the weir will be about 35 feet high, 50 feet wide and weigh about 147 tons. Despite the large dimensions, the structure is smaller and less expensive to build than the 1000-ton, one-piece removable spillway weirs now at the three other Snake River Dams, yet it still provides a similar benefit to fish.
Unlike the removable spillway weirs, the weir at Little Goose Dam does not have a pump-operated ballast system to lower the structure when increased flows are needed during flood events. Instead, the weir can be removed by the dam's gantry crane when increased spills are required. Similar structures have also been placed at McNary and John Day dams on the Columbia River.
Both types of weirs aid fish passage by raising the opening for water to pass and allowing juvenile fish to pass near the surface of the water rather than diving some 50 to 60 feet to pass through a spillway. The result is a less stressful, more surface-orientated passage for the fish.
The first removable spillway weir was installed at Lower Granite Dam in 2001. Another was placed at Ice Harbor Dam in 2005 and a third at Lower Monumental Dam in 2008. Testing at Lower Granite and Ice Harbor noted a range of survival rates between 95 and 100 percent, according to the Corps.
Advanced American was also awarded a separate $3.2 million contract to install deflectors at Little Goose Dam to help speed fish toward the river from the stilling basin below the spillway and help reduce dissolved gasses in the water created by spilling water.
"Once this weir is installed, surface passage facilities will be in place at all Corps dams on the lower Snake River."
(bluefish notes: Juvenile survival by spillway passage at Little Goose is already estimated at 100% survival. Other spillway weirs have been installed on the Lower Snake River dams but adult return data has yet to reveal any survival benefits. Surprisingly, no experiments were ever designed.)
---
Hi Scott,

From your email I couldn't tell if you had gotten our memo to you responding to your questions that we sent last September. If not, the link is below -

www.fpc.org/documents/memos/146-08.pdf

In the memo we noted that none of the studies we reviewed included an adult survival component Ð "While juvenile survival may have improved at this project, it is unknown if this specific operation has had an effect on survival to adulthood since no specific studies have been conducted." So you are correct that there is no adult return evidence.

I also have attached the final report from the 2007 studies that were conducted at Little Goose Dam in case you didn't already have it.

Let me know if this helps -

Margaret J. Filardo, Ph.D.
Fish Passage Center
1827 NE 44th Ave Suite 240
Portland, OR 97213

---
Jack Sands, Corps of Engineers project manager
Weir Completes Fish-passage Project on Snake
Walla Walla Union-Bulletin, February 17, 2009
---
See what you can learn
learn more on topics covered in the film
see the video
read the script
learn the songs
discussion forum