---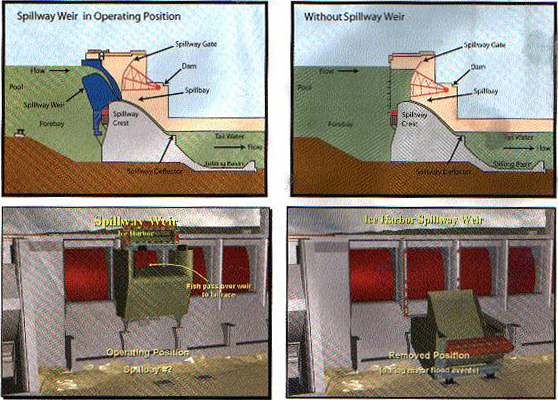 Workers scrambled on the newly arrived giant spillway weir at Ice Harbor Dam on Tuesday morning like it was a massive playground toy.
They were preparing to submerge the controversial 1.7-million-pound steel structure in front of the dam and anchor it in place.
The $20 million structure is designed to act like a large waterslide for tiny juvenile salmon and deliver them safely beyond the huge dam downriver to the ocean in the spring and summer, said Army Corps of Engineers officials.
Small fish usually swim near the surface of the water, and the weir attracts them by creating a swifter current that mimics a natural river, biologists say. Dam operators anticipate the weir can be used to help salmon survive while spilling less of the valuable water, which could be used instead for power generation.
Yet, the weir is controversial. Fish advocates say spilling large amounts of water over the dam still is needed to push fish downriver quickly. They contend the money spent on the weir at Ice Harbor would have been better used elsewhere.
The structure was built in Vancouver, Wash., and traveled up the Columbia and Snake rivers by barge. It arrived Sunday.
The weir must be installed by April before juvenile fish start passing over the dam, said Nola Conway, Corps spokeswoman. And getting it put in place is expected to be tricky.
Tuesday morning, Mike Waddell, a Spokane-based crane operator, stood on the dam and gazed at the weir while munching a snack cake.
"We're building America, and we are saving fish," he said.
Waddell, who's been working cranes for about 30 years, appeared ready to get started. He predicted the weir would be installed this week.
"This standing around today is pretty unusual," he said.
Waddell will be working a 45-ton hydro crane to lower cables and winches down into about 70 feet of water with the help of divers. Then, his crane will help maneuver the weir onto its prepared foundation.
"You have to be pretty precise," he said. "Everything moves pretty slow down there. If it (the weir) goes over too fast, it would take our cranes with it."
Mark Plummer, a Corps biologist at Ice Harbor Dam, said after the weir is placed, the structure will be tested to see if it is working properly and how many fish it aids.
"Hopefully, it will allow us to pass 70 percent of the fish with less water than it would allow us to spill that many fish without the weir," he said.
The intent is to protect fish and enable more to make it unharmed to the Pacific Ocean.
Fish that go over the weir will no longer have to travel to depths of about 50 feet to get through the dam's existing spillways or go through the dam's turbines, Plummer said. The weir also sends the fish in a fast-moving current on the downstream side so they continue on their way quickly, he said.
Some of the fish under the previous system would get confused when they swam through, getting churned in the heavy current and froth, Plummer said. And he said small fish that dawdle around the dam are more likely to be caught by a predator.
"The more juveniles we get down the river, the more adults we get back," Plummer said.
A similar weir was installed at Lower Granite Dam in 2001, and it has been proven to help fish passage, Conway said.
A third spillway weir is planned for Lower Monumental Dam in 2007.
Still, some fish advocates say weirs can't replace spilling more water over the dams during spring and summer when fish migrate downstream.
"It's not much more than popping a Band-Aid on a bleeding wound," said Glen Spain, Northwest regional director for the Pacific Coast Federation of Fishermen's Association. "I don't think that these techno-fixes are going to magically solve the problems. We've got a long way to go before these unproved technologies show their worth."
Spain said the weir might help juvenile salmon get downstream, but it shouldn't replace spilling more water.
"This will allow them to curtail spill," he said. "Unfortunately, it's often supported as an alternative, where it should be an add to what we are already doing."
Tom Lorz, a water engineer for the Columbia River Inter-Tribal Fish Commission, opposed placing the weir at Ice Harbor.
He said the Snake River dam already was seeing good fish survival -- about 90 percent -- with the Corps' spill program.
"It's going to be near impossible for the RSW (spillway weir) to get the amount of survival that we were getting last year with the spill program," he said.
And the weir might have been better used where there are more fish passing over a structure, he said. The majority of the fish are captured at dams upstream from Ice Harbor and transported by barge down the river to the ocean, he said.
"We just don't see much of a benefit," he said. "It seems like we should go to a place where we need more improvement."
---
Anna King, Herald staff writer
Giant Weir Aims to Help Small Fish
Tri-City Herald, February 23, 2005
---
See what you can learn
learn more on topics covered in the film
see the video
read the script
learn the songs
discussion forum