---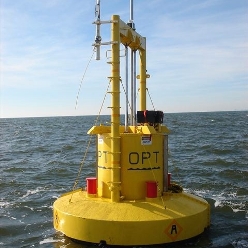 CHARLESTON - Commercial fishermen are accustomed to dealing with waves, but not the wave of tidal energy project proposals.
Several crabbers, salmon trollers and beach trawlers met Monday at the Charleston Marina RV Park recreation center to learn about what many viewed as the next threat to their livelihood.
"It kind of feels like a gold rush," Oregon Coastal Zone Management Association Executive Director Onno Husing, said.
Husing was one of the organizers of the meeting, designed as an informal get-together to learn about two potential wave-energy parks proposed for ocean areas off Coos County, one in the Reedsport area and others.
To date, seven projects are proposed for the Oregon Coast. Each would consist of buoys tethered to the ocean floor that ride ocean swells. Internally, each buoy would have elements that would harness a portion of the swells' energy, convert it to electricity and transmit it to shore. Some proposals call for up to 200 buoys in a single area, up to about 5 square miles. All must be approved by the Federal Energy Regulatory Commission.
Rumors abound about other projects proposed but that haven't been officially filed with FERC.
The bottom line, Husing started to say, phrasing it more as a question, is that one or two areas may be OK.
No, Charleston salmon troller Paul Merz said, interrupting Husing. Those ocean areas already have an existing use, from border to border, he added.
"They should be coming to us," Merz continued, noting that the companies or organizations moving ahead with the wave energy parks should be talking to existing users of the ocean: commercial fishermen, recreational fishermen, commercial shippers.
Commercial Dungeness crabbers could see the most change in their fishing patterns. The placement of the buoy arrays matches prime crab ground: depths of between 20 and 40 fathoms on expanses of sandy ocean bottom.
Salmon trollers also traverse the areas while seeking Chinook and beach trawlers find sources of some flatfish.
Salmon and crab fisherman Tim Smith, who fishes the Irish Miss out of Winchester Bay, picked up on the gold rush idea.
"They're claim jumping," Smith said. "They're taking that (area) away."
Projects already under way
Wave energy companies most often go through a two-step process to get approval from FERC (see sidebar), but not always. They can skip applying for a preliminary permit and simply apply for a license - as Finavera Renewables did when it applied for a project in Washington.
FERC already has approved three preliminary permits, giving three entities approval to test sites for the feasibility of operating more than one or two buoys at a site (see sidebar). Only one license is pending approval.
Ocean Power Technologies, with U.S. offices in New Jersey, plans to have the first buoy in the water off Reedsport this summer.
Some of the companies applying for permits to operate wave energy parks in the U.S. are foreign-owned, with offices in North America. Several companies already have demonstrated the value of tidal energy technology in Europe. Finavera Renewables, for example, is an Irish firm but has offices in Canada and the U.S. It has applied for a permit to study the feasibility of a park near Bandon.
Fishermen weren't happy about the overseas component of wave energy. If the companies get subsidized to build here, where do the profits go, several asked - do they stay in the United States or go overseas?
Furthermore, they said, the issue of fishing grounds is the main issue, and the state and federal involvement in accepting energy parks that could displace the fleet.
For instance, "crabbers," Smith said. "(They're) going to push us aside for foreign money?"
Charleston fisherman Daryl Bogardus questioned the economic importance of the parks, too.
"I don't think the wave-generation buoys would generate as much (money) as crab fishing," Bogardus said.
Most fishermen agreed that somehow, some way, they should be compensated for the loss of fishing grounds and that indeed, the fleet needs to be an integral part of the process.
Already, crabbers in the Reedsport and Winchester Bay areas have been included in ongoing talks with Ocean Power Technologies about the park impacts there.
Husing proposed establishing a statewide committee with representatives from the fishing fleet in each port to stay up-to-date on wave energy developments.
It also needs to be pro-active, he said, by obtaining legal advice, finding experts on FERC processes, doing socioeconomic studies, working with the state's Congressional delegation and working with other state and federal agencies.
"As a group, as an industry, we need to assert ourselves that there already is a use here," Merz agreed.
---
Susan Chambers
Wave Energy Worries Fishermen
The World, March 12, 2007
---
See what you can learn
learn more on topics covered in the film
see the video
read the script
learn the songs
discussion forum