---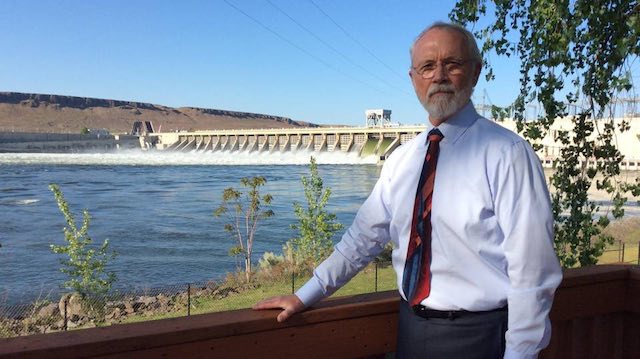 UMATILLA, OR -- As the court-ordered increased spill of water started over McNary Dam, electricity production dropped from two-thirds down to a quarter of capacity.
The 1,000 megawatt plant was producing just 275 megawatts of electricity, according to Army Corps of Engineer officials who met with Rep. Dan Newhouse, R-Wash., in late April.
"There was enough water to produce the full 1,000 megawatts," said Lt. Col. Damon Delarosa, commander of the Corps Walla Walla District.
But because of a U.S. District Court order, more water is required to be spilled over the dam, preventing it from being used for generating electricity each spring starting this year.
The Bonneville Power Administration argued in U.S. District Court that in a typical spring, the lost generation would increase Northwest power bills by $40 million.
What Newhouse heard in his Washington, D.C., office as the increased spill started was concerning enough to bring him to McNary Dam to get a first-hand look at conditions last week.
Since the start of the increased spill -- April 3 on the Corps' four Lower Snake River dams and April 10 on its four lower Columbia River dams -- more snow is melting in the mountains and more water is rushing down the rivers.
By the end of last week, 12 of 14 turbines were being used to produce electricity at the five hydroelectric dams in the Corps Walla Walla District, which include the four Snake River dams and McNary.
Typically all 14 would be in use in the spring, said Chad Rhynard, chief of technical support in the district's operations division, although power generation can vary for many reasons, including demand for power and river navigation requirements.
"I see wasted water," Newhouse said as he watched water spill over the McNary Dam. "There are some things we are already experiencing -- the lost power generation, lost dollars, lost economic benefit."
BPA doesn't yet know the total spill cost to the region, it said Friday.
It's too soon to predict how soon the spring river levels will taper. Some increased spill will go on until June 20.
The increased spill was ordered by U.S. Judge Michael Simon out of concern that not enough is being done to protect endangered fish in the operating plan for the Columbia and Snake hydroelectric dams.
More water over the dams is intended to help young salmon migrating to the ocean.
He's also ordered an environmental study of dam operations, which will consider the benefits and drawbacks of tearing down the four lower Snake River dams, from Ice Harbor Dam near Burbank upriver to Lower Granite Dam.
Newhouse was not happy about what he heard about juvenile fish coming down the Snake River.
Delarosa told him that some of the fish checked after passing just the first hydroelectric dam on the river with increased spill, Lower Granite, showed some gas bubble damage.
"If we are seeing damage after one dam, what is after seven (more) dams?" Delarosa said.
More water spilled over the dams means more gases in the water -- including oxygen, carbon dioxide and nitrogen. Young fish can suffer fatal symptoms form the gas, similar to when human divers get the "bends."
Newhouse championed legislation that passed the U.S. House last month to keep the status quo on Columbia and Snake river dams at least until 2022, including reversing the increased spill order.
It has yet to be considered in U.S. Senate, where Sen. Patty Murray, D-Wash., said in a letter to Senate leadership that the bill would circumvent the judicial branch and ignore bedrock environmental laws.
But Newhouse said what he saw last week at McNary Dam confirmed his opposition to the increased spill order.
The current operating plan for the dams was created in 2014 through a collaboration of federal agencies, states and eight tribes to protect salmon while operating the hydropower dams.
Related Sites:
Newhouse Secures Support from Energy Secretary to Jointly Safeguard Snake River Dams by Staff, KNDO/KNDU, 3/15/18
40 Million Reasons to Save Our Dams by Dan Newhouse, Quad City Herald, 3/8/18

---
Annette Cary
Your Money's Being Wasted, Congressman Says as He Visits Mid-Columbia Dams
Tri-City Herald, May 6, 2018
---
See what you can learn
learn more on topics covered in the film
see the video
read the script
learn the songs
discussion forum