---
Some Environmentalists Are Disappointed, but Western Republicans
and Natural Resource Groups Are Surprised - in a Good Way.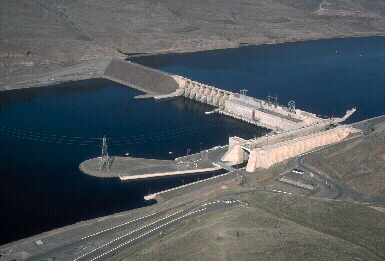 Protesters in Idaho and all around the country suggest President Barack Obama is waging war on capitalism, gun ownership and even small-town values.
But no one is accusing him of assaulting the traditional resource values of the American West -- not even the Idaho Cattle Association, which was ready for the fight after Obama was elected last November.
The group quickly expressed fears Obama would follow the lead of Bill Clinton and seek new restrictions on public lands grazing and more.
But when Obama appointed rancher and former Colorado Sen. Ken Salazar to head the Department of Interior, Idaho Cattle Association Executive Vice President Tom McDonnell was "pleasantly surprised."
In fact, in the most high-profile Western decisions so far -- on wolves and salmon -- the Obama administration followed the lead of Republican George W. Bush.
Defenders of Wildlife president Rodger Schlickeisen was disappointed when the Democrats decided to move forward with removing federal Endangered Species Act protection for wolves in the Rocky Mountains.
"We all expected more from the Obama administration," Schlickeisen said.
Environmentalists reacted the same way last week, when the administration announced it backed Bush's plan to manage salmon and dams on the Columbia and Snake rivers with only minor modifications -- with dam breaching remaining a remote and last-chance option.
"Although the Bush administration is gone, unfortunately it looks like its policies will live on for Columbia-Snake salmon," said Bill Arthur, deputy national field director for the Sierra Club.
It was a stark difference from the start of the past two Democratic administrations.
Jimmy Carter attempted to kill Western water projects in his first year. Clinton sought sweeping grazing and mining reform.
But nine months into his first year, Obama has avoided the anger often generated by Democrats on Western land and wildlife policies.
"The Obama people have learned from Clinton's first 90 days," said Idaho Democratic U.S. Rep. Walt Minnick.
DEFERRING TO THE WEST ON SOME ISSUES
When Department of Agriculture Secretary Tom Vilsack reinstated the Clinton roadless rule for national forests, he did not challenge Idaho's separate rule, negotiated by then-Gov. and now Idaho Republican U.S. Sen. Jim Risch.
"First of all it was the right thing to do, and it was a good plan," Risch said. "What they did was they sided with the largest group with the widest spectrum of views."
Idaho GOP Chairman Norm Semanko -- who also serves as executive director of the Idaho Water Coalition -- has had nice things to say from the perspective of the group that has fought in court to preserve Idaho's water in the salmon debate.
Semanko and Republican state Rep. Del Raybould met with undersecretary of commerce Jane Luchenco as the administration was formulating its latest salmon decision.
Semanko said he'd save his political commentary for later, but he expressed satisfaction with the administration's pragmatism on salmon.
"The Obama administration appears to be sticking to state water rights and the willing-seller, willing-buyer policy," Semanko said. "We're glad to see that carried through."
Republican Idaho Sen. Mike Crapo was less willing to give a nod to the new administration.
"Overall, the credit primarily should be given to the folks in the West who have been working on these issues," he said.
But the Cattle Association's McDonnell, Risch and Crapo all praised Salazar as a critical player in Obama's initial success in Western environmental policies.
"He grew up with guns and cattle and neighbors in southern Colorado," Minnick said.
A NEW KIND OF CONSERVATION
Salazar and Obama have delivered for environmentalists as well, said Tom Kenworthy, senior fellow in Denver with the liberal think tank the Center for American Progress.
Salazar revoked a rule many said would weaken the Endangered Species Act (that had been promulgated by Bush's Interior Secretary and former Idaho Sen. and Gov. Dirk Kempthorne). He stopped oil and gas leases near parks in Utah and put in place a new climate-change initiative for the department. Obama has put climate change near the top of his agenda.
"He's taking a far more balanced approach than the Bush administration did," Kenworthy said.
The decisions are strategic, said John Freemuth, senior fellow at the Andrus Center for Public Policy and a Boise State political scientist. Obama may not see issues like wolves, Northwest salmon and roadless forests as being as important as his climate change and alternative energy programs, Freemuth said.
In fact, the administration may be on the cusp of a new way of thinking that views all environmental issues through the lenses of climate change, Freemuth suggested.
"This may be a new version of the conservation movement," he said.
Minnick thinks Western Democrats are playing a role, too.
Salazar is joined by Secretary of Commerce Gary Locke, a former governor of Washington, in Obama's Cabinet. The national party values Western Democrats from Montana Gov. Brian Schweitzer to Sens. Harry Reid of Nevada and Maria Cantwell and Patty Murray of Washington.
Even Obama's deputy chief of staff, Boise High graduate Jim Messina, has helped steer Obama away from potential pitfalls, Minnick said.
"They have channels that lead closer to the ground, and they listen," Minnick said.
---
Rocky Barker
Obama Avoids a 'War on the West'
Idaho Statesman, September 20, 2009
---
See what you can learn
learn more on topics covered in the film
see the video
read the script
learn the songs
discussion forum