the film
forum
library
tutorial
contact

Columbia River Harvest: US v. Oregon EIS Completed,
Preferred Alternative Extends Current Agreement

by Staff
Columbia Basin Bulletin, December 1, 2017
---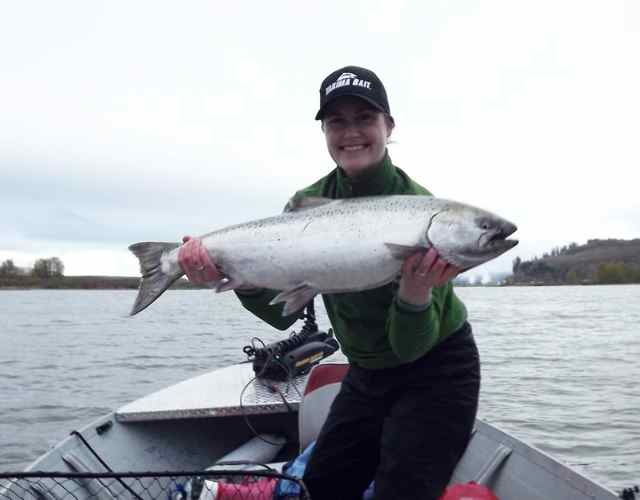 NOAA Fisheries completed an environmental review of potential options that will guide the final agreement for managing salmon and steelhead fisheries in the Columbia River Basin for the next ten years.
Parties to the US v Oregon agreement, which was entered as a court order in 2008 and is set to expire at the end of this year, are near a new negotiated agreement that will take effect when the existing 10-year agreement expires. The agreement guides Columbia River basin salmon and steelhead harvest.
The next US v Oregon agreement will also be for ten years, expiring December 31, 2027.
US v Oregon is the on-going federal court proceeding that enforces and implements the treaty-reserved fishing rights of the Nez Perce, Umatilla, Warm Springs, Yakama, and Shoshone-Bannock tribes, the draft EIS says.
The new agreement will include a list of hatchery programs with stipulated production levels, and a list of tribal and non-tribal salmon and steelhead fisheries in the basin, including designated off-channel sites for commercial uses, which are intended to both ensure fair sharing of harvestable fish between tribal and non-tribal fisheries in accordance with treaty fishing rights standards and U.S. v. Oregon, and be responsive to the needs of species listed under the federal Endangered Species Act. Thirteen species of salmon and steelhead in the Columbia/Snake river basin are listed under the Endangered Species Act.
Of the six alternatives or pathways to meeting harvest goals evaluated in the Final Environmental Impact Statement of the program, Alternative 1 -- an extension of the current U.S. v Oregon agreement -- is the FEIS's preferred alternative.
"We believe that the most appropriate balance between harvest and conservation objectives, accounting for the status of the affected stocks and nature of available information, would require a blend of harvest policies including use of abundance-based management, escapement-based management, and harvest rate management," said NOAA spokesperson Michael Milstein. "This blend of harvest policies is best represented in Alternative 1."
The U.S. v Oregon agreement will include a hatchery production component, NOAA says, but a NEPA analysis of Mitchell Act hatchery production within the action area already has been completed in a separate EIS. That EIS will be incorporated by reference into this EIS. Consequently, the Proposed Action in this EIS analysis focuses on harvest.
The federal BiOp on Mitchell Act hatcheries is posted at: www.westcoast.fisheries.noaa.gov/publications/hatchery/mitchell-act/mitchell-act_opinion_011517.pdf
Additionally, construction of new hatchery facilities to mitigate impacts to fisheries from The Dalles Dam and John Day Dam hydropower operations is being analyzed by the U.S. Army Corps of Engineers in a separate analysis. Like the Mitchell Act hatchery analysis, that too will be incorporated by reference into this analysis. That work is not yet done.
Of the six pathways evaluated by the FEIS, Alternative 1 -- the preferred option -- simply extends the current agreement out for another 10 years. It would use a blend of harvest policies, including abundance-based management, escapement-based management and harvest rate management, depending on the specific salmon or steelhead stock. This alternative recognizes that stocks vary in their conservation requirements, with some providing abundant opportunity for harvest and others requiring more protection from harvest encounters.
The other five options are:
Alternative 2 uses abundance-based management. It establishes harvest levels based on the status of the fish stocks. It provides more protection when the abundance of a given stock is low and the conservation need greatest, and more harvest opportunity when abundance is high.

Alternative 3 uses a fixed harvest rate management framework that would apply a fixed harvest rate to each fishery regardless of abundance. Harvest rate is the ratio of fishery related mortality for a group of fish over its abundance in a defined period of time.

Alternative 4 uses an escapement-based management framework. Escapement refers to the number of fish surviving a given fishery at the end of the fishing season and reaching a specified location where the fish can be enumerated. In cases where the projected run size is below the escapement goal, escapement goal harvest policies are sometimes coupled with a de minimis level of harvest opportunity to meet minimal needs for tribal fisheries and limited access to other harvestable stocks.

Alternative 5 uses voluntary fishery curtailment. Under this alternative, the sovereign parties voluntarily curtail harvest activities for an extended period of time. It may include some very limited treaty fishing opportunity to meet base ceremonial needs of the tribes. The parties may adopt a voluntary extreme harvest curtailment policy when the continued viability of the stocks is at imminent risk. This alternative does not meet the purpose and need for the action insofar as it does not provide for meaningful tribal harvest as guaranteed by treaty and it provides no opportunity for non-treaty harvest. This alternative provides the benchmark required by NEPA in that it represents the alternative with the lowest fishing harvest.

Alternative 6 is a no action alternative with uncoordinated harvest. Under this alternative, the existing agreement would expire without a new agreement. While it is uncertain what would transpire under this situation, NOAA Fisheries anticipates that the state and tribal parties would implement harvest independently according to their own uncoordinated interpretations.
Milstein said the parties are now completing a final review of the 2018 -- 2027 U.S. v Oregon agreement and the ROD and final biological opinion (which includes the Incidental Take Statement) should be done about the first of the year.

The FEIS was developed jointly by NOAA Fisheries, the U.S. Fish and Wildlife Service and the Bureau of Indian Affairs.

The FEIS is available at the NOAA Fisheries website. The draft EIS and other documents are also at the NOAA Fisheries website

Related Sites:
Feds Release Draft EIS For Guiding Columbia River Basin Harvest Actions 2018-2027 by Staff, Columbia Basin Bulletin, 6/23/17
New Federal Requirements Changes Columbia River Steelhead Production In Washington Hatcheries by Staff, Columbia Basin Bulletin, 5/12/17
NOAA Completes BiOp For Mitchell Act Hatcheries, Proposes Reduction In Fall Chinook Releases by Staff, Columbia Basin Bulletin, 1/19/17


Related Pages:
NOAA Releases Proposed Changes to Columbia Basin Mitchell Act Hatchery Programs by Staff, Columbia Basin Bulletin, 12/16/16
Federal Agencies to Prepare EIS to Help Guide Columbia River Salmon/Steelhead Harvest Post-2017 by Staff, Columbia Basin Bulletin, 7/15/16

---
Staff
Columbia River Harvest: US v. Oregon EIS Completed, Preferred Alternative Extends Current Agreement
Columbia Basin Bulletin, December 1, 2017
---
See what you can learn
learn more on topics covered in the film
see the video
read the script
learn the songs
discussion forum