---
Secretary of Agriculture Sonny Perdue announced three new programs Tuesday to assist farmers
and ranchers affected by the Trump administration's trade war with China and other partners.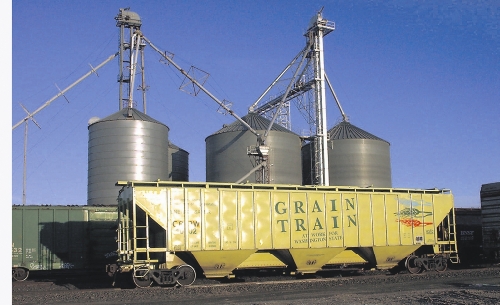 When U.S. Secretary of Agriculture Sonny Perdue visited farmers in Oregon, Washington and Idaho earlier this month, he promised the Trump administration was working on a plan to compensate growers hurt by ongoing trade disputes, namely with China.
That emergency relief is now coming into focus.
On Tuesday, Perdue announced $12 billion for three new USDA programs during a conference call with reporters. The aid will include direct payments to farmers and ranchers, government purchases of some surplus commodities and helping to develop new export markets overseas.
Perdue said the programs are a short-term solution giving President Trump time to work out long-term trade deals in the future.
"It's clear to everyone that President Trump has gotten China's attention like never before," Perdue said.
Trump recently placed tariffs on $34 billion in Chinese goods, which prompted retaliatory tariffs on U.S. agricultural products -- everything from soybeans to fresh fruit and meat.
In response, the president has threatened to place additional tariffs on up to $500 billion in products imported from China. He reiterated his willingness to ratchet up the trade war in a Tweet, stating, "Tariffs are the greatest! Either a country which has treated the United States unfairly on Trade negotiates a fair deal, or it gets hit with Tariffs. It's as simple as that - and everybody's talking! Remember, we are the 'piggy bank' that's being robbed. All will be Great!"
Perdue faced questions about trade from Northwest farmers and ranchers during a tour of the region July 2-4, and he said the USDA was looking into "some sort of compensatory mitigation strategy." The result is three programs the agency will administer to help producers meet the cost of disrupted trade markets.
The first, named the Market Facilitation Program, will receive the bulk of the funding and provide direct payments for soybeans, corn, wheat, cotton, sorghum, dairy and pork producers.
The second is the Food Purchase and Distribution Program, which will buy surplus fruit, nuts, beef, pork and milk to distribute to U.S. food banks and nutrition programs. Finally, the Trade Promotion Program will assist in developing new export markets on behalf of growers.
All programs are supported under the Commodity Credit Corporation, and the package does not require Congressional approval.
Greg Ibach, undersecretary for marketing and regulatory programs, said the programs should reassure farmers that the administration has their support until new trade deals can be put in place.
"We're hoping that other countries will see that we're serious now about trade negotiations," Ibach said.
Rules for the programs have not been fully developed, and an exact date for rollout has not been determined, though Ibach said officials are targeting Labor Day.
Brad Karmen, USDA assistant deputy administrator for farm programs, said payments under the Market Facilitation Program will be determined using a formula that considers actual production and estimated revenue loss.
While wheat harvest is underway, Karmen said corn and soybeans won't be harvested until later in the fall.
"We need producers to harvest to know their production before we can calculate a payment," he said.
Farm groups reacted to the news Tuesday with a mix of gratitude and trepidation.
Zippy Duvall, president of the American Farm Bureau Federation, said the $12 billion package provides a welcome measure of temporary relief, but added they cannot overstate the dire consequences that farmers and ranchers are facing with lost export markets.
"Our emphasis continues to be on trade and restoring markets, and we will continue to push for a swift and sure end to the trade war and the tariffs impacting American agriculture," Duvall said.
Jim Mulhern, president and CEO of the National Milk Producers Federation, echoed appreciation for the aid, estimating tariffs will cost U.S. dairy farmers $1.8 billion just through the remainder of this year,
"We appreciate the president following through on his pledge that America's farmers won't bear the brunt of the economic losses generated by the current trade conflicts," Mulhern said.
Chuck Connor, president and CEO of the National Council of Farmer Cooperatives, said they look forward to working with Perdue and the USDA over the next month on details for the three programs, which will help farmers weather the trade war in the short term.
The U.S. Wheat Associates and National Association of Wheat Growers issued a statement saying that while they appreciate the president's effort to push back against China's unfair trade practices, tariffs are ultimately not the answer. The groups urged the Trump administration to "recognize this self-inflicted damage and end the trade war immediately."
Others criticized the $12 billion relief package, saying the money is essentially a taxpayer-funded bailout for farmers.
"The political reality is USDA is going to simply cut checks and send them to farmers," said Josh Sewell, senior policy analyst with Taxpayers for Common Sense, a nonpartisan federal budget watchdog. "While there is plenty of disagreement, nobody, be they farmer, rancher, fiscal conservative, wants the federal government to replace trade with aid."

---
George Plaven
USDA Commits $12B for Farmers, Ranchers Affected by Tariffs
Capital Press, July 24, 2018
---
See what you can learn
learn more on topics covered in the film
see the video
read the script
learn the songs
discussion forum