---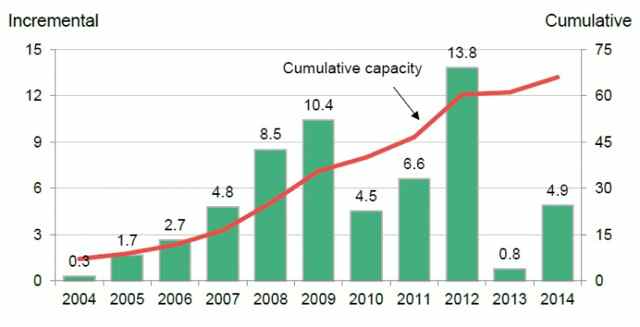 Despite a few rumblings from the old energy regime, "the revolution transforming how the U.S. produces, delivers and consumes energy" continued in 2014, "and the long-term implications of these changes are coming into sharper focus," finds a new report released today by Bloomberg New Energy Finance and the Business Council for Sustainable Energy.
The report, "Sustainable Energy in America: 2015 Factbook," details how renewable energy technologies, energy efficiency, natural gas and electric vehicles are colliding with policy, finance and markets to drive fundamental changes in the energy sector.
Among these changes are "an outright decoupling" of electricity growth and economic growth, a shift toward "decarbonizing" the power sector and the awakening of serious investor appetite for clean energy.
In a statistic that must be especially troubling for the traditional electric utility industry, the report notes that between 2007 and 2014, during which time the economy grew by 8 percent, "annualized electricity demand growth has been ... zero."
That's a big departure from 1950 to 1990, when electricity demand rose at an annual rate of nearly 6 percent, slowing to 1.9 percent before screeching to a halt in 2007.
Changes to the U.S. energy mix
While demand is flat, the content of electricity in America is undergoing major changes.
The report highlights the gradual displacement of coal by cleaner-burning natural gas since 2007 and shows the rapid rise of renewable energy as a major contributor to the country's power mix. King coal, which accounted for 49 percent of the nation's electricity generation in 2007, stood at just 39 percent at the end of 2014. During the same timeframe, renewable energy increased to 13 percent from 8 percent, while natural gas expanded to 27 percent from 22 percent.
Last year, new wind and solar power installations accounted for most of the growth in renewable energy, with annual wind capacity additions rising to 4.9 gigawatts in 2014 from 0.5 gigawatts in 2013 as solar soared nearly 50 percent to 7.2 gigawatts.
Large-scale wind and solar farms accounted for the majority of this new capacity. But the report also highlights how the increasing availability of third-party financing structures, such as leases and loans, are expanding the market for smaller-scale, distributed solar electric systems installed on rooftops at homes and businesses -- where power is consumed on site.
'Absolutely and dramatically changing the U.S. energy system'
Not surprisingly, investments into the U.S. clean energy sector mirror this shifting power mix. Clean energy investments rose 7 percent annually last year to $51.8 billion. Since 2007, investors have injected $386 billion into the sector.
"Clearly, looking at long-term trends, these technologies are making major inroads, absolutely and dramatically changing the U.S. energy system," Michel Di Capua, head of research for the Americas region at Bloomberg New Energy Finance, told GreenBiz.
"You only have to look at the last seven years to see what kind of a difference that has made."
According to the report, while wind and solar have fueled the rise of renewables since 2007, major momentum has been building since the dawn of the new millennium. Since 2000, natural gas and renewables account for 93 percent of new power capacity built in the U.S.
The report expects the Obama administration's proposed Clean Power Plan to reinforce this trend, despite the threat of lawsuits from coal companies and heavily coal-reliant states.
"The way we look at the Clean Power Plan is that it is clearly a historic effort; there is going to be legal action," Lisa Jacobson, president of the Business Council for Sustainable Energy, said in an interview.
But, she added, "There's an energy planning discussion that's been reinvigorated at the state level because of the proposed Clean Power Plan. Even if there's challenges and delays, that conversation is going to happen and decisions will be made that have their own impact. We think it's going to lead to more energy efficiency and more renewable energy and more natural gas."
'Short-term deviations'
Plummeting oil prices will not halt the long-term changes in the energy sector, said Di Capua.
Petroleum's price collapse since mid-last year will not affect U.S. electricity markets because it makes up only around 1 percent of power supply today. "There is no direct impact or going head to head with oil," he said.
However, in transportation, where oil remains the dominant fuel, the report links last year's relatively stagnant hybrid-electric vehicle sales to lower gasoline prices. But sales of pure battery-electric and plug-in electric vehicles still increased 25 percent last year.
And while rising natural gas prices allowed coal generation to slightly increase its share of the power mix in the past two years, according to the report, the overall trend points toward coal's continued decline in the U.S.
"Coal generation dropped from 49 percent of U.S. electricity in 2007 to 37 percent in 2012, but has since ticked up to 39 percent in 2013 and 2014. Nevertheless, 'structural' trends -- especially retirement of coal plants -- are underway that will probably lead to long-term increased market share for natural gas," forecasted the report.
Because of coal's limited comeback in the last two years, U.S. carbon emissions from the energy sector have increased since 2012, notes the report. But a large number of coal plant retirements are scheduled for 2015, it added, when the Mercury and Air Toxics Standard takes effect. This could trigger up to 20 gigawatts of coal plant retirements this year, compared to 4 gigawatts of coal plant retirements in 2014 and 5 gigawatts in 2013.
"Even though long-term trends clear, there have been short-term deviations," said Di Capua. "But looking at the broader marketplace, we see evidence afoot that the U.S. economy is preparing for sustainable energy-dominated industries."
---
Garrett Hering
Ready or Not, the U.S. Clean Power 'Revolution' is Here
GreenBiz, February 4, 2015
---
See what you can learn
learn more on topics covered in the film
see the video
read the script
learn the songs
discussion forum