---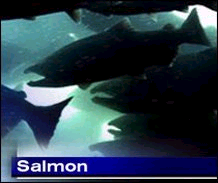 Last summer, during the month of August,I stood on the banks of the Upper Salmon River with Tom Stuart and he said this to me.
"It's a neat thing to see real salmon in the Salmon River. The next step is that we need to fish for them," said Stuart as we watched native Chinook Salmon spawn in the river.
Tom, as someone that has owned a business in Stanley since the mid 1970s, says that salmon fishing means jobs and an improved way of life for the families that live in communities like Stanley, Salmon and Challis.
So consider his reaction when he heard this news from Idaho Fish and Game just days ago.
"We're looking forward to the potential, for the first time in nearly 30 years, of having a Salmon fishing season on the Salmon River in the Upper Salmon River Basin," said Bill Horton, Anadromous Fisheries Manager for Idaho Fish and Game.
Tom's response.
"We've had people, for decades, ask me if they can fish for Salmon in the Salmon River and unbelievably I have to tell them no. We cannot fish for Salmon in the Salmon River," said Stuart.
But now, according to Idaho Fish and Game projections there will be salmon fishing on the Upper Salmon River.
"For Idaho we're looking at around 75,000 hatchery fish coming back this year and from that we've projected we have the potential for seasons on the Upper Salmon," says Horton.
The fishing season for hatchery return Chinook Salmon is based on estimates.
"It's Nature and we can't predict nature. So we're wondering what's going to occur there. Are the fish just kind of stacking up and then they'll just come up in a big slug and we'll still have a large number of fish and a good fishery. We don't know. We're betting on they come," says Horton.
If they do come, in the numbers expected, when will you see people fishing.
"A fishing season, historically, back in the 70s, occured in mid-June, Late June and into July," says Horton.
The Chinook Salmon fishing season would be on the Upper Salmon River from the Lemhi River to the Pahsimeroi a 50 mile stretch of water which is near the town of Salmon. Another season would be on the Upper Salmon River from Valley Creek to the Sawtooth Hatchery, a section of river that runs right through the town of Stanley.
What does that mean to Tom Stuart.
"I've never had the benefit of having a salmon fishing season that affected my business," says Stuart.
Admittedly, Tom's excited and so are state fisheries managers.
"Catching Salmon is something special. They are a very big fish. You are fishing in a fairly small stream at times and they're great.It's an experience that I wish everybody that enjoys the outdoors could go do," says Horton.
So if the projections hold true and the hatchery salmon return this year. Everyone, including Tom's customers, can fish for salmon in the Upper Salmon River.
Related Pages:
22 Sockeye Return by Jennifer Sandmann, Seattle Times 9/1/4
---
Dan Barth
Chinook Salmon Fishing Season Probable on Upper Salmon River
KBCI TV, April 3, 2005
---
See what you can learn
learn more on topics covered in the film
see the video
read the script
learn the songs
discussion forum