---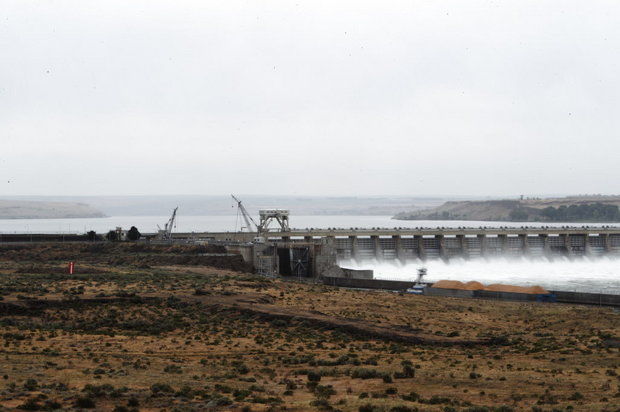 PENDLETON, Ore. -- The Columbia Basin's 2015 salmon season is the second-strongest year since the federal dams were built nearly 80 years ago.
A record number of fall chinook salmon returned up the Columbia River past McNary Dam in 2015, continuing on to spawning grounds at Hanford Reach, the Snake River and Yakima Basin.
More than 456,000 of the fish were counted at McNary Dam, breaking the facility's previous record of 454,991 set in 2013. An estimated 200,000 fall chinook made it back to Hanford Reach, the most since hydroelectric dams were first built on the Columbia nearly 80 years ago.
Both federal and tribal leaders hailed the impressive run as a positive sign of their efforts to improve both fish habitat and passage at the dams. The Bonneville Power Administration is especially pleased with recent projects at McNary Dam, re-routing its juvenile fish bypass channel to provide better protection from predators. Crews also installed weirs at two of the dam's spillway gates, which lets certain species of fish pass through closer to the surface.
Overall, 2.3 million adult salmon passed through Bonneville Dam near Portland, making it the second-strongest year on record for the entire Columbia Basin.
"When you look at how well salmon did overall is this year, it's clear the approach of restoring critical fish habitat and improving dam passage is working," said Lorri Bodi, vice president of environment, fish and wildlife at BPA.
There were 3,485 chinook counted at Three Mile Falls Dam on the Umatilla River near Hermiston. That's slightly more than the 3,259 in 2014, and less than the 4,117 fish in 2013.
Coho counts fell back to Earth after a monster year in 2014 -- 3,076 in 2015, compared to more than 14,000 a year ago at Three Mile Falls Dam. Steelhead were much lower, with just 558 fish versus 1,480 in 2014.
Kat Brigham, who has served on the Board of Trustees for the Confederated Tribes of the Umatilla Indian Reservation as well as the Columbia River Inter-Tribal Fish Commission, said such anomalies used to be purely attributed to ocean survival -- something that's no doubt important, but was a convenient way of dismissing environmental damage and flaws in the dams' passage systems.
"Ocean survival is an important piece, but nobody can really determine what good ocean survival is," Brigham said. "We still have to look at what needs to be done to protect our fish as both adults and juveniles."
Brigham said she is excited about this year's fall returns, which is the result of hard work between the four CRITFC tribes, Northwest states and federal government.
But there are still challenges to reestablishing sustainable populations, she said. The basin still has 13 fish runs listed on the Endangered Species Act, and a changing climate won't make things any easier.
The CTUIR and Oregon Department of Fish & Wildlife began trucking spring salmon up past Three Mile Falls Dam in May this year, much earlier than normal as low flows and warm water put additional stress on the fish.
Coming up with a plan for endangered fish require a holistic approach, Brigham said. No part of the restoration effort is more important than the other.
"If it was a real simple answer, I hope we would have found it and got it done," Brigham said. "It's not just the drought. You have to look at everything."
Brigham said she understands the BPA has to consider costs, and irrigation will always be a part of the basin. They are striving to come up with a balance that will ultimately allow everyone to survive. She said the CTUIR's Umatilla River Vision is potentially a model for other interests to consider.
"It's an ongoing project to try and protect the habitat and fish going over dams," she said. "We are protecting our culture, our way of life and treaty rights."
Not all Northwest fish runs fared well in 2015. Unseasonably warm temperatures heated river water enough to all but decimate endangered Snake River sockeye, though biologists did release 600 hatchery sockeye into Idaho's Redfish and Pettit Lakes to spawn naturally. Research shows the offspring of sockeye spawned naturally in lakes return at higher rates than those simply released from the hatchery.
Paul Lumley, CRITFC executive director, said the successes in 2015 highlight what they are capable of accomplishing as a region when everyone works together.
"Yes, there is more work to be done to address things like climate change, water quality and water temperatures, but this success provides the confidence to achieve full salmon recovery," Lumley said.
---
Geroge Plaven
Strong Salmon Returns Up Columbia River past McNary Dam
Capital Press, November 30, 2015
---
See what you can learn
learn more on topics covered in the film
see the video
read the script
learn the songs
discussion forum