---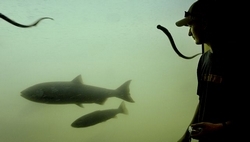 VANCOUVER, Wash. -- When Joe Hymer first saw the figure, he thought it must have been a typo.
The veteran fishery biologist for the Washington Department of Fish and Wildlife was reviewing the daily count of steelhead passing Bonneville Dam. Tuesday's figure didn't seem right: 18,671.
Because that was a full 10,000 more than the day before, Hymer figured someone must have inadvertently punched in an extra digit on the calculator. He had good reason to believe so. In the 71 years since fish counting began at Bonneville, the previous record for the daily steelhead count amounted to 14,432.
Then came Wednesday's count: 28,314.
On Thursday, the number spiked at 34,054.
The incredible steelhead counts weren't typos. At the dam, fish counters recorded as many as 1,700 silvery flashes zipping past in a single hour on Thursday a rate that equates to a new fish every couple of seconds.
"We're in uncharted waters now," Hymer said. "We haven't seen this magnitude before."
Biologists attribute this week's bulging daily counts at Bonneville largely to the searing heat wave two weeks ago. Several days of triple-digit heat warmed the river to as high as 75 degrees at Bonneville, well above the comfort level for cold-water fish.
"When you get up to 74, 75 degrees, fish just don't move," Hymer said. "In sport fisheries below Bonneville, we saw steelhead duck into tributaries like the Cowlitz, Lewis, even to some degree the Kalama. Fish are trying to cool off as much as possible."
Meanwhile, steelhead continued entering the river from the ocean.
Biologists had projected an overall steelhead run of about 350,000 this year, and Hymer said sportfishermen in the lower river have reported a successful summer so far. As the river cooled down after the heat wave ended, the theory goes, a burgeoning stockpile of steelhead were waiting to head upriver to spawn.
The big run above Bonneville is a bonanza for tribal fishermen.
"This is a big boost for those fishermen that are fishing off of their platforms, especially in the Cascade Locks area," said Stuart Ellis, biologist for the Columbia River Inter-Tribal Fish Commission.
Tribal members are allowed to make over-the-bank sales of fish to the public, although they hadn't expected major interest until the bulk of the fall chinook salmon run in a few weeks. Most of the steelhead entering the Columbia were raised in hatcheries - and, therefore, are intended to be caught - although tribal members have treaty rights to harvest endangered wild-spawning steelhead, as well.
"With this abundance, it allows them the opportunity to make it available to a wider audience," said Les Brown, salmon marketing specialist for CRITFC in Portland.
Ellis said it's too early to know whether this year's run will come anywhere near the gargantuan run of 630,000 steelhead in 2001 - the year when the previous daily record of 14,432 was recorded at Bonneville.
But he's not ruling out the possibility.
"We've got a long way to go," he said. "The counts will continue through September and into October, so anything's possible at this stage. We could be looking at a very large steelhead run."
Related Sites:
Bonneville Dam Fish Camera
---
Erik Robinson
Counts Up for Steelhead Passing Bonneville Dam
The Columbian, August 16, 2009
---
See what you can learn
learn more on topics covered in the film
see the video
read the script
learn the songs
discussion forum