---
... a facility, or maybe two, outside of the Portland area where goods can be transferred from trucks to trains.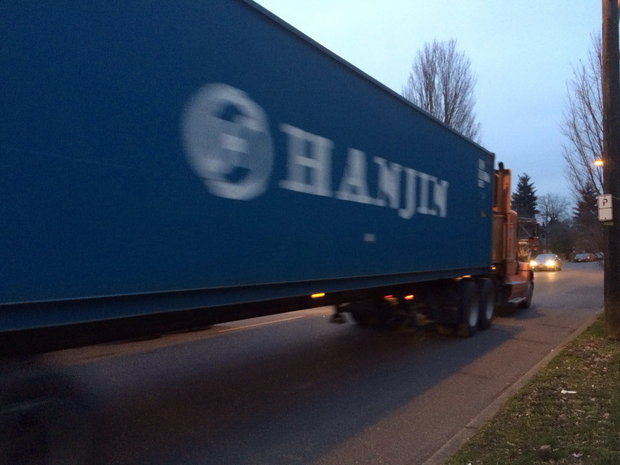 The Keep Oregon Trade Moving series of workshops was launched to find solutions to shipping problems created when two major container-shipping lines stopped serving the Port of Portland. But it would have been a productive exercise even if Hanjin Shipping and Hapag-Lloyd never left Portland. Some of the issues discussed at six public meetings across the state will continue to exist even if regular container service resumes at the Port's Terminal 6.
Reading the transcripts from the public meetings, held in six cities over a three-week period in late July and early August, reveals statewide angst over the struggle to get products from farms and factories to customers both domestically and abroad. One of the primary purposes of the meetings was to gather information that could be used to put together a package of proposals for the 2016 Legislature. But the Legislature has little influence over some of the most pressing issues. The shortage of trucks and truckers is a national problem that needs attention in Congress. And some of the logistical issues identified by businesses and agricultural producers should be solved without government intervention.
More on trucking and logistics in a minute, but first it must be noted that Oregon importers and exporters -- and ultimately workers and consumers -- will suffer under any solution that lacks container-shipping service at the Port of Portland. Westwood Shipping has resumed monthly service, with Portland stops in July and August. But Westwood, a niche operator, can handle only a fraction of the loads that Hapag-Lloyd and Hanjin did before pulling out in the spring. Oregon businesses need the market access that major shipping lines provide.
Efforts to attract such a carrier and to improve the labor climate that contributed to the shipping lines' departures continue behind the scenes. But anyone who has observed the rift between the International Longshore and Warehouse Union and container terminal operator ICTSI Oregon Inc., or has followed shipping-industry trends, knows that success is far from assured.
Regardless of what shipping lines do, the trucking industry has myriad problems that need to be addressed. The most pressing issue is a shortage of truck drivers, and quite a few workshop participants favored lowering the age for a commercial interstate truck license to 18. Some Republican senators have proposed a bill that would make the licenses available to 18-year-olds in some circumstances, but that's politically unlikely and probably would make many people uncomfortable.
The industry is correct, however, when it points out that between 18 and 21 -- the youngest age at which interstate truck licenses are available -- many young people enter other careers. Trucking companies, as well as large retailers and other businesses that hire truck drivers, should establish career paths that allow 18-year-olds to join the company and work other jobs while progressing toward a driving career.
The federal government can help with another trucking-related problem mentioned by workshop participants. Weight limits for trucks in California are lower than weight limits in Oregon and Washington, discouraging companies form serving all three states with the same truck. A uniform national weight standard would solve that problem.
The workshops did reveal one transportation shortcoming worthy of legislative consideration: a facility, or maybe two, outside of the Portland area where goods can be transferred from trucks to trains. Such facilities would reduce the number of miles that trucks are on the road, something that would be appreciated by anyone who regularly has to drive on Interstates 5 or 84. Creation of such "load centers" likely would require state investment, which possibly could come from ConnectOregon a lottery-funded initiative to support intermodal transportation.
Other problems mentioned at the workshops are best solved by the private sector. These include better use of technology to keep businesses and transportation companies abreast of logistics ranging from road conditions to location of empty containers and available trucks and drivers. Some companies already are developing software and services to help match up transportation carriers and empty containers as well as solve other logistical issues.
The state plans to hire a consultant to review the suggestions and compile a list of potential interim solutions. But the transportation industry and Oregon companies shouldn't wait for a list to take action on some of the logistical challenges that they should be able to solve for themselves. Meanwhile, both Congress and the Legislature should put a higher priority on making sure the nation's rail and trucking systems are adequate to efficiently move goods to and from market. After all, most of Oregon and the nation lack close access to an ocean port.
Related Pages:
Hanjin Port of Portland Pull-out Means More Truck Traffic by Kimberly Eiten, KPTV, 6/19/15
---
Editorial Board
Port's Problems Shift Attention to Trucks, Railroads:
The Oregonian, August 29, 2015
---
See what you can learn
learn more on topics covered in the film
see the video
read the script
learn the songs
discussion forum