---
Arlo Huber & Son Inc., in Spokane Valley, Wash., closed its doors May 31 after 50 years.
Owner Mark Huber says it's harder to find drivers, more customers are buying their own trucks or relying on grain trains.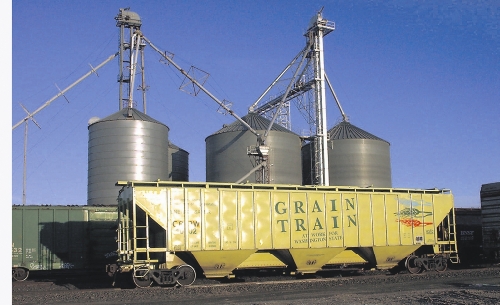 SPOKANE VALLEY, Wash. -- Mark Huber's customers are going to miss him.
The feeling is mutual.
"I've had a lot of tears with customers -- when you get a hug and they tell you they love you, you know, you've done a good job," he said. "We worked with a lot of people who became my friends, they were like a family to us."
Huber closed the doors to Arlo Huber & Son Inc. May 31, after "50 years and one month."
His father, Arlo, started the trucking business. Mark joined his father at the age of 18. They had five trucks, took the number up to 31 in the 1990s and early 2000s and were down to 16 trucks at the time of closure.
The Hubers hauled grain, seed, hot oil, produce, fertilizer and livestock.
"We've pretty much hauled it all in the agricultural industry," Mark said.
Mark most enjoyed hauling grain and meeting new people around Washington, Idaho, Oregon and Montana.
Huber cites more customers buying their own trucks, the arrival of grain trains in the region and fewer farmers as reasons for the closure. Finding drivers is difficult, he said. Many of the people he worked with in recent years are retiring.
"There's not a lot of young people coming into farming or trucking, and that needs to change," he said. "I think it's going to get better for the industry in the long run."
Mark sold all 16 trucks in one day through word-of-mouth and is selling some trailers. He sold the grain trailer business Huber Trailer Sales to his son and nephew. Now 87, Arlo still goes to work there, he said.
Mark will focus on his rental properties and perhaps find a job.
"I've sat here and worried for 40 years about everybody else; I want to have no more worries," he said. "I just want to enjoy life."
"They will be sorely missed," said Hal Meenach, Valleyford, Wash., farmer and president of the Spokane County Farm Bureau.
Meenach said the trucking business closure means less access for farmers to a market they depend on. More farmers will need their own trucks, an expense that's out of reach except for larger-sized growers, he said.
"We still have the same options, it's just fewer of them," he said.
"I think the real impact won't be felt until we go about a year and see just how big an impact it is going to be," said Doug Kuhn, plant superintendent for Spokane Seed.
The Hubers hauled for the company for decades, Kuhn said. Spokane Seed will have to find other trucking companies to haul what it can't handle on its own, he said.
"There's no doubt someone is going to have to fill those shoes," he said.
Huber hears positive things about the upcoming harvest from customers.
"I'm sad that I won't be there to help out," he said. "I hope that it works for everybody because I still have a lot of farm friends. I wish them all the best."
Huber is grateful to the customers and employees he's worked with over the years.
"When I walk in and my employees hug me before I go to work ... that's success," he said. "It's been a good run."

---
Matthew Weaver
Longtime Spokane Truck Company Closes After 50 Years
Capital Press, June 14, 2018
---
See what you can learn
learn more on topics covered in the film
see the video
read the script
learn the songs
discussion forum