---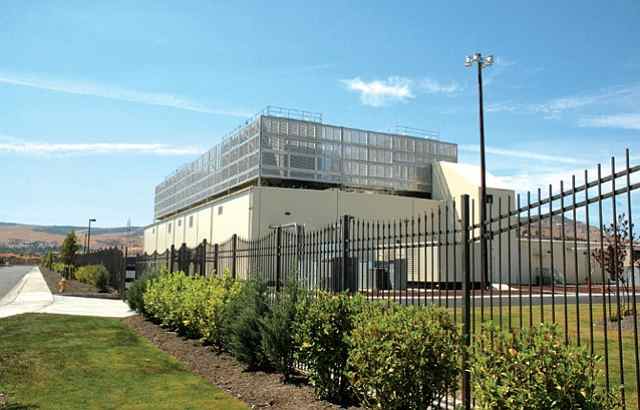 A package of tax breaks for tech companies passed the Oregon Legislature last week and could become law any day with the signature of Gov. Kate Brown, ending years of legal disputes and corporate anxiety over the unusual way the state values telecom property.
The new law, Senate Bill 611, could also trigger a new building boom among big data center operators in central and eastern Oregon.
With the thorny tax issue settled, Amazon has said it may build as many as 11 new data centers in Morrow County, potentially creating hundreds of new jobs in a small corner of northeastern Oregon.
Public officials say Facebook and Apple have also indicated they are planning to expand existing facilities in Prineville. Each company quietly supported the bill, but neither has made a public commitment to expand.
"We're hearing both of them are really anxious to get started on adding some additional buildings," said Judge Mike McCabe, administrator for Crook County.
Facebook has 126 Prineville employees and Apple employs "dozens" at their data centers on the rocky crest above town. That's a small number of jobs by urban standards, but they're important in an economically depressed community - Crook County has fewer than 5,400 jobs altogether, and a jobless rate of 9.5 percent.
And McCabe said data centers have a bigger impact during construction, when they draw contractors from all over the state.
"It doesn't stop at the rim rock," he said. "They come down here, they eat in our restaurants, they fill up our hotels."
SB611 addresses the way Oregon assesses the value of data centers and telecom networks. Under a practice known as central assessment, the state includes the value of a company's brand and other intangibles in its calculations, potentially adding millions of dollars to their annual property tax bills.
Comcast pushed hard for the bill, which stands to save the company millions of dollars a year on its cable TV operations. Google Fiber was a strong advocate, too, warning it was unlikely to bring its hyperfast Internet service to the Portland area without an exemption from central assessment.
(There's more work to be done on Google's service - language in SB611 appears to exclude the company from taking advantage of the tax savings. Lawmakers say that was inadvertent, and they hope to fix that in a separate bill.)
The advocates for SB611, though, included data-center operators and public officials from the Prineville area, where Facebook and Apple each have facilities.
Data centers choose Oregon primarily because of savings the state offers through local "enterprise zone" agreements, which exempt hundreds of millions of dollars worth of high-end servers from local property taxes. Those savings can be worth several million dollars annually - more than a server farm's entire energy bill.
The absence of a state sales tax increases Oregon's attractiveness by lowering the price companies pay to equip their facilities.
The data center industry began an Oregon building spree in 2010, with major new facilities going up in Morrow County, Prineville, The Dalles and Hillsboro. But the pace of expansion slowed recently, with no major new custom data center operators coming to the state since Apple finished work on its Prineville facility in 2013.
The company had planned a second, 338,000-square-foot "data hall" and a massive solar farm to offset its power use. Apple hasn't explained why those projects failed to materialize, but public officials say uncertainty over Oregon taxes stalled the work.
Now, they expect construction to resume.
State Sen. Mark Hass, D-Beaverton, shepherded SB611 through the Legislature as chair of the Senate Committee on Finance and Revenue. In a tweet Tuesday, he wrote that Amazon currently employs 140 at its two data centers at the Port of Morrow and plans to build two more this year.
Expect another eight data centers in five years, he wrote, creating a work force of more than 1,000 altogether. Morrow County has just over 4,500 jobs altogether.
Data centers consume huge volumes of electricity to power and cool their facilities. A single facility can draw as much power as all the homes in a city the size of Tualatin.
That has raised concern among regional energy planners, who feared the Northwest's growing data-center industry might eventually put as much strain on the region's power supply as the aluminum industry once did.
Those fears have eased, said Massoud Jourabchi, an analyst with the Northwest Power & Conservation Council, which helps plan for the region's energy needs.
"Given that the market prices are fairly low right now, and the expectation is that they'll stay fairly low, I don't see a lot of impact from the data centers at the regional level," Jourabchi said.
It's possible, he said, that power supplies might be strained in some rural areas that attract a concentration of data centers. That apparently won't be an issue in Crook County, though, where an upgrade in an electrical substation there has helped enable the growth of Prineville's data-center industry.
And because of the complex way power rates are regulated, balancing demand and revenue, Jourabchi said it's not likely power rates would fall, even if the data center industry weren't growing.
Overall, he said, more efficient lighting, appliances and air conditions have held down regional power demand despite the state's economic rebound.
"We've been conserving and lowering the demand," Jourabchi said. "So adding a number of 100 megawatt (increases) a year is not, at the regional level, going to make a big difference."
---
Mike Rogoway
Gov. Kate Brown's Signature Could Trigger Data Center Boom in Rural Oregon
The Oregonian, March 29, 2015
---
See what you can learn
learn more on topics covered in the film
see the video
read the script
learn the songs
discussion forum