the film
forum
library
tutorial
contact

EPA Partially Oks State Standards for Toxic Pollutants
in Washington Waters, Adds Federal Rules

by Staff
Columbia Basin Bulletin, November 18, 2016
---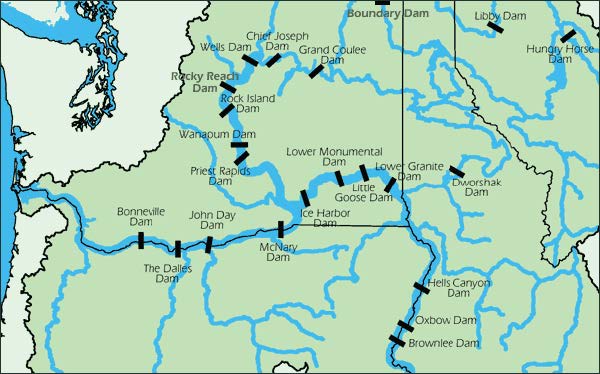 The U.S. Environmental Protection Agency this week announced actions to update the limits for toxic pollutants in Washington's surface waters, which the agency says will protect water quality and people who eat fish from those waters.
Specifically, EPA approved 45 of the pollution standards the Washington Department of Ecology adopted earlier this year and finalized its own updates to 144 additional federal standards. For a complete list of the pollutants addressed in this action go to: www.epa.gov/wqs-tech/water-quality-standards-regulations-washington#fed
"The EPA appreciates Ecology's significant efforts to update human health criteria for Washington waters over the last several years," said the agency in a letter to the state. "The EPA's actions support key advances Ecology made to update the criteria based on regional and local data, such as the use of available tribal fish consumption surveys.
"At the same time, the EPA felt it was necessary to adopt criteria based on the latest national criteria recommendations in the absence of a sufficient rationale for departing from those recommendations. The combination of the EPA-approved criteria from the state's rule and the criteria in the EPA's final federal rule set an appropriate level of protection for all Washington citizens, including tribal members with treaty-protected fishing rights."
Ecology Director Maia Bellon said, "We're disappointed that Washington state's approach wasn't accepted in its entirety. We worked hard to craft new water quality standards that were balanced and made real progress – improving environmental protection and human health while helping businesses and local governments comply.
"We were always clear in our goal – to meet EPA's requirements and tailor our proposal to work for Washington state. We believe we did that with the clean water standards we adopted in August.
"Reviewing the details of EPA's decision is important to understand all the implications.
"It appears that EPA largely approved the implementation tools that we developed. These are pivotal to ensure that dischargers can stay in compliance while making real progress toward updated standards.
"Regardless of EPA's decision today, we must stay focused on reducing toxic contaminants at their source rather than rely on expensive end-of-the-pipe treatment that has limited benefits."
In August, Ecology adopted and sent to EPA for approval a water quality rule – the fish consumption rule -- that updates standards which set pollution limits for businesses and municipalities that discharge wastewater.
They are based, in part, on the amount of toxics contained in the fish that people eat from Washington waters and are required by the federal Clean Water Act. In essence, the standards for toxics establish how clean lakes, rivers and marine waters need to be.
EPA did approve Ecology's revisions to its "variance and compliance schedule provisions," which give the state and affected industries and municipalities "needed flexibility and time to implement these new standards while making reasonable progress in improving water quality," said the agency in a press release.
"Washington maintains one of the strongest water programs in the entire nation," said EPA Regional Administrator Dennis McLerran. "Now, the state will have updated standards on the books and the needed flexibility to make progress meeting these more protective standards over time."
Surveys of local residents in the Pacific Northwest, including tribes with treaty-protected rights, reflect that Washingtonians eat fish and shellfish at levels much higher than the rate that was previously used to set standards for toxics in Washington's waters, said EPA.
"We applaud the Governor and Ecology's decision to increase the fish consumption rate recognized in the standards and to retain the state's protective one-in-a-million cancer risk level. The fish consumption rate and risk level in the standards match those established in Oregon and clearly recognize that greater protection of people who eat larger amounts of fish is appropriate in the Pacific Northwest where fishing is a part of our heritage," McLerran said.
Most of Washington's human health standards for toxics in surface water haven't been updated since 1992.
"This new set of standards is based on the latest science about health protection and fish consumption rates. Today's actions ensure that water quality standards are now in place at levels that will adequately protect fish consumers in Washington, including tribes with treaty-protected rights, from exposure to toxic pollutants," said EPA.
The region's tribes helped both the EPA and the state better understand the particular health risks that tribal members have long faced due to their consumption of large amounts of fish, said the agency. "In establishing a fish consumption rate that better reflects the amount of fish people eat, the Ecology and EPA standards will help to lower health risks from eating fish for all Washingtonians, even those, such as tribal members, who regularly consume large amounts of fish and shellfish."
EPA's final rule incorporates Washington's 175 grams per day fish consumption rate and a one-in-one million cancer risk level.
The Columbia River Inter-Tribal Fish Commission said the EPA action "marks a new day for the health of rivers and lakes in the State of Washington and its citizens."
The new human health criteria and water quality standards released by the EPA for Washington State "are a critical step to addressing water quality needs throughout the region. The decision represents a unifying approach to addressing water quality, restoring healthy waterways, and protecting the health and welfare of Pacific Northwest communities that rely on the region's fish populations. Washington and the rest of the region should now move forward and focus on working together to implement these new standards," said CRITFC.
Lorraine Loomis, chair of the Northwest Indian Fisheries Commission, said, "The treaty Indian tribes in western Washington loudly applaud EPA's action to provide more protective water quality standards for everyone who lives here.
"Strong water quality standards are important because they help protect us from toxic chemicals in our water that end up in the fish and shellfish we eat. Protective water quality standards are especially important to tribes because we eat more seafood than most who live here.
"The new standards being put forth by EPA will be more protective of human health and provide an expectation of clean water. We look forward to working with the state in implementing these standards including effective pollution source control measures.
"This has been a long, difficult process and we acknowledge the hard work by the state of Washington to update our water quality standards. The state of Washington now leads the nation in protecting human health through science-based water quality standards. EPA has shown great leadership in its efforts to update these standards after decades of delay.
"The agency clearly recognizes the federal government's trust responsibility to protect the health and treaty rights of the tribes, which also benefits everyone else who lives here.
"This is the kind of leadership that will protect both the long-term economy and environmental integrity of the region."
EPA's rule and Washington's approved water quality standards will take effect 30 days after publication of the rule in the Federal Register. The rule was signed November 15.
Related Sites:
Washington Sends Tougher New 'Fish Consumption' Water Quality Rule To EPA For Approval by Staff, Columbia Basin Bulletin 8/5/16
EPA Proposes Rule To Toughen Washington State's Water Quality Standards, New Fish Consumption Rate by Staff, Columbia Basin Bulletin 9/4/15
Washington Governor Proposes Update To Water Quality Standards With Higher 'Fish Consumption Rate' by Staff, Columbia Basin Bulletin 7/11/14
Fish Consumption Rate, Water Quality Standards: Should Idaho, Washington Follow Oregon's Lead? by Staff, Columbia Basin Bulletin 9/27/12
EPA Approves Toughened Oregon Water Quality Standards Based On Higher 'Fish Consumption Rate' by Staff, Columbia Basin Bulletin 10/21/11

---
Staff
EPA Partially Oks State Standards for Toxic Pollutants in Washington Waters, Adds Federal Rules
Columbia Basin Bulletin, November 18, 2016
---
See what you can learn
learn more on topics covered in the film
see the video
read the script
learn the songs
discussion forum