---
The four lower Snake River dams are a frequent target for environmentalists
who say they hinder salmon passage.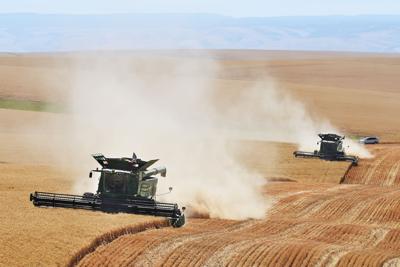 The volume of freight and grain moving through the Snake River dams increases every year, and rumors to the contrary are wrong, members of a federal advisory committee say.
"I think that is a misconception that is out there that should be debunked," the chairman of the committee, Spencer Murphy, said.
Murphy and other stakeholders spoke about the value of the dams Aug. 16 during a meeting of the Inland Waterways Users Board in Walla Walla, Wash. He is chairman of the board.
The board is a national industry advisory committee representing the fuel-taxed inland waterways system. The board makes recommendations to Congress and the secretary of the Army on priorities and spending for construction and rehabilitation projects on the system.
The four lower Snake River dams are a frequent target for environmentalists who say they hinder salmon passage. Stakeholders dispute the claims, and say the dams are vital for agriculture, energy and environmental interests.
In 2021, 4.2 million tons of cargo moved on the Snake River.
"To replace that amount of tonnage would require over 162,000 trucks or 42,000 rail cars," Murphy said.
Moving goods off the water onto truck or rail would lead to more air pollution, carbon dioxide emissions, diesel fuel consumption and more traffic fatalities and personal injuries, Murphy said.
Moving goods by water is the safest and most efficient means available, he said.
"If you are trying to make an environmentally conscious decision of how best to move freight ... you should be putting as many goods on the water as possible and removing them from truck and rail, and not the reverse," he said.
Agricultural shippers in the Pacific Northwest and Upper Midwest rely on the inland navigation system for a competitive advantage against other shippers on the global market, Murphy said.
"If we removed the inland waterway system as part of the supply chain, we are putting our farmers at risk," he said, noting more than 1,000 farms in the Pacific Northwest would be impacted.
Committee member Rob Rich, vice president of marine services at Shaver Transportation Co., a tug and barge line in Portland, called to mind "a clean slate" -- what would be required to start a completely new system.
"We would demand the highest kilowatt output at the lowest carbon production available for electricity, the highest miles per ton of cargo transport,..." he said.
Rich cited data from the Texas A&M Transportation Institute: Trucking moves a ton of cargo 151 miles on a gallon of fuel. Rail moves a ton 476 miles on a gallon of fuel. Barging moves a ton 675 miles on a gallon of fuel.
"We would demand transportation that didn't need expansion to handle more volume," Rich said. "We would demand irrigation to have our high-value crops to help backstop some of our lower-value crops and have a larger diversity of export from our area, and we would demand ever-evolving high fish passage technology that are not only cutting edge, but are the envy of the world."
The Snake River system already includes the items that would be required of that new system, Rich said.
"They're here, they're operating, they're working right now," he said.
During a public comment period, Heather Stebbings, executive director of the Pacific Northwest Waterways Association, told the board that breaching the dams would be "catastrophic," increasing costs and uncertainties for farmers.
"We'd see 1,100 farms that could potentially be bankrupt, they would go out of business," Stebbings said. "That's the farms themselves, farmworkers, the folks that provide all the inputs like seeds and fertilizers to those farms -- the effects of dam breaching to a farming community would truly ripple throughout our region and likely the nation."
The Columbia-Snake River system is the largest export gateway for wheat in the U.S., but also provides irrigation. Breaching the dams eliminates the ability to produce food on those acres, Stebbings said.
"Could those 55,000 acres produce enough apples to feed 18 million people, produce enough sweet corn to feed 19 million people, enough potatoes to feed 6.5 million people?" she asked.
Without the dams, there's no guarantee the McNary pool would remain navigable, said Jennifer Riddle, corporate communications and marketing manager for Tidewater Transportation and Terminals.
"...It's pretty unlikely," she said. The company provides diesel and petroleum products for the region's consumers, agricultural communities, railroads, aerospace, military and firefighting efforts, she noted.
The Corps of Engineers already has difficulty keeping the rivers dredged and navigable in that area, she noted. The four dams have hundreds of millions of cubic yards of sediment behind them.
"We're not going to be able to navigate that, we're not going to be able to bring barges into that area," Riddle said. "It's going to cut off this entire region of their petroleum and diesel volumes."

---
Matthew Weaver
Stakeholders Tout Value of Snake River Dams at Federal Advisory Meeting
Capital Press, August 17, 2022
---
See what you can learn
learn more on topics covered in the film
see the video
read the script
learn the songs
discussion forum