---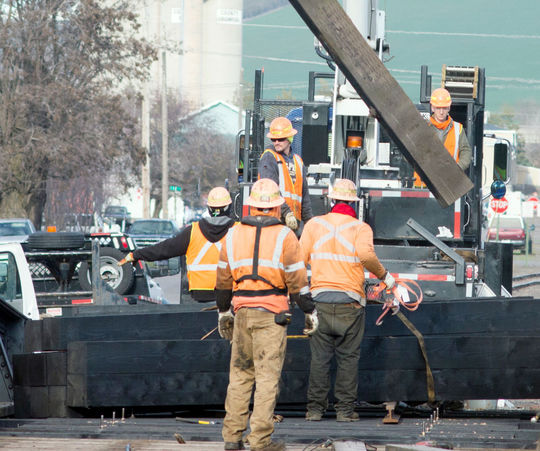 DAYTON -- Trains could be rolling along the Columbia-Walla Walla Rail Line and into town as early as this spring, according to rail operator Paul Didelius.
"We are as motivated as anybody that the whistle be heard there again," he wrote in an email to the U-B. "Look for the return of trains to Seneca (Foods Corporation) and other interested accounts in Dayton quite soon."
The rails here have been quiet for nearly three years, since an inspection found seven unsafe bridges along the Dayton to Walla Walla route.
The Port of Columbia, which owns the 37-mile "short track," signed a contract last year with Didelius. The Walla Walla entrepreneur with small-rail operating experience through one business he owns, Frontier Rail, is now leasing and operating the Port's line under his new operation, CWW, a limited liability company.
Using a $300,000 grant from the state Department of Transportation, Didelius hired crews over the fall and winter to repair the bridges and prep the line for use again.
That work is nearing completion, he said last week. The project, however, has run "slightly" over budget, Didelius said. That overrun is being covered by CWW.
Crews have also been fixing some wear and tear on the Prescott-to-Walla Walla portion of the line, Didelius said. His business was able to run a couple of trains there for Northwest Grain Growers over the winter.
Also planned for construction this spring is a new railroad siding at Blue Mountain Station, the Port's food-processing business park just west of Dayton.
Port manager Jennie Dickinson said last week she is pleased with the progress, but she is most excited to hear that Didelius is considering full ownership of the line.
"What a relief that would be," Dickinson said. "But it would be a big, big shift. It would put the line back on the tax rolls, but it would also mean losing public funding for maintenance and upkeep."
Didelius confirmed his interest in owning the line, which he said needs "a lot of work."
"We see that model -- operator ownership -- increasingly making sense for lower-traffic rural lines picked up by local governments in the late 20th century," he said.
Union Pacific, which owns the rest of the 230-mile Palouse River & Coulee City Railroad spanning the region south of Spokane, gifted this short spur of the line to the Port of Columbia in 1996.
Related Sites:
Frontier Rail
Columbia Walla Walla Railroad
Association of American Railroads
Freight Rail Assistance Program & Investment Bank

---
Dian Ver Valen
Trains on Track to Resume Dayton Service
Walla Walla Union-Bulletin, April 10, 2017
---
See what you can learn
learn more on topics covered in the film
see the video
read the script
learn the songs
discussion forum