---
The climate impact of air conditioning our buildings and vehicles
is now that of almost half a billion metric tons of carbon dioxide per year.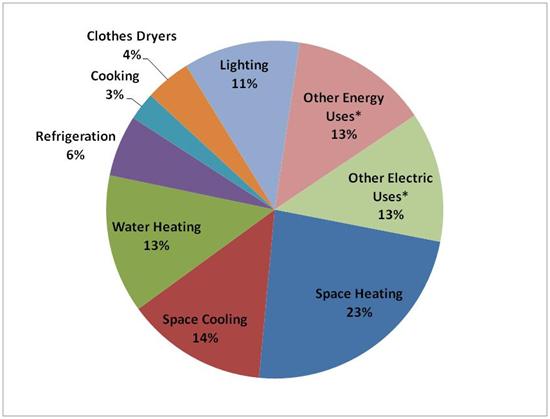 Heating and cooling a home, residential or commercial building has always been a major expense for home and business owners, one that's more likely than not to rise in coming years given current trends in energy costs and consumption. The increasing frequency and intensity of extreme weather events and changing climatic conditions, along with the uncertainty of economic conditions and government policies, complicate matters further.
All this has not gone unnoticed by home and business owners or the U.S. government, all of whom are on the lookout for new climate control and heating, ventilation and air conditioning (HVAC) methods and technology that can lower energy usage, monthly expenses and greenhouse gas emissions.
Finding ways to meet these needs is opening up new sustainable business and market opportunities. Energy efficiency and HVAC equipment and service providers large and small, new and well established are coming out with a new generation of "smart" thermostat control equipment, systems and service solutions that make use of the latest business models, technological advances and innovations.
But what makes an HVAC or climate control system "smart"? What are the benefits and how can home and business owners looking to reduce their energy bills by making energy efficiency improvements educate and familiarize themselves with the latest HVAC and climate control systems and services in order to make the best possible decisions?
Fortunately, there's a wealth of information readily available, so it's worthwhile to sift, sort through and distill some key data and information to better inform, guide and make the decision-making process easier and more efficient.
U.S. homes: Energy, efficiency and emissions
U.S. electricity consumption per household has increased 39 percent since 1970, reflective of an overall trend toward larger homes with a greater variety of appliances and electronics in each, the Center for Climate and Energy Solutions (C2ES) notes.
In fact, more energy is used each year solely for cooling in the U.S. than is used for all purposes across the entire African continent, home to a billion people, points out Stan Cox of Synairco, which is commercializing an "ultra efficient" air conditioner that "drastically reduces" electricity consumption and uses no chemical refrigerants.
"The world is warming, incomes are rising, and smaller families are living in larger houses in hotter places. One result is a booming market for air conditioning -- world sales in 2011 were up 13 percent over 2010, and that growth is expected to accelerate in coming decades," Cox wrote in a post on Synairco's blog.
"Between 1993 and 2005, with summers growing hotter and homes larger, energy consumed by residential air conditioning in the U.S. doubled, and it leaped another 20 percent by 2010. The climate impact of air conditioning our buildings and vehicles is now that of almost half a billion metric tons of carbon dioxide per year."

Statistics from the U.S. Energy Information Administration's (EIA) latest Residential Energy Consumption Survey 2009 (RECS) "show that newer homes were more likely than older homes to have dishwashers, clothes washers, clothes dryers, and two or more refrigerators. Newer homes, with their larger square footage, have more computers, TVs, and TV peripherals such as digital video recorders (DVRs) and video game systems.
"In total, newer homes consumed about 18 percent more energy on average in 2009 for appliances, electronics, and lighting than older homes," according to C2ES.
C2ES goes on to point out the energy use in residential buildings accounts for about 17 percent of U.S. greenhouse gas emissions. Fully half result from HVAC equipment and lighting. The other 50 percent results from use of a variety of appliances, such as water heaters and refrigerators.

Trends in and forecasts for energy use and greenhouse gas emissions are yet more worrisome and troubling outside the U.S. Energy consumption and greenhouse gas emissions in the biggest emerging market economies now account for most of global growth in both. Already the world's largest emitter of carbon dioxide emssions, China, for instance, "is expected to surpass the U.S. as the world's biggest user of electricity for air conditioning by 2020," Synairco's Cox points out.

Energy consumption and efficiency trends: Not all bad news
The news isn't all bad, however. In fact, energy consumption in U.S. homes has remained relatively stable for many years as energy efficiency improvements have offset the increase in the number and average size of housing units and greater use of appliances and electronic devices, according to recently released new data and analysis from the EIA's 2009 RECS report.
The average U.S. household consumed 90 million British thermal units (Btus) of energy in 2009, further evidence of a plateau in average residential energy consumption spanning the last 30 years, according to the EIA's latest report. Better insulation and other attributes of newer construction, such as double-pane windows that improve the energy use characteristics of building envelopes, have contributed to the lower energy intensity of U.S. homes.
In addition, the DOE's Smart Home Scale shows that "today's new homes are 30 percent more energy efficient than the existing housing stock, and U.S. Census data show that their median size stabilized between 2005 and 2007 and subsequently has been trending downward," according to C2ES.
The larger sample size of the RECS 2009 research enabled EIA to release statistical data for more specific categories, providing a much greater level of precision for all RECS estimates. It also enabled EIA to release energy consumption data and comparisons for 16 individual states, revealing the variability of residential energy consumption across different regions.
The average annual energy expenditure for a New Jersey household, for instance, was $3,065, more than twice as much as the $1,423 for the average California household. According to the 2009 RECS report, the difference is mainly due to the higher demand for heating in New Jersey homes.
Commercial buildings, energy and energy efficiency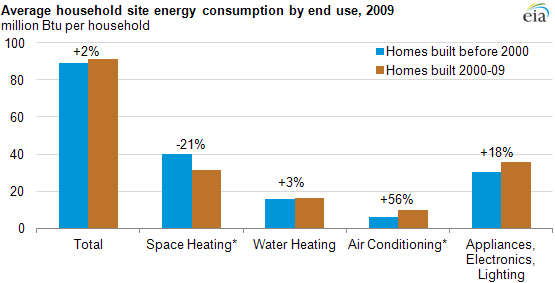 More than $200 billion a year is spent to power commercial buildings in the U.S and another $200-plus billion to power industrial facilities, with HVAC alone accounting for approximately 40 percent of commercial buildings' electricity usage. While commercial building floor space, energy use and energy intensity have all been increasing in recent decades, EIA data show a modest declining trend in energy intensity that stretches back to 1985.
The Obama Administration has been taking determined steps to support and offer incentives to commercial and residential building owners and managers to reduce energy use and emissions by making energy efficiency improvements and using power from clean, renewable sources, initiatives that can reduce expenditures and greenhouse gas emissions and foster sustainable growth in jobs and economic activity.
On February 21, the DOE announced that Johnson Controls, Macy's, and Sprint are joining the Obama Administration's Better Buildings Challenge. "Launched by President Obama in 2011, the Better Buildings Challenge brings together corporations, universities, municipalities, and other national leaders to make significant commitments to energy efficiency, reduce waste, and save on energy costs," according to a DOE Office of Energy Efficiency and Renewable Energy (EERE) Progress Alert.
Aiming to cut energy use by at least 20 percent, Johnson Controls, Macy's, and Sprint are planning to upgrade more than 200 million square feet of building space, a target in line with the goal of reducing energy waste in U.S. homes and businesses by half over the next two decades the President announced during his State of the Union address the previous week.
Investments in energy efficiency that save millions in energy costs are making the American economy more competitive, protecting our air and water and creating jobs," Energy Secretary Steven Chu stated when announcing Johnson Controls, Macy's and Sprint were joining the Better Buildings Challenge. "We applaud these new partners for leading by example and showing the savings that energy efficiency makes possible while positioning America as a global leader in the clean energy race.
To achieve Better Buildings Challenge goals, the three new program partners will work with the DOE "to implement energy savings practices that reduce energy waste and save money. They will also share facility-level energy use data and successful strategies with Better Buildings Challenge partners and other U.S. businesses and organizations -- helping to lead a clean, sustainable energy economy," according to EERE's news release.

HVAC & thermostat control made smart

"An investment in end-use energy efficiency increases the availability of system-wide electricity generation and transmission capacity for other uses; as such, end-use efficiency can be considered a resource, often described in terms of 'negawatts,' that provides energy savings comparable to the electricity generated by power plants," C2ES elaborates.
Like these other resources, 'negawatts' from end-use energy efficiency are available in varying amounts at different levels of investment. When considering costs over the lifetime of an investment, end-use energy efficiency can be one of the lowest-cost means of meeting energy demand and of reducing GHG emissions.
As the Small Business Administration (SBA) notes on the Energy Efficiency Upgrades section of its website, regulating the temperature, humidity and overall air quality of any building - home or business - is key to maintaining a comfortable, healthy and productive work environment.

Making HVAC equipment and systems "smart" can go a long way toward improving the energy efficiency and overall health and safety of work and living spaces. Whether referring to thermostat control, compressors, condensers, controllers, furnaces, AC units, meters or HVAC systems in their entirety, "smart" can be boiled down to having a few general, core elements:
the ability to meet the needs associated with typical usage patterns in an energy efficient manner;
the ability to sense conditions and the status of components both internal and external to the system in question at relevant intervals of time;
the ability to adapt to changing conditions and adjust system components in order to optimize energy efficiency and other paratmeters, minimize costs and prevent system failures, breakdowns and security breaches; and
the ability to communicate key, actionable systems data and information accurately and reliably in a form that's easy to access, comprehend and make use of over relevant time frames.
In a 3P interview, Bart Powelson, director of Commercial A/C Marketing at Emerson Climate Technologies, said the first thing that comes to mind when considering what makes HVAC systems smart are the actual system components, and secondly the system controls.

There's a tremendous variety of commercial HVAC installations in the market, Powelson noted, from hyper-markets, big-box retail outlets and factory floors to office parks, hospitals and university campuses. Each commercial HVAC system needs to be fine-tuned to their particular climate, landscape, uses and internal operating environments, including variations in the number of people and the type of work being done within them each day and over the course of a year. That said, commercial and residential systems do share some fundamental attributes and characteristics.

"Ultimately, I tend to evaluate how smart the HVAC equipment itself is. What does it take to be considered smart?" For Powelson, that boils down to three things:
How efficient the equipment is over a wide range of operating conditions;
How adaptive the equipment is; and
How proactive and communicative the equipment is.
Smart HVAC: Efficient, adaptive, proactive & communicative
HVAC and thermostat control equipment manufacturers have long been designing and evaluating equipment and systems at different efficiency levels, which often leads to development of a tiered pricing and marketing strategy. The key point here, Powelson emphasized, is that efficiency has been typically measured at full, or peak, load - when the system is running at its maximum load.
While peak-load efficiency serves as a good metric for energy suppliers, such as utilities, it's not necessarily a good one for end users. "A building owner might only see 2 percent of running power at full load; a smarter system might be more efficient at partial loads," Powelson told 3P.
Residential applications are typically sized for higher temperatures - rooftop equipment in Texas might be operating at 120ºF. On the other hand, when it's only 90ºF, you still need cooling, but the system still needs to be operating efficiently. The industry's starting to pay more attention to part-load efficiency.
One metric seeing wider adoption in the HVAC industry is IEER - Integrated Energy Efficiency Ratio - which is intended to be used as a representation of part-load performance for energy comparisions of similar systems. At a basic level, IEER is calculated by evaluating HVAC system performance at four different net capacities and specific temperatures, then applying a formula where different weights are assigned to each level.
IEER, according to Powelson, "is the closest representation we have to approximate seasonal efficiency and part loads. To be smart, a system needs to be efficient across a range of loads."
An HVAC system should also have high adaptive capacity in order to be considered smart, according to Powelson. HVAC loads can vary widely in different operating environments and over the course of a year.

Restaurants, churches, movie theaters, sporting venues, office parks and factories - each has their own particular HVAC load profile, with each also dependent on weather and climatic conditions, he pointed out. "Loads vary and a smart system needs to be adaptive and keep up with that.

"An A/C system may run year-round in commercial applications; lots of air conditioning systems have different loads depending on what you're trying to cool - classrooms, for instance, where loads vary with the number of students and during the course of a day."

The latest generation HVAC systems have capacity modulation capabilities via which end users can "dial in" the amount of capacity required. "That's one of the keys to energy efficiency - A/C and compressor technologies need to keep up with that varying load," Powelson commented.

Thirdly, to be considered smart, HVAC systems have to be proactive and communicative. "Smart systems going forward should not just run until such point that they fail or need servicing," he continued. "They ought to have some level of diagnostic capabilities combined with self-maintenance capabilities.
In a residential application, the only thing the homeowner sees is the thermostat on the wall and notices some failure. Having the ability to have diagnostics on board capable of communicating can expand on that in the way of preventive maintenance.
The latest generation of HVAC systems, such as Emerson Climate Technologies' CoreSense, are equipped with these capabilities. Such smart HVAC systems, Powelson elaborated, have automated diagnostic and communications capable of implementing precautionary measures, such as dialing down operating levels of different components and aspects of the system in light of warning signs, or even shutting them down to avoid breakdown or failure. Coupled with this, these smart HVAC systems are able to alert technicians when a system or any of its component parts is in need of service or repair.

Another important attribute that distinguishes a smart from a run-of-the-mill thermostat control or HVAC system is control, Powelson added.
Smart HVAC systems are likely to include many more sensors than typically used in today's systems. That may not just be a matter of controlling the temperature, but also the humidity, and taking account of sound restrictions and movement. All of these things come into play in the perception of comfort in a climate-controlled environment. "At the end of the day, we want to have low variation in those criteria. Rather than having a system come on at 72º, then shut down only to come on again at 74º, that 2º dead band can be controlled to a much finer degree.
That's particularly important for commercial systems, he continued. "In a residential system, typically you only have one piece of equipment that you're trying to control. It's much more complicated in a commercial system. You can have multiple buildings and multiple units with cooling required in some offices with southern exposure and different needs for those with northern exposure."

Then there's the multitude of different activities that might be taking place both within and across buildings in a commercial application. "Optimizing performance of multiple HVAC systems for a commercial installation is an important aspect of smart climate control," Powelson continued.

That moves the dialogue toward the broader perspective of smart building design, which includes incorporating smart lighting into the overall climate control systems calculus. "Integrating lighting and HVAC is an example of the direction things are heading," Powelson said.

HVAC & climate control: A dynamic market

There's a lot happening in terms of regulation and legislation, as well as technological innovation, that's likely to impact the climate control and HVAC industry and market for many years to come. While that makes it an exciting time to be in the industry, it also poses challenges, Powelson related.

California's Title 24, for instance, requires rooftop HVAC systems to be equipped with diagnostics. Emerson Climate Technologies has been at the forefront of this wave of change with the introduction of CoreSense, Powelson noted, which puts "smart diagnostic modules right on board our largest compressors."

Acting as a sensor, CoreSense imbues Emerson's HVAC systems with auto-diagnostic capabilities that can identify potential system faults, such as faulty wiring or undue pressure variations. This information is exported back to a system controller that can implement preventive measures, such as adjusting and fine-tuning operating levels to ensure that high-priority HVAC needs continue to be met, Powelson explained.

The economics of stricter government energy efficiency standards Emerson and its industry peers also notice an increased emphasis from the Obama Administration when it comes to energy efficiency. "On the commercial side, the DOE is making a decision as to how they want to mandate efficiency levels for commercial HVAC systems. It's an important decision that will impact the industry for many years down the road," Powelson elaborated.

Government policy makers should take an inclusive, collaborative approach in reviewing and modifying existing regulations and legislation, or adding to them, in light of strategic imperatives spanning industry and market economics, as well as social and environmental issues and concerns, Powelson believes.
Like many Americans, my first reaction is that Congress isn't doing their job. We have not seen legislation on energy standards coming through Congress like we normally would. It's dysfunction that extends into the area of energy efficiency. The Energy Policy Act of 2005 was probably the last major piece of legislation in this area to be seen.
"The DOE, under Obama's leadership, has been taking the lead. Right now, it's the DOE deciding how to regulate full vs. part-load efficiency and what metrics to use in doing so. We would like to see legislation coming out of Congress. That would make it a more inclusive process."

Enacting higher energy efficiency standards for climate control and HVAC systems can spur innovation and enhance the competitiveness of U.S. industry, Powelson believes. They can also have a net positive effect on the industry, the broader economy and job creation, as well contribute to addressing critical environmental issues, such as greenhouse gas emissions, and the impacts of energy and natural resource use more broadly speaking.

Making this happen is going to require genuine, sustained commitments and cooperation among all stakeholders, public and private, Republican and Democrat, consumer and supplier, however, Powelson pointed out.
It's a double-edged sword. Thinking provocatively provides a great innovation challenge; new standards may have a positive economic impact if we think of all the things that go into energy efficiency and equipment, and also think of the other factors that drive energy efficiency of whole buildings.
"I can certainly see a positive impact, but I'd be remiss not to mention what effects the energy efficiency drive might have in terms of the higher cost of equipment. Stricter standards typically drive costs up, and I think we have to be careful of unintended consequences. If the bar is raised so high that there's no payback for new equipment, that could result in an incentive to just repair older, lower-efficiency equipment and extend its useful life. That could pose a challenge in terms of industry job creation."

Emissions, environment and connectivity

Emerson, for its part, is focusing strategically on three areas when it comes to designing a new generation of smart climate control and HVAC systems capable of addressing the business, social and environmental challenges of our times: emissions, environment and connectivity.
"Having energy efficient equipment is important not only in terms of reducing energy consumption at the end-user level, but upstream at the power plants that are producing that energy," Powelson pointed out. "It would be ideal to have a completely clean energy infrastructure. We're very conscious of that, and we think we can mitigate emissions upstream."
Such strategic environmental concerns extend to the different refrigerants used in HVAC systems. "We went through a major transition leading up to 2010, as we phased out RD-2 refrigerants. I think we're going to see another transition in the next decade."
We've already switched over to non-ozone-depleting refrigerants; now we're looking for the refrigerant with the lowest global warming potential. When we find it, that's likely to be a global launch.
Connectivity is the third strategic focal point for Emerson Climate Technologies. "Emerson thinks a lot about connectivity, particularly with regard to smart systems," Powelson related, a system in which "compressors, valves and controllers are all communicating." As is true in just about any field of endeavor, good communication is an essential aspect of a smart, efficient system.
---
Andrew Burger, American Wind Energy Association
How Smarter Thermostat Control Yields Energy Savings
Triple Pundit, March 5, 2013
---
See what you can learn
learn more on topics covered in the film
see the video
read the script
learn the songs
discussion forum