---
Stanley, ID -- The most endangered run of Pacific salmon is beating the odds this summer.
You can't get any closer to extinction than Snake River sockeye salmon did last decade. This is the run that gave us "Lonesome Larry," so named because he was the one and only sockeye to complete the migration in 1992.
Correspondent Tom Banse reports that Lonesome Larry's descendents are coming back this year -- by the hundreds.
Snake River sockeye are currently performing an incredible feat of migration. They swim upriver for 900 miles. Their route to the spawning grounds in central Idaho crosses eight hydropower dams.
The fish climb to an elevation of about 6,500 feet at their destination, Redfish Lake.
Idaho Fish & Game's Dan Baker waits there beside a fish trap.
Dan Baker: "They're just over a month from spawning, so they're really getting that reddish color to 'em, the bright red color."
These salmon are so precious, Baker and his colleagues trap every single returnee. They hold the sockeye in protective custody at a hatchery until it's time to spawn next month.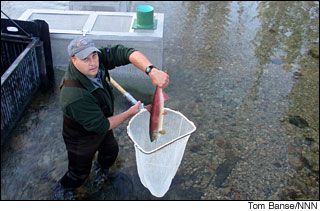 Dan Baker: "Most of these fish so far have been four-year-old fish. They're running about 3.5 pounds...."
Word of the bumper run of rare fish is getting around. The daily emptying of a trap on the upper Salmon River draws a crowd.
Vacationer Anthony Wingett of Sandhollow, Idaho says it's great to see progress in fixing the damage he says humans caused by building dams downriver.
Anthony Wingett: "We are very lucky that they came back. I mean it's called Redfish here for a reason, not just because there is a couple trout in there. It's because it used to be the color of red. You don't see that anymore up here."
Sportsfisherman Chancey Buttars of Preston, Idaho hopes the years when just a handful of sockeye returned are over. But...
Chancey Buttars: "They are far away from where they used to be. I don't know if they'll ever get back there, but they're trying. Now they've got hundreds coming back. So hopefully in ten years there's thousands."
Threatened Chinook salmon are also coming back in numbers not seen since the dams on the lower Snake River were completed in 1975.
Dan Baker: "Everything sort of lined up the last two years to really get these good returns. It's helped all the salmon."
Idaho Fish & Game's Dan Baker explains his agency has greatly ramped up hatchery production of endangered sockeye.
Bonneville Power is paying the bills along with other projects.
Dan Baker: "They've made modifications to the dams to help passage of smolts going downriver. We've had some good water years. That always helps. You can't beat a good flush of water out to the ocean."
These fish also benefited from a federal judge's order for higher flows and more water spilled over the tops of dams to improve survival. And they must have found plentiful food in the ocean.
Dan Baker: "Then again as the adults are coming back we've had good migration conditions and a little bit cooler water."
Baker says "we're still a long ways from being out of the woods" with these endangered salmon. Those are almost the exact same words used by Bill Sedivy, the director of the environmental group Idaho Rivers United.
Bill Sedivy: "We're hopeful that it's an indicator that we're not going to lose this just incredible species, this incredible marvel of nature forever."
But to achieve what he calls "harvestable, self-sustaining levels," Sedivy argues Snake River dams have to go.
Bill Sedivy: "We're still close to the brink. We haven't gone far enough yet. The lower Snake River is still too far removed from being a natural river."
Dam removal remains hugely controversial, as it has for more than a decade.
The Bonneville Power Administration points to this year's banner returns as evidence that modifications at the dams -- short of breaching -- are moving things in the right direction.
All sides are waiting in suspense to hear how the Obama Administration will weigh in on Columbia and Snake River dam operations and water flows. Court filings expected next month may provide some clarity on that.
---
Tom Banse
Return of the Redfish: Snake River Sockeye Salmon Back From The Brink
OPB, August 18, 2009
---
See what you can learn
learn more on topics covered in the film
see the video
read the script
learn the songs
discussion forum