---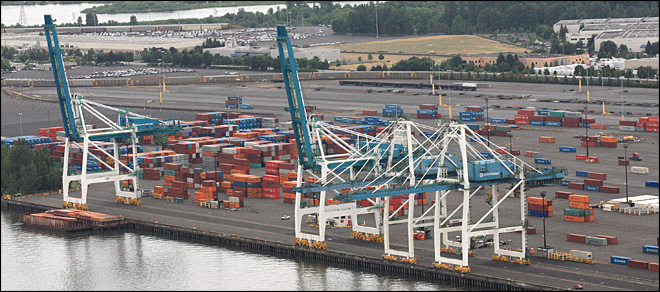 Negotiations between longshoremen and container export terminals continue even as a contract has expired.
Exporters of farm products are getting nervous due to the expiration of a labor contract between the longshoremen's union and West Coast container terminal operators.
While the negotiations continue, ag shippers are uneasy about the prospects of a possible trade disruption, said Peter Friedman, executive director of the Agriculture Transportation Coalition.
Overseas customers may look for alternative sources of supply if shipments from U.S. agricultural exporters are interrupted, he said.
"It makes us an undependable source," Friedman said.
A port stoppage a decade ago hurt the market share of U.S. hazelnut shippers who sold to Japanese confectioners, he said. Some have still been unable to fully reclaim the lost business.
Hay growers in Australia and elsewhere may also use the uncertainty over West Coast ports to ply their wares to Asian buyers, he said.
"Once you change your supply chain and suppliers, it's very difficult to change" back, Friedman said.
A work stoppage of five days to 15 days along West Coast ports would reduce U.S. exports by $1.5 billion to $6.9 billion, according to a recent study by the National Association of Manufacturers and the National Retail Federation.
The labor negotiations involve 20,000 longshoremen represented by the International Longshore and Warehouse Union and container terminals at 29 West Coast ports represented by the Pacific Maritime Association.
A labor contract between the two groups expired on June 30 but they agreed that work will continue under the terms of the previous deal.
"The commitment of both parties has been to moving forward and continuing to negotiate until the end," said Craig Merrilees, communications director for ILWU.
No disruptions related to the negotiations have yet been reported, and the contract expiration may actually speed along the talks, said Friedman.
"They never get to the nitty gritty until the pressure is on and the contract expires," he said.
Current negotiations aren't hostile, as in past years, but relations between longshoremen and terminal operators at several locations have nonetheless been tense, Friedman said.
In Portland, for example, ILWU is involved in protracted litigation with the terminal operator ICTSI, which has accused the union of work slowdowns.
In the much larger container terminal port in Los Angeles, a dispute involving the Teamsters union threatens to draw in longshoremen, Friedman said.
Merrilees of ILWU said rumors of a slowdown in Los Angeles are unfounded, but the port is facing a backlog of containers due to high shipping volumes.
Wade Gates, spokesman for the PMA, said he's unaware of work problems related to the negotiations.
The union and terminal operators are being tight-lipped about the current state of negotiations, said Friedman. "Word is just not getting out."
However, apart from the typical back-and-forth about wages, benefits and vacations, a major point of debate is likely the longshoremen's "jurisdiction" over certain port jobs, he said.
As automation grows more prevalent, longshoremen want to ensure they get jobs involving computer controls for machinery, rather than competing unions, Friedman said.
The "Obamacare" health insurance reforms are also a likely source of contention, he said.
The legislation places a new tax on high-end health plans, probably to target "Wall Street fat cats," but the provision also impacts plans held by unions, Friedman said.
The tax is expected to have a major financial impact, so the union and the terminal operators are probably arguing who will pay for it, he said.
It's also possible they will simply defer the issue until a future contract in hopes that the tax provision will be altered or removed, Friedman said.
Longshoremen are also involved in negotiations with Northwest grain handlers over a labor contract.
Their previous contract expired in 2012, leading to facilities in Portland and Vancouver, Wash., locking out workers last year.
---
Mateusz Perkowski
Terminal Operators, Union Negotiating New Pact
Capital Press, July 8, 2014
---
See what you can learn
learn more on topics covered in the film
see the video
read the script
learn the songs
discussion forum