---
The Surface Transportation Board wants to get
shippers' concerns solved "as quickly as possible".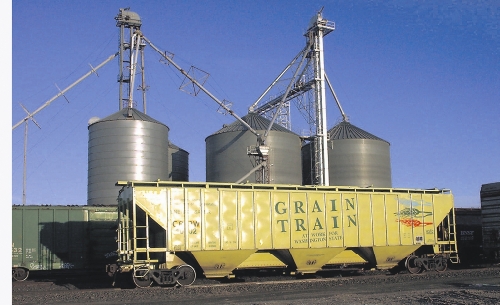 The Surface Transportation Board will require railroads to submit service recovery plans and provide additional data and regular progress reports on rail service, operations and employment.
According to the board, the decision focuses on the adequacy of recovery efforts involving BNSF Railway Co., CSX Transportation, Norfolk Southern Railway Co. and Union Pacific Railroad Co. and requires more comprehensive and customer-centric reporting of all Class I railroads' service metrics.
Agricultural, energy and other shippers and government officials, rail labor and rail experts provided testimony during a public hearing on urgent issues in rail service in April.
Board chairman Martin J. Oberman said in a press release that the hearing highlighted the "grave concerns" of shippers and others regarding freight rail service.
"While the railroads have faced certain challenges over the last few years, the evidence produced at last week's hearing is overwhelming that the railroads' longstanding practice of reducing operating ratios by cutting employment levels, mothballing locomotives, and eliminating other essential resources are the central reasons why farmers have been hours away from depopulating herds, manufacturing facilities have reduced operating hours, and shippers cannot get their products to market on time or receive essential raw materials for their companies," Oberman said.
"These failures are harming the nation's economy and, in my view, are contributing to the inflationary forces affecting food and fuel in particular," he said.
The decision is an "immediate step" the board can take to enable "needed monitoring" of improved efforts that the railroads have been "promising for months," Oberman added.
The board will determine if additional regulatory steps are necessary to promote reliable service.
Board spokesman Michael Booth said the mandatory reporting requirement is relatively unusual. The board and Oberman want to get shippers' concerns solved "as quickly as possible," he said.
"BNSF operating teams continue to execute our service recovery program to generate improved performance, said Lena Kent, general director of public affairs. "Ensuring that the necessary resources are available on the network to meet demand remains a key focus of this aggressive program."
The company deployed additional locomotives to its active fleet in April and is evaluating and adjusting the number of additional units that may join the fleet this month in alignment with freight volumes, Kent said.
About 310 new train crew personnel will complete their training in the next 90 days, and the company expects to hire nearly 1,800 train, yard and engine (TY&E) employees in 2022.
BNSF is working with individual shippers to identify unproductive railcars and implement pipeline management best practices to help the effort.
"While this measure may cause short-term capacity adjustments for some shippers, the long-term benefits of quicker network recovery and improved fluidity and velocity will be felt across the system," Kent said. "We have experienced improvements as a result of our efforts; however, it will take more time to see a full recovery."
In April, BNSF increased its bi-weekly network updates to weekly.
"We have been transparent with our efforts to restore service and communicate frequently with our customers," Kent said. "We will continue to work with our customers and the STB to provide the relevant information and ensure they stay informed about our service recovery progress."
"Union Pacific is keenly aware of our customers' concerns and has been taking aggressive measures to address them," spokeswoman Robynn Tysver said, prior to the board's announcement. "We are removing Union Pacific-controlled cars to ease congestion and working with customers to reduce their own growing inventories, adding locomotives, hiring at an accelerated pace, and focusing on other steps to get our service back to where we and our customers expect it to be."

---
Matthew Weaver
Surface Transportation Board Tells Railroads to Provide Recovery Plans
Capital Press, May 6, 2022
---
See what you can learn
learn more on topics covered in the film
see the video
read the script
learn the songs
discussion forum