---
Rivers to the ocean: How many young fish really make it through the journey?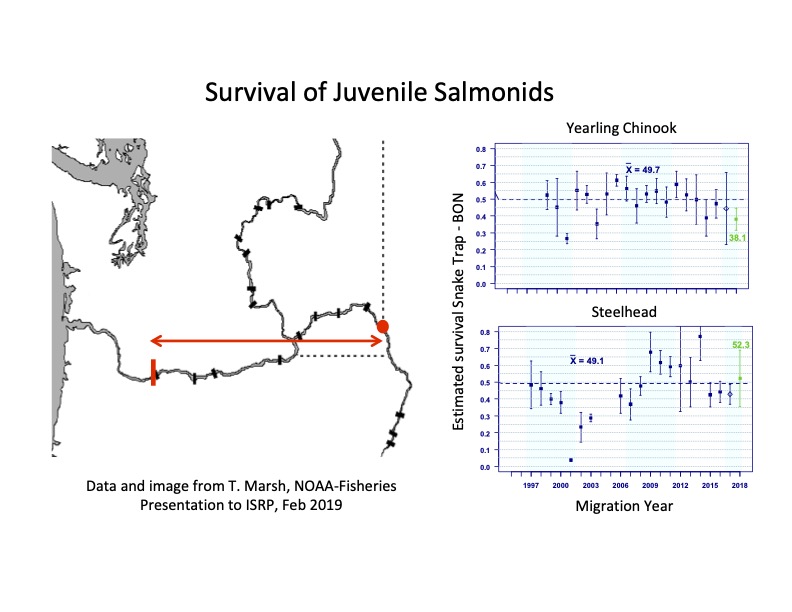 In the two decades that Snake River salmon and steelhead have been under the protection of the Endangered Species Act, much of the recovery effort has concentrated on improving survival of juvenile fish during their downstream passage through the dams and the reservoirs they create.
Snake and Columbia river dams and reservoirs have been identified as a key source of mortality for young fish as they are flushed downstream on spring and summer flows. Efforts to improve survival are based on the simple premise that the more fish that make it to the Columbia River estuary and Pacific Ocean in good condition, the more adults will eventually return to spawn.
Here we take a short look at fish survival both at individual dams and through the entire systems. The biological opinions governing operation of the hydrosystem have set a goal of achieving 96 percent survival for yearling chinook and steelhead passing each individual dam and 93 percent for younger subyearling chinook.
Those standards are being largely met. For example, an estimated 97.3 percent of yearling chinook and more than 99 percent of steelhead survived passage at Lower Granite Dam in 2018, according to federal studies. This means fish detected at the upstream side of the dam were still alive when detected at the downstream side. If survival targets were achieved at each dam, and there was no mortality between the dams, survival through the hydropower system would be about 72 percent for yearling chinook and steelhead and 56 percent for subyearling chinook.
However, the per-dam survival metric doesn't measure how many of those fish may have perished further downstream in the reservoirs between dams. Overall survival through the hydrosystem is measured in two ways. The Fish Passage Center tracks survival of tagged fish from above Lower Granite Dam, the first dam they pass on their downstream journey, to below Bonneville, the eighth and final dam they must pass. The National Oceanic and Atmospheric Administration tracks survival from the downstream side of Lower Granite Dam to below Bonneville Dam.
The Fish Passage Center measured average survival from above Lower Granite to below Bonneville Dam at 63 percent for chinook and 60 percent for steelhead between 2006 and 2017. Survival varies year to year. For example, chinook survival hit 80 percent in 2013, and steelhead survival was 72 percent that year. It dropped to 44 percent for chinook and 43 percent for steelhead in 2008.
Survival estimates calculated by NOAA tend to be lower: The average survival for spring and summer chinook through the hydrosystem from 1997 to 2019 was 48 percent and was 45 percent for steelhead. Again, some years are better and some years worse.
Not all juvenile fish that survive their journey through the hydropower system also survive in the ocean and return as adults. Some scientists believe that many of the young fish die in the Columbia River estuary and ocean because of cumulative injuries and stress suffered while passing the dams. This is known as delayed mortality and is a key factor in determining the degree to which dams are limiting survival of the fish. Delayed mortality will be explored more in depth later in this series.
Related Links:
Fish School, Part 4 by Eric Barker, Lewiston Tribune, 2/7/20
Fish School, Part 2: by Eric Barker, Lewiston Tribune, 1/24/20
Fish School, Part 1 by Eric Barker, Lewiston Tribune, 1/17/20

---
Analysis by Eric Barker
Surviving the System
Lewiston Tribune, January 31, 2020
---
See what you can learn
learn more on topics covered in the film
see the video
read the script
learn the songs
discussion forum