---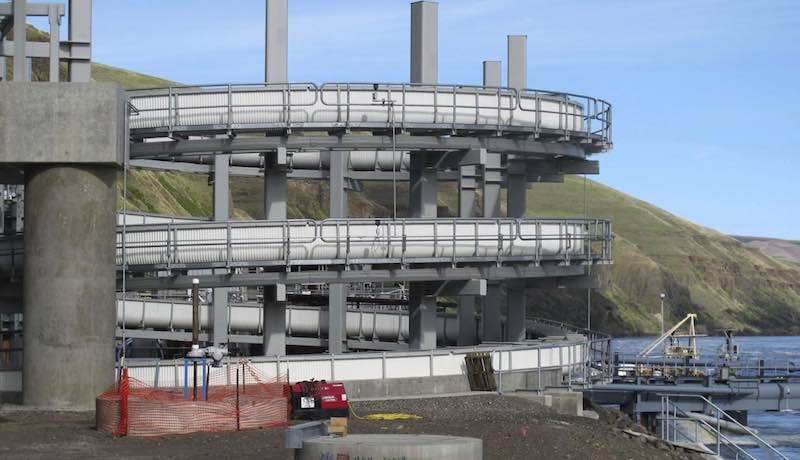 The Spokesman-Review recently reported on a poll conducted by special interest groups that have been campaigning for decades for removal of hydropower dams on the Snake River ("Poll shows Washington voters choose salmon over dams," March 31, 2018). Not surprisingly, their results purport to show that -- wait for it -- Washington voters also support dam removal!
Yet even a brief look at the survey questions reveal this as a classic "push poll," in which questions are posed in order to "push" interviewees toward certain answers -- not to gather information about what people genuinely think when presented with all the facts.
The poll's manipulation begins with a two-fer: The first question asks voters if preventing salmon extinction is important. The second asks which is more important: preserving salmon or preserving dams. This is classic push-polling: First, suggest that something horrible and untrue (salmon are going extinct; they aren't) is true. Then, ask people to make a false choice between salmon and dams, while implying that dam removal will eliminate myriad other threats that fish confront during their lifecycles.
Some facts the poll left out: Salmon and dams have co-existed for decades. While the Snake dams certainly affect salmon, all are equipped with state-of-the-art technologies that allow adult and young fish to pass safely by them. And while it's fun to fantasize about the millions of fish that will return to rivers if only we removed the dams, science tells us that many factors affect salmon survival, including sport and commercial harvest, degraded habitat, hatcheries and -- most influential of all -- ocean conditions.
The poll also asked voters if they would be willing to pay a "slight" increase on their electric bills to protect salmon. It didn't bother to mention that $20 or more of a typical $100 electric bill already goes to salmon protection, or that Northwest families and businesses have already spent nearly $16 billion on such efforts since the late 1970's. According to the Bonneville Power Administration, removing the Snake dams would cost the region another $1.3 billion to $2.6 billion; it could also increase wholesale power rates by 24 percent to 29 percent, which roughly translates to a 12 percent to 15 percent increase in residential rates. Hardly a "slight" increase.
Northwest RiverPartners also regularly commissions polls in partnership with DHM Research, an independent, nonpartisan firm in Portland with a 40-year track record in the Northwest. Last April, DHM surveyed 1,500 people in Washington, Idaho, Oregon and western Montana about salmon and dams. The difference is that DHM asked balanced questions designed to elicit honest answers.
For example, in the anti-dam groups' polling, a question about removing the Snake dams was preceded by false statistics that depict the dams as unnecessary. In contrast, DHM's question was introduced with the strongest arguments for dam removal and for keeping them. In response, a majority of Northwest residents (64 percent) said they support the dams and only 22 percent support removing them. Among Washingtonians, support for the dams was even stronger (66 percent).
Citing their flawed poll results, anti-dam groups maintain that Congresswoman Cathy McMorris Rodgers, an ardent supporter of the dams, is out of touch with voters in her eastern Washington district. A bill sponsored by McMorris Rodgers and a bipartisan group of Northwest leaders, H.R. 3144, recently passed the House of Representatives. It provides a "pause" on 20 years of anti-dam litigation and allows a court-ordered environmental review process focused on federal hydro system operations, called NEPA, to be completed. Meanwhile, it would keep in place a salmon plan -- the 2014 Biological Opinion -- that was vetted and supported by federal scientists in the Bush and Obama administrations, and Northwest states and tribes.
This leadership by McMorris Rodgers and her congressional peers is truly representative of the region they represent. The DHM poll showed that a large majority of Northwest residents (83 percent) agree that it is critical for both hydropower dams and salmon to co-exist.
And, when DHM asked Washington respondents if they would be more or less likely to vote for a candidate who supports dam removal, 64 percent said they would be less supportive. Clearly, it's the anti-dam groups, not McMorris Rodgers, who are out of touch.
Related Pages:
Appeals Court Rules In Favor Of More Spill For Juvenile Salmon, Steelhead At Columbia/Snake Dams by Terry Flores, Columbia Basin Bulletin 4/6/18
Ninth Circuit Hears Arguments On More Spill For Juvenile Salmon/Steelhead At Columbia/Snake Dams by Terry Flores, Columbia Basin Bulletin 3/23/18
Salmon BiOp Challengers Argue New 2018 BiOp Due End Of Year Would Be Illegal Without EIS Foundation by Terry Flores, Columbia Basin Bulletin 1/26/18
Judge Floats Idea Of Suspending Work On 2018 BiOp For Salmon/Steelhead Due To Lack Of Completed EIS by Terry Flores, Columbia Basin Bulletin 12/1/18
Federal Agencies Update Court On NEPA, EIS Process For Columbia/Snake Salmon, Steelhead by Terry Flores, Columbia Basin Bulletin 11/3/17


---
Terry Flores is executive director of Northwest RiverPartners, a nonprofit alliance of farmers, utilities, ports and businesses in Washington, Idaho, Oregon and Montana.
Survey on Support for Snake River Dams Misleading
Spokesman-Review, May 1, 2018
---
See what you can learn
learn more on topics covered in the film
see the video
read the script
learn the songs
discussion forum