---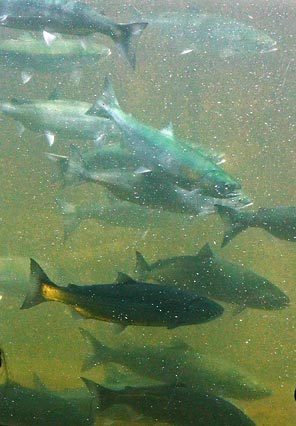 BOISE -- The first endangered sockeye salmon of the season arrived Friday in central Idaho, where state hatchery workers on the Salmon River caught it in a trap and are now saving it to be trucked to another site for spawning.
The fish's arrival was announced by salmon advocacy group Idaho Rivers United. Efforts to reach officials with the Idaho Department of Fish and Game, which runs the Sawtooth Hatchery near Stanley, were unsuccessful.
Last year, just four sockeye made the 900-mile swim from the Pacific Ocean to traps near Redfish, Alturas and Pettit lakes. The Snake River sockeye that return to the region have been protected under the federal Endangered Species Act since 1991.
While the 814 sockeye that have so far crossed Lower Granite Dam on the Snake River in Eastern Washington bode well for a stronger 2008 return, Idaho Rivers United said final numbers that reach central Idaho will still fall well short of the 2,000 naturally spawning fish targeted in federal fish recovery plans.
Amanda Peacher, salmon program coordinator for the group, said more must be done to ensure long-term salmon survival.
"This year's returns potentially give sockeye a new chance and create an opportunity to take action to restore the 'red fish' of Redfish Lake," Peacher said. "But we must build on the improved run with real solutions that will prevent sockeye from going down the drain again."
Idaho Rivers United had demanded the removal of four dams on the lower Snake River, including Lower Granite.
Idaho Gov. C.L. "Butch" Otter and others have rejected breaching, saying the dams provide electricity and bolster shipping for the region's industry and agriculture from inland port cities of Lewiston, Idaho, and Clarkston, Wash.
Sockeye used to return to central Idaho in numbers as high as 35,000, but have dwindled in recent years. After 257 sockeye returned in 2000 to Sawtooth Hatchery or a separate trap on Redfish Lake Creek, the numbers have fallen to single digits for the last five years.
Fish caught in the traps will eventually be trucked to the state fish hatchery in Eagle, Idaho, just west of Boise. Every year, biologists tip big blue tubs full of adult sockeye weighing up to 10 pounds into Redfish Lake as part of the state's effort to help the endangered fish recover, though environmentalists say most of the resulting young fish die in Snake River dam turbines on their way to the ocean.
Paul Kline, assistant fisheries bureau chief for the Idaho Department of Fish and Game, couldn't be reached by phone for comment Friday.
Biologists in Oregon reported earlier this week that they were uncertain just why sockeye salmon were heading back up the Columbia River this summer in numbers unseen since 1955. By this week, about 215,000 of the fish that turn brilliant red on their journey upriver had been counted.
Most of those are headed toward Wenatchee and Osoyoos lakes in Washington state, but a small percentage are destined for Idaho's Salmon River and lakes in the Sawtooth Mountains.
The 814 Snake River sockeye that have so far cleared Lower Granite Dam, the last of eight dams they must pass before the Idaho border, constitute the largest return recorded there since the dam was built in 1975.
---
Associated Press
Summer's First Sockeye Returns to Central Idaho
The Oregonian, July 25, 2008
---
See what you can learn
learn more on topics covered in the film
see the video
read the script
learn the songs
discussion forum