---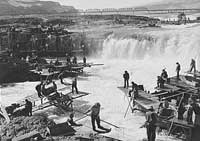 The Technical Advisory Committee provided a good news-bad news update to the Columbia River Compact Thursday, saying that hopes for a bountiful summer chinook salmon run and harvest have dimmed, but that the 2012 sockeye return to the Columbia River basin continues to surge upstream at what is a record pace.
TAC met Thursday morning to evaluate the status of this year's fish runs. It decided that the summer chinook return would be slightly more than half of what was projected in preseason - 54,000 adult fish to the mouth of the river instead of 91,200, which would have been the highest return since at least 1980.
The sockeye forecast boosted from the preseason estimate of a record 462,000 to the new prediction of 540,000 adult fish to the mouth of the Columbia. The previous high, again dating back to at least 1980, was 388,000 in 2010.
The summer chinook forecast downsizing is due largely to lagging counts at the lower Columbia's Bonneville Dam. Counts June 16-27 totaled only 23,070 adult upper Columbia summer chinook. Based on the 10-year average, passage is typically 50 percent complete by June 29, but has been as late as July 1.
Upper Columbia River summer chinook are destined for production areas and hatcheries upstream of Priest Rapids Dam. Summer chinook redds are found in the Columbia, Wenatchee, Okanogan, Methow, Similkameen, Chelan, and Entiat rivers in central Washington.
The reduced forecast means that harvests are ratcheted down. Based on current run size estimates and management agreements, 13,051 adult summer chinook are available for treaty Indian fisheries and 10,249 for non-treaty in-river fisheries (compared to 22,993 pre-season), according to a joint state staff report prepared for Thursday afternoon's Compact meeting.
Strong fishing on the Columbia River mainstem downstream of south-central Washington's Priest Rapids Dam, and the unexpected run-size downgrade, has resulted in an over harvest of summer chinook. Total non-Indian chinook mortalities for fisheries downstream of Priest Rapids are projected to be 5,261 fish compared to an allocation of only 1,800 summer chinook.
A total of 1,679 chinook were caught by the non-Indian commercial fleet during an eight-hour fishery June 17-18 in the lower river (from below Bonneville Dam downstream to the river mouth). Most of the balance of the overall catch, a projected 3,185, was reeled in by anglers in the lower river. The season there closes July 1.
"Non-treaty" fishers above Priest Rapids - anglers and the Colville and Wanapum tribes - will have about 5,000 summer chinook available for harvest within that overall 10,249 non-treaty allocation based on the new run-size forecast.
The Compact on Thursday approved two additional fishing periods for treaty tribes in the mainstem reservoirs above Bonneville. The Compact, which sets mainstem commercial fisheries, is made up of representatives of the ODFW and WDFW directors. TAC's federal, state and tribal membership develops run-size forecasts to advise harvest management and other process.
The Nez Perce, Umatilla, Warm Springs and Yakama tribes estimate that, through a 3.5-day fishery that ended Thursday they will have caught 7,644 summer chinook and 25,071 sockeye.
Based on the in-season run size updates and current catch estimates, a balance of 5,406 chinook and 12,729 sockeye remain available for treaty Indian harvest.
Catch estimates for the two tribal commercial fisheries approved Thursday are 4,900 chinook and 10,600 sockeye. The overall catch after a 3.5-day commercial fishery next week and a 2.5-day opener the week after are expected to stay within catch guidelines.
Effort normally declines after the first two weeks of the summer gillnet season, according to a tribal fact sheet. And the fish start to disappear so lower catches are expected.
"Sockeye move through the system pretty quickly," said biologist Stuart Ellis of the Columbia River Inter-Tribal Fish Commission, which represents the four treaty tribes. And summer chinook numbers also begin to wane as July progresses. The vast majority of the sockeye are headed for the Okanogan River basin, which stretches from southern British Columbia down into north-central Washington before joining the Columbia.
Ellis did say "there has been good market demand for sockeye this year."
Based on current run size estimates and management agreements, 13,051 adult summer chinook and 37,800 sockeye are available for treaty Indian fisheries this year.
Total non-tribal impacts on sockeye downstream of Priest Rapids are 5,014 fish out of a total allocation of fish, based on the current run size estimate and a 1 percent impact limit imposed the Snake River branch of the run. The preseason forecast was for a return of 1,900 Snake River sockeye, a stock listed as endangered under the Endangered Species Act. Neither the upper Columbia sockeye or summer chinook are listed.
That non-tribal sockeye catch included 373 during the lower river commercial fishery, 3,185 in the below Bonneville sport fishery and 533 in the Bonneville to Priest Rapids sport fishery.
---
Staff
2012 Summer Chinook Return Downgraded to Half - 54,000 Fish - of Preseason Forecast
Columbia Basin Bulletin, June 29, 2012
---
See what you can learn
learn more on topics covered in the film
see the video
read the script
learn the songs
discussion forum