---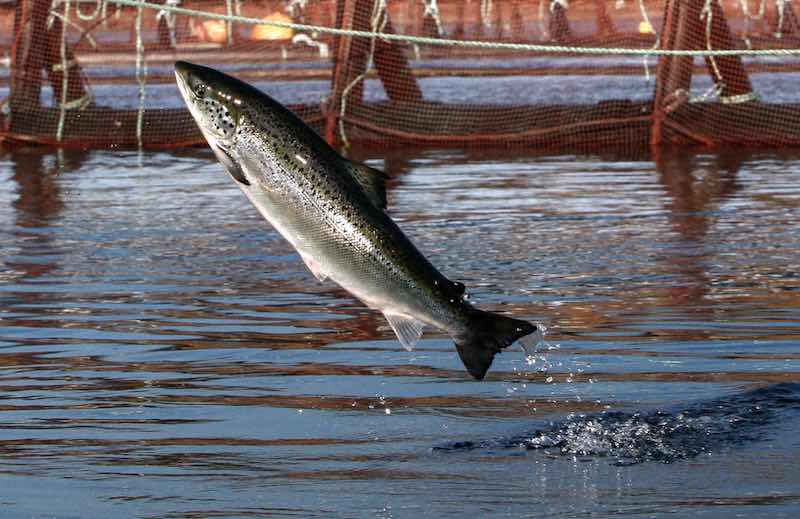 The Wild Fish Conservancy followed up on its 60-day intent letter to sue Cooke Aquaculture Pacific, LLC November 13, taking the company to U.S. District Court in Seattle under section 505 of the Clean Water Act.
The Conservancy says it is following through on its suit in order to hold the company responsible for the negligent release of over 100,000 farmed Atlantic salmon into public waters.
The 60-day notice to Cooke was sent by the Conservancy August 24 stating its intent to file a citizen suit under Section 505 of the Clean Water Act. At the time, it said that the near-complete failure of the net pen facility at Deepwater Bay on Cypress Island in the San Juan Islands of Puget Sound resulted in discharges of farmed Atlantic salmon, dead fish carcasses and debris, among other pollutants.
The groups said in a November 13 news release that the discharges are "blatantly negligent violations of the National Pollutant Discharge Elimination System (NPDES) permits under which Cooke Aquaculture's Atlantic salmon net pens currently operate."
Tribal, commercial and recreational anglers have removed a number of the escaped Atlantic salmon from public waters, but many thousands were not captured and "are currently spreading throughout the farthest reaches of the Salish Sea and beyond," the group said.
The Washington Department of Fish and Wildlife has recorded (by anglers) escaped Atlantic salmon as far south as southern Puget Sound and as far north as northern Vancouver Island.
"The escape event on Cypress Island represents a dire threat to already imperiled wild fish populations, beloved marine mammal species, and the fragile Puget Sound ecosystem at-large," the Conservancy said.
"This escape has forced the public to accept a huge gamble that depressed populations of wild, native salmon and steelhead will not be harmed by this non-native invader," said Dr. Nick Gayeski, fisheries scientist at the Conservancy. "Escaped non-native fish pose predation and disease threats to juvenile salmon and steelhead rearing in nearshore habitats in Puget Sound. They also pose threats to adult wild salmon and steelhead by competing for spawning habitat and potentially by establishing self-sustaining populations in Puget Sound rivers as they have been documented to have done on Vancouver Island."
Cooke Aquaculture said that about 305,000 Atlantic salmon were initially in the net pen when it collapsed. Some 145,851 fish were removed from the structure by the company. That includes 5,166 fish that were harvested prior to the collapse August 20 and 388 fish the company caught using beach seines after the collapse. About 150,000 escaped into Puget Sound waters.
Cooke operates net pens at eight locations in Puget Sound.
Within a week of the net pen collapse, Gov. Jay Inslee directed that no permits be issued for new aquaculture net pens while the incident was being investigated, and the Conservancy sent its letter of intent to sue to Cooke.
However, in October WDFW approved a request by Cooke to transfer 1.8 million Atlantic salmon eggs from its facility in Iceland to its land-based hatchery in Rochester, Washington after ensuring the company met all fish health standards required under state law to import Atlantic salmon eggs.
Also in October, the fisheries agency approved a permit for the aquaculture company to transfer about 1 million 2-year old smolts from its Rochester hatchery to an existing net pen facility in Rich Passage near Bainbridge Island in Puget Sound. There the smolts will grow to adults for harvest and sale.
At the time, WDFW said it did not have the authority under current state law to deny Cooke's requests.
See CBB, October 13, 2017, Washington Approves Importing Atlantic Salmon Eggs From Iceland To Cooke Aquaculture Hatchery
According to the Conservancy the August 19 release of Atlantic salmon was not an isolated event, saying that there were three such escapes in the 1990s and a "deadly disease" outbreak in 2012, according to Kurt Beardslee, the Conservancy's executive director.
"In the hopes of preventing future harm to Puget Sound and the critical marine habitats on which Washingtonians and wildlife rely, we're taking legal action today to put Cooke Aquaculture's actions leading up to and during the spill under legal and public scrutiny for the benefit of our Sound and our salmon," he said.
In addition to legal measures, WFC is working to more precisely quantify the potential impacts of the August release by sending escaped Atlantic salmon samples obtained by the Lummi Nation to independent labs to test for a variety of toxins and viral diseases, the Conservancy's news release says. Those tests, the group says, will be crucial in determining the escape event's true impact on the well-being of wild fish and marine mammal populations.
A fish health report by Washington Department of Fish and Wildlife says the Atlantic salmon were healthy when released, but also says the fish are not expected to live long in Puget Sound, nor are they expected to establish themselves in the Sound.
The Atlantic salmon are a "domesticated species that is adapted to hatchery conditions much like our domestic rainbow trout stocks," Jed Varney of WDFW said. "The stress of a different environment and lack of food may play some role in disease seen as time goes on post release, reducing survival. Previous accidental releases in 1996, 1997, 1999 and others have not seen this species establish itself in Puget Sound."
The Fish Health Report Summary is here.
Related Sites:
Washington Gov. Asks Cooke Aquaculture To Withdraw Request To Transfer One Million Atlantic Salmon by Staff, Columbia Basin Bulletin, 10/6/17
Escaped Atlantic Salmon Continue To Be Caught; WDFW Says Fish Not Expected To Establish Themselves by Staff, Columbia Basin Bulletin, 9/22/17
Over Half Of Net Pen Atlantic Salmon In San Juans Escaped; Reported Catches At Columbia Mouth by Staff, Columbia Basin Bulletin, 9/8/17
Fish Farm Escape: Intent To Sue Filed, Washington Sets Up Incident Command Structure To Contain by Staff, Columbia Basin Bulletin, 9/1/17

---
Staff
Wild Fish Conservancy Sues Cooke Aquaculture Over Atlantic Salmon Fish Farm Escape
Columbia Basin Bulletin, December 1, 2017
---
See what you can learn
learn more on topics covered in the film
see the video
read the script
learn the songs
discussion forum