---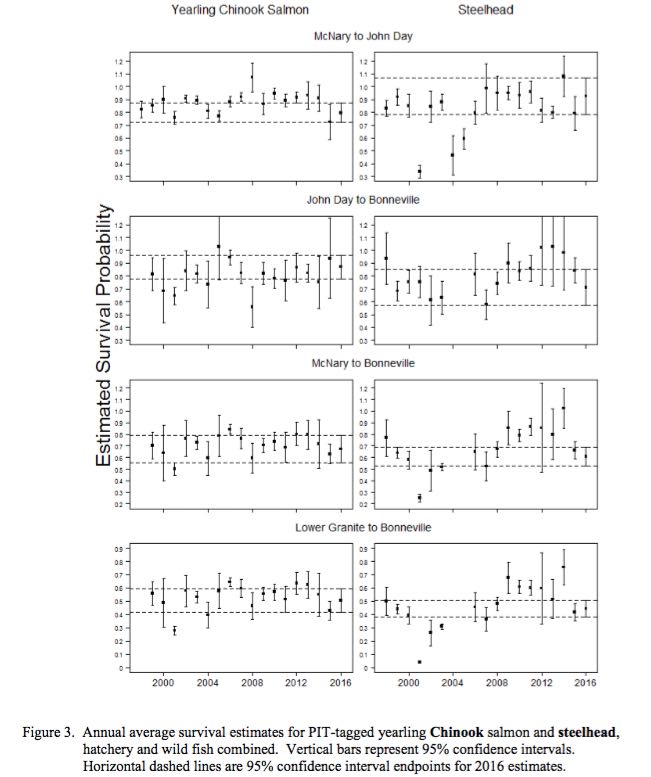 Five conservation groups gave notice last week that they will pursue a lawsuit against the federal Environmental Protection Agency if the agency fails to finalize a pollution budget under the Clean Water Act for the Columbia River and lower Snake River that it was near finalizing in 2003.
The groups' primary concern is to prevent from recurring the high water temperatures that hit the two rivers last year. Those high temperatures that at times far exceeded the 20 degree Celsius limit (68 degree Fahrenheit) EPA has set for the rivers led to the devastation of the Snake River sockeye salmon run into the Sawtooth Valley.
That run of salmon is listed as endangered under the federal Endangered Species Act. Some 90 percent of the run died before making it to Ice Harbor Dam, the most downstream dam on the Snake River, and 96 percent died before Lower Granite Dam, the upriver dam. Just 1 percent made it as far as their spawning grounds.
Overall, according to the groups, more than 250,000 sockeye were lost to the warm water in the two rivers, including sockeye migrating into the Okanagan River.
"We need a comprehensive plan to deal with dams' impacts on water temperature, or we may be telling our kids stories about salmon instead of teaching them to fish," said Miles Johnson, attorney for Columbia Riverkeeper.
They are seeking completion of a Total Maximum Daily Load budget under the CWA within 60 days or they are seeking a settlement. If that doesn't happen, the groups will file the suit in court seeking an order to compel the EPA to issue the pollution budget in order to protect salmon from the high water temperatures seen last year.
The groups include Columbia Riverkeeper, Snake River Waterkeeper, Idaho Rivers United, Pacific Coast Federation of Fishermen's Association and the Institute for Fisheries Resources.
The public interest law firm Advocates for the West (advocateswest.org) represents the groups.
The groups said that the EPA was nearing completion of a TMDL when "dam operators pressured EPA to abandon the effort." They added that the pressure came when the EPA realized the cause of warm water in the rivers was the dams.
The preliminary plan can be found at: columbiariverkeeper.org/wp-content/uploads/2015/07/Preliminary-Draft-TMDL-Draft-6-30-03-editing-9-5-03.pdf
More recently in response to last year's high water temperatures the EPA noted that, with climate change, water temperature is becoming a critical issue in the two rivers, the letter of intent says. In fact, according to the complaint, the EPA has concluded that more needs to be done to maintain temperatures below 20 degrees C.
"Despite EPA's calls for more to be done to maintain cooler temperatures and protect fish, the agency has failed to take action to develop and implement a temperature plan," the intent letter says.
"Our members' livelihoods depend on healthy salmon runs," said Glen Spain, northwest regional director of the Pacific Coast Federation of Fishermen's Associations and the Institute for Fisheries Resources. "It's simply unacceptable to let hot water kill otherwise-healthy adult salmon before they can spawn."
Related Pages:
First Snake River Sockeye Reaches Sawtooth Basin by Staff, Columbia Basin Bulletin, 7/31/15
Corps Report on 2015 Columbia/Snake Warm Water, Fish Die-Off Will Discuss Actions to Avoid Repeat by Staff, Columbia Basin Bulletin, 4/1/16
Post-Mortem 2015 Snake River Sockeye Run; 90 Percent of Fish Dead Before Reaching Ice Harbor Dam by Staff, Columbia Basin Bulletin, 12/4/15
Report Analyzes Impacts, Causes of This Year's Warm Fish-Killing Water in Columbia/Snake by Staff, Columbia Basin Bulletin, 11/6/15
Snake River Sockeye: Lowest Return Since 2007, Captive Broodstock Program Increases Spawners by Staff, Columbia Basin Bulletin, 9/11/15
Smoke, Lower Air Temperatures Keep Lower Snake Cooler by Staff, Columbia Basin Bulletin, 8/28/15
Last Of Dworshak Water for August? 400 Snake River Sockeye Between Lower Granite, Sawtooth Basin by Staff, Columbia Basin Bulletin, 8/14/15
NOAA's Snake River Sockeye Salmon Recovery Plan:25 Years of Actions at $101 Million by Staff, Columbia Basin Bulletin, 6/12/15

---
Staff
Conservation Groups File Notice to Sue EPA Over Columbia/Snake Water Temperatures
Columbia Basin Bulletin, August 26, 2016
---
See what you can learn
learn more on topics covered in the film
see the video
read the script
learn the songs
discussion forum