---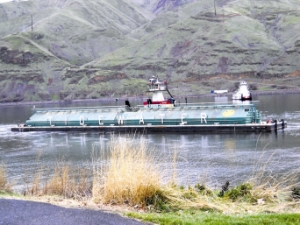 AMERICAN FALLS, Idaho -- Though grain prices remain low, Idaho growers say they've been mostly pleased by plump kernels, decent quality and above-average yields at the start of the 2016 fall wheat harvest.
With harvest starting slightly later than normal, some growers have been forced to switch fields upon encountering green patches while cutting their grain.
But they've also reported strong yields, test weights above 60 pounds per bushel and fewer disease problems than expected.
"We're getting a good start on soft white winters, and we're seeing areas from the west towards the east with excellent yields," said Jim Rooney, with Lansing Trade Group.
Protein levels have been below average -- a common challenge in high-yielding seasons. Rooney said growers should expect steep discounts for low protein levels in hard wheat varieties, as well as generous premiums for high protein levels.
Early this season, crop pathologists warned conditions were aligned to cause Idaho growers problems with several diseases and pests, including fusarium headblight, stripe rust, barley yellow dwarf virus and wireworms. Rooney believes growers generally avoided major crop damage due to favorable weather conditions and good management, such as using seed treatments and delaying fall planting until after aphid migrations, in the case of barley yellow dwarf.
Rooney said stripe rust caused headaches for growers who planted susceptible varieties this season, even some who sprayed three fungicide applications, but resistant varieties, such as SY Ovation, escaped damage.
Roughly 15 percent through his harvest, Declo grower Mark Darrington said his yields were slightly above average and his test weights were about 61 pounds per bushel on soft white wheat.
"If you planned ahead and put a disease package on when you were planting wheat varieties, you were less subject to rust and in good shape," Darrington said.
Idaho Falls grower Gary Dixon, while preparing to start harvest, was optimistic about full kernels and good yield and quality.
"I think it's going to be one of our better crops," Dixon said.
Inkom grower Bill McNabb, who started cutting July 25, said kernels are plump in his fall grain, but he's worried the heat could stress his spring wheat.
With 10 percent of his harvest complete, American Falls grower Doug Ruff said he's been pleased by his crop, as have other growers in his area. Soda Springs dryland farmer Sid Cellan believes this year's crop will be about average, following a "once-in-a-lifetime" crop last season. He's pleased that hot weather helped him avoid a wireworm problem, forcing the pests deep into the soil.
Grower returns, however, remain in the cellar, with prices out of Meridian at $4.13 per bushel for hard red winter and $4.30 for soft white.
According to USDA, the average price for wheat is expected to finish the marketing year at $3.80 per bushel, down from $5.99 three years ago.
Kansas State University Extension economist Dan O'Brien explained major growing areas throughout the U.S. and the world have all had bumper crops, and it's projected that for every 100 bushels of wheat raised in the U.S. this season, 49 bushels will be unused at the marketing year's end.
"We've overwhelmed our elevator system to the degree that we're putting wheat on the ground," O'Brien said, adding economics could dictate feeding hard red wheat to cattle.
---
Distance in Space and Time for
Trucking Wheat to River Ports
| | | | |
| --- | --- | --- | --- |
| From | to Pasco, WA | to Lewiston, ID | Shorter but Longer |
| Declo, Idaho | 457 miles (6hr 41m) | 440 miles (7hr 19m) | -17 miles (+38m) |
| Idaho Falls, Idaho | 568 miles (8hr 12m) | 530 miles (8hr 37m) | -38 miles (+25m) |
| Inkom, Idaho | 536 miles (7hr 48m) | 518 miles (8hr 24m) | -18 miles (+36m) |
| American Falls, Idaho | 497 miles (7hr 15m) | 480 miles (7hr 53m) | -17 miles (+38m) |
| Meridian, Idaho | 282 miles (4hr 21m) | 268 miles (5hr 1m) | -14 miles (+40m) |
---
Top 5 Agricultural Exports
from the NW and California (2013)
| Rank | California | Washington | Oregon | Idaho |
| --- | --- | --- | --- | --- |
| 1 | Fruits/nuts | Fruits/nuts | Wheat | Wheat |
| 2 | Vegetables | Vegetables | Fruits/nuts | Dairy |
| 3 | Dairy | Wheat | Vegetables | Vegetables |
| 4 | Cotton | Dairy | Dairy | Beef/Veal |
| 5 | Rice | Beef/Veal | Beef/Veal | Feed/Fodder |
---
John O'Connell
Idaho Growers Reporting Strong Wheat Harvest
Capital Press, July 28, 2016
---
See what you can learn
learn more on topics covered in the film
see the video
read the script
learn the songs
discussion forum