---
Salmon fighting upstream despite low water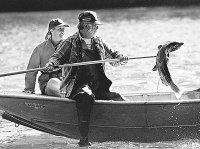 MARBLEMOUNT, Wash. -- Strong runs of spawning chinook salmon are making their way up rivers and streams throughout the Pacific Northwest, splashing frantically in mere inches of water in some places because of a dry August and warmer-than-usual September.
"We need rain," Bill Tweit, the state Department of Fish and Wildlife's lead policy expert for the Columbia River, told the Seattle Post-Intelligencer.
Scientists say they're encouraged the Columbia is experiencing its second consecutive year of strong chinook runs. But they warn that low water levels this year and during the 2000-2001 drought could create problems in future years.
"Usually by now we've had a few drenchers," Tweit said. "We're seeing some problems, but it's not a huge problem yet. This isn't outside the range of what fish have adapted to. But if this weather continues, it could pose trouble."
For now, though, a generous snowpack in the mountains is offsetting dry conditions.
"Even with the low flows, the fish are getting upstream," said Angela Foster, a Fish and Wildlife biologist who recently helped retrieve, measure and check tags on the carcasses of spawned-out chinook on the upper Skagit River.
So many fish are making their way up rivers, some tribal fishermen have reported falling prices for chinook.
Still, there are warning signs of trouble.
Spawning beds lie exposed in many of the Northwest's waterways. Many fish are "holding" in mainstream rivers, waiting for water levels to rise before making their way home.
Pointing to exposed boulders in the upper Skagit near Marblemount last week, state fish biologist Pete Castle said, "Normally, we never see these rocks. We rarely see the river this low. It's kind of dangerous."
In addition to making it tougher for fish to swim upstream, low flows also make spawning fish more vulnerable to predators, such as bears, coyotes and raccoons.
Roger Thompson, spokesman for Puget Sound Energy, said river and stream levels are still well above those experienced during the recent drought. That's when the utility released dammed water on the Baker River, a tributary of the Skagit, to help replenish dry spawning beds with water. v Counts are not complete, but Castle estimated that the number of fish would be close to meeting recovery goals -- a healthy enough supply to meet the needs of commercial, tribal and sport fishing as well as the requirements of the federal Endangered Species Act.
On the Cedar River, where dammed-up water was released recently to assist spawning salmon, fish counts also look good, said Karl Burton, a fish biologist with Seattle Public Utilities.
Same thing on the Columbia, where chinook are considered endangered in certain stretches, said Joe Hymer, a Fish and Wildlife biologist in Vancouver, Wash.
An estimated 9,400 fall chinook are returning to the Snake River via the Columbia so far this year -- about four times the average over the past 10 years, Hymer said. Biologists have counted 43,500 chinook above McNary Dam.
"It's good news. It's very encouraging," Hymer said. "But people need to remember that these things are cyclical -- that things can go gunnysack quickly. Just seven years ago, we had the lowest spring chinook run on record -- only 10,000 came back compared to this year's spring count of 400,000."
Curt Kraemer, a Fish and Wildlife biologist conducting surveys on the Stillaguamish and Skykomish rivers, said as the human population increases, water levels of the Northwest's rivers, creeks and streams will loom larger as a regional issue.
More growth means greater demand for hydroelectric power, water for drinking, showering, car washing, lawns and even golf courses. Agriculture, the state's second-largest industry, needs water for irrigation.
"The water issue isn't an acute problem yet," Kraemer said, "but it's a chronic problem."
---
Associated Press
Strong Run of Chinook on the Way
Spokesman Review, September 27, 2002
---
See what you can learn
learn more on topics covered in the film
see the video
read the script
learn the songs
discussion forum