---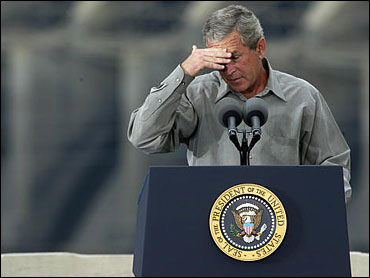 The rise and fall of business in the Walla Walla Valley captured the votes for the top local stories of 2003.
Readers' ranked the effort by Lowe's Home Improvement and The Home Depot to build stores here as the top story of 2003, beating out the visit by President Bush and the threatened downsizing of the local veterans hospital.
The controversial effort to put artwork in Pioneer Park finished a distant 10th. Local military men and women shipping out to Iraq didn't make it into the 10, being out-voted by stories such as Horizon Air announcing it would cut one flight from Walla Walla.
Several significant stories also occurred so late in the year that they did not make it onto the ballot: the impact of the discovery of mad cow disease in Washington state, and the resignation of Walla Walla County Treasurer Kent Osborne.
Forty-four readers cast their votes for the top stories of 2003. Here are their choices:
1 Lowe's Home Improvement may have won on the track in 2003, but The Home Depot was first in the Walla Walla Valley.
The world's two largest home improvement retailers, longtime NASCAR rivals, announced plans to build their warehouse stores in the Valley this year - Lowe's at the Blue Mountain Mall and The Home Depot in College Place.
Walla Walla and College Place clashed over possible traffic impacts the national retailers would have on Myra Road.
After two months of disagreements, administrators for the cities reached an agreement on the developments.
Lowe's, however, did not receive the needed approval from all of the mall's anchor tenants. Plans to build the home improvement store fell through when an agreement with Sears could not be reached, a mall official reported.
Construction of The Home Depot is now nearing its final stage. Opening is slated for Feb. 5.
2 Walla Walla garnered national attention in several magazines in 2003, due in large part to the burgeoning wine and hospitality industry.
Walla Walla wine country was featured in National Geographic Traveler's ``101 Great Food and Travel Experiences' May/June edition. The Washington Post and Boston Globe also published pieces singing the area's praise. Northwest Palate and Idaho Homes and Gardens featured local restaurants and wineries as well.
3 Ideas were shared on improving downtown Walla Walla, from adding more flower pots to better parking.
The results will be compiled into a master plan that will guide development in the heart of the city over the next 20 years.
Hundreds of citizens, business owners, city officials and property owners participated in workshops and public meetings with consultants from the Colorado-based Winter & Co.
Needs for downtown included neighborhood connections, potential connections to major employers, beautification and incorporation of Mill Creek, street character, infill development, signage and civic and public improvements.
The new master plan, expected to be completed in fall 2004, will build on the strategic plan implemented 15 years ago.
4 Six longtime Walla Walla businesses closed their doors or abandoned their Walla Walla branch in 2003.
In March, home improvement stores Craik Lumber Co. and the neighboring Ace Hardware store closed. Larry Craik, owner of both Isaac Avenue stores, said he closed because The Home Depot and Lowe's planned to move here.
In November, another home-improvement store, Grover Electric at 830 N.E. Rose St, closed. Store officials declined to say why.
In March, two longtime retailers called it quits. Officials with Long's Garden and Pet Supply, 2189 E. Isaacs Ave., said they closed because revenue had been down significantly since the store moved to the Eastgate location about 18 months previously.
Soon after, Bi-Mart closed its Eastgate branch, after what company officials called a year of disappointing sales. Bi-Mart retained its original Walla Walla store on Plaza Way.
In May, Evergreen Walla Walla Health and Rehabilitation Center, 1865 E. Alder St., also closed. Officials said the facility had been running half empty or more for months. The closure did not affect Evergreen Milton-Freewater.
5 The crowd was invitation-only. The security was tight and the visit was brief, but the message was clear.
``We can have good clean hydroelectric power and salmon restoration going on at the same time,' Pres. George W. Bush declared on Aug. 22 with Ice Harbor Dam as a backdrop.
Bush's Walla Walla County stop was part of a whirlwind visit to the state which ended with a $2,000-a-plate fund raiser in Seattle that day. But although his stay was short, Bush said what many local people wanted to hear. Removal of the Lower Snake River dams isn't on the agenda anytime soon.
6 A preliminary federal plan has recommended closing all inpatient services at the Jonathan M. Wainwright Memorial Veterans Affairs Medical Center, and operating it just as an outpatient clinic. The discussions of downsizing upset many local veterans who feel it will make it harder for them to get medical care.
However, the committee is still working on the plan and some aspects of it could change. It will be completed early this year, then given it to Secretary of Veterans Affairs Anthony Principi. If he concurs with the findings, he will forward it to the Congress and President for a final decision on the fate of this VA and others across the country.
7 A federal education law reauthorized in 2001 affects every public school student in the nation, including those in Walla Walla area schools. A series of stories published in September examined the No Child Left Behind Act. Stories found approval of the goal - that all students receive instruction from highly qualified teachers and staff, and master state standards in reading and math. But critics said No Child's testing and reporting requirements penalized schools with high populations of students the original law was supposed to help. Additionally, they said the law was underfunded, covering about 7 percent of the state's education budget, but driving the remaining 93 percent.
8 As they toured a multi-million dollar runway rehabilitation project at Walla Walla Regional Airport on June 12, Port of Walla Walla commissioners were worried. There were rumors that Horizon Air, the airport's only scheduled air carrier, was going to cut back service.
The rumors turned out to be true. The next day the airline confirmed that in September, one of four daily flights between Walla Walla and Seattle would be cut due to declines in passenger traffic.
While results are still pending on a Port campaign to boost traffic through advertising and special fares, the four-flight per day schedule is likely to return in early 2004 due to a proposed change in Horizon's air service to Pendleton.
8 (tie) A long-running controversy over a proposed winery and tasting room in Walla Walla County's exclusive agriculture zone reached another milestone in April.
Walla Walla County commissioners and Michael Murr, a Walla Walla native turned New York investor, agreed to a settlement which dismissed appeals by both parties of a Superior Court ruling that would allow Murr to build the facility on a 300-acre vineyard in the exclusive agricultural zone.
But the case, which has stretched over three years now, is not done yet.
After the county and Murr reached their agreement, a third party involved in the controversy, the Blue Mountain Foothills Preservation Committee, vowed to continue the contest through motions filed in Superior Court in Franklin County and with the Court of Appeals in Spokane.
Terry Nealey, the attorney for the group, said a hearing on a motion for summary judgement has been scheduled in Franklin County for Feb. 13 and Court of Appeals has set Feb. 23 as the date the court will hear arguments.
10 In April, the Walla Walla City Council got its first look at proposed public art for Pioneer Park: an 84-piece sculpture by New York City artist Tom Otterness. The work was prompted by a donation from Walla Walla native and New York investor Michael Murr. Otterness' work would have depicted a fairy-tale scene that would have stretched from the pond to the playground.
Otterness then withdrew the proposal because of negative feedback. He submitted a much smaller sculpture of a pioneer family riding in a covered wagon. Within 24 hours of the proposal going public, more than 100 people lodged complaints with the Parks Department, including 87 that signed a petition opposing the work. Some disliked the proposed location. Others thought some elements seemed immoral or violent.
In August, the Council voted to accept the art, saying art is subjective. Since then, possible sites have been narrowed to two. The $250,000 work will take 18 months to build and install.
---
Union-Bulletin staff
The Top Stories of 2003
Walla Walla Union-Bulletin, January 3, 2004
---
See what you can learn
learn more on topics covered in the film
see the video
read the script
learn the songs
discussion forum