---
Law sides with fish, against drought, utilities, farmers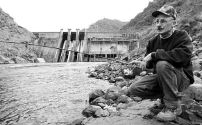 HELLS CANYON -- On a river filled with troubles, Tom Peutz is a happy man.
He stands on a boulder by the Snake River, a fishing rod in hand. For 12 hours, the maintenance worker and weekend farmer has been casting his line into the rushing waters below Hells Canyon Dam, and now this is his reward: a silvery, 15-pound salmon lying in a pool at the river's edge.
"I'm very happy when I get to go fishing," Peutz says, a broad smile on his weathered face. All around him are other contented anglers, enjoying the river's best spring run of chinook salmon in years.
It's a sweet moment of abundance in a season marked by scarcity and conflict. Even in a good year, protecting salmon in the Pacific Northwest is the broadest challenge ever tackled under the federal Endangered Species Act -- and this is not a good year.
Salmon advocates were hoping for solid progress this summer toward recovery of dwindling salmon populations. They are armed with strongly worded new federal rules based on the 1999 listing of nine populations of Northwestern salmon and steelhead under the Endangered Species Act.
On many stretches of river, those rules now put protecting salmon ahead of irrigating farms and producing electricity. But even with the legal reshuffling, nature still holds the highest cards.
Drought is gripping the Snake River and the rest of the Columbia River Basin, making it impossible to satisfy everyone who uses river water. Government biologists want reservoirs lowered immediately to help flush young salmon downstream. Farmers want the reservoirs kept full so they can water their fields later this summer. Utility operators, facing exorbitant electricity costs due to California's power crisis, want a steady flow of water through the basin's hydropower dams.
"It's a touchy subject," says Peutz, who has his own conflicts as both a fisherman and a farmer. But a good day of fishing has put him in an optimistic mood, and he believes balance is possible.
"Everybody's got to give a little bit," he says. "It's called working together."
Legal ramifications
If only everyone were so sanguine. Lawsuits and protests have become almost daily occurrences as the Northwest gropes its way toward saving salmon without bankrupting those who use the same resources as the fish -- which is to say nearly everyone in the region.
The last time the Endangered Species Act was such big news here, the creature in question was the northern spotted owl, an elusive bird that few Northwesterners have ever seen.
Salmon, by contrast, pop up everywhere, from backyard streams in Seattle to irrigation ditches in rural Idaho. They struggle past huge dams on the Columbia River and flop across flooded highways in the rainy season.
Five species of wild salmon and one species of steelhead are involved. Some populations in some rivers are doing just fine, while others are at the brink of extinction -- a complex situation made even more confusing by the use of hatchery-bred salmon over the years to substitute for dwindling wild runs.
Tom Peutz, for example, can eat the chinook salmon he caught because a tiny fin on its back is missing, showing it was born in a hatchery. Earlier, he hooked a wild chinook and had to let it go.
While the variety confounds recovery efforts, it also builds a constituency for the salmon, which has the distinction of being an endangered species that people can eat.
Few in the Northwest question the need to protect salmon. They just want someone else to do it. Dams, logging operations, farms, urban development, commercial and tribal fisheries -- all get blamed for the salmon's problems.
"There are so many vested interests that it's simple for any of them to say, 'It ain't me, Jack; look at the dams or the Indians or fisheries and make them fix the problem,' " says Brian Gorman, spokesman for the National Marine Fisheries Service in Seattle. "But if everybody says that, and historically that is what has happened, then in 20 years all of these fish will be extinct."
Salmon protection efforts started decades ago, but the 1999 listings under the Endangered Species Act marked a new era. Suddenly, fisheries officials could demand concessions they once had to beg for.
An idea once considered radical -- tearing down federal dams on the Snake River to let salmon pass freely -- started getting serious consideration. The federal fisheries agency ended up dropping the idea but warned it would reconsider it if other measures don't work.
Today the controlling authority for federal dam management on the Columbia and Snake rivers is not some engineering treatise but a National Marine Fisheries Service document, released last December, called the "biological opinion."
Drought complicates issue
No government publication, however, can erase a drought. The Columbia basin's mountain snowpack was half its normal level last winter, the second-driest since 1895.
Without the usual spring freshets, young salmon trying to swim downstream to the sea are getting lost in the sluggish water of reservoirs. Others are getting stranded as river levels fall. Biologists have found young fish trying to survive in water-filled deer tracks along the shore.
During past droughts, Northwest utilities have supplemented hydro-generated electricity by buying power generated elsewhere in the West. This year, however, power shortages and California's troubles with deregulation have raised wholesale power prices tenfold or more.
Conflicts over water and fish seem to erupt everywhere at once:
In Klamath Falls, Ore., more than 8,000 angry farmers and supporters staged a bucket brigade in May, scooping water from Upper Klamath Lake and passing it hand-to-hand to an irrigation canal. They were protesting the Bureau of Reclamation's decision to cut off water this summer to more than 1,000 farms so there would be enough for coho salmon and sucker fish.

Environmental groups sued the federal government in May, saying its plan to save Columbia and Snake river salmon is flawed because it hands hydroelectric generators a "blank check" to ignore the rules whenever profits are threatened.

In north-central Washington, where federal regulators have wrangled with farmers over irrigation ditches that trap salmon, Okanogan County officials are planning a lawsuit claiming the Endangered Species Act is being used to usurp states' rights to govern water usage.
Hells Canyon, despite its cheerful fishermen, illustrates the difficulties of doling out water when there's not enough to go around. Three hydropower dams in the canyon, built without fish ladders that let fish pass upstream, are the end of the line for salmon that swim 470 miles up the Columbia and Snake rivers.
The National Marine Fisheries Service wants Idaho Power, the dams' operator, to help flush young salmon downstream this summer by releasing at least a third of the water held behind the dams in Brownlee Reservoir.
The private utility wants to be paid for the loss of electricity it could generate with that water. The power company has released water for salmon in the past, but the drought and high cost of electricity change everything, says utility spokesman Dennis Lopez.
"Producing electricity for our customers is our mandate," Lopez says.
Managing water
Idaho Power's reluctance is seconded by farmers. River water irrigates their fields and provides cheap hydropower to run their irrigation pumps.
Lynn Tominaga, executive director of the Idaho Irrigation Pumpers Association, says frustrated farmers resent federal efforts to draw down reservoirs for salmon.
"I've had people call and ask what they can do," Tominaga says. "They say, 'I'll bring my wife and kids and guns and we'll sit up on top of a reservoir to keep them from releasing the water.' "
He says federal protections for the salmon are throwing off the delicate balance of water rights that farmers and other water users have struggled to maintain since the West was first settled. When a water right goes up against the Endangered Species Act in federal court, "the Endangered Species Act has come out on top every time," Tominaga says.
Throughout the region, people complain vigorously about the cost of protecting the salmon. Then, often, they do what the fish require. Idaho Power notes that it spends $3 million a year operating hatcheries and monitoring the welfare of salmon affected by its dams.
In April, the Bonneville Power Administration got permission to stop spilling water for salmon over Columbia River dams by declaring a power emergency, the "blank check" that environmentalists decry. After criticism, the power marketing agency resumed its spills, at lower levels than usual.
Even Tom Peutz does his part. He has put in a more efficient surge-irrigation system on his farm. And he says he'll have to make do with less water than usual this summer.
"If you don't have it, you don't have it," he shrugs.
In the Payette River Basin in southwestern Idaho, water managers are proud of automatic headgates that improve the efficiency of irrigation canals. Watermaster Mark Limbaugh now can sit in his office and use a cell phone and laptop computer to change the flow of water out of Payette Lake, 100 miles away.
But there are limits to how much water farmers can spare for the salmon, Limbaugh says.
"Without water, people couldn't live here," he says. "We want to do the right thing, but you can't keep doing the right thing until you're broke."
He's hoping the Bush administration will re-examine the Endangered Species Act, with more emphasis on balancing species protection against economic concerns.
"Fish can survive a drought year," Limbaugh says. "But we need to survive a drought year, too."
---
David Foster
N.W. Salmon Battle Stiff Odds
Idaho Statesman, June 27, 2001
---
See what you can learn
learn more on topics covered in the film
see the video
read the script
learn the songs
discussion forum