---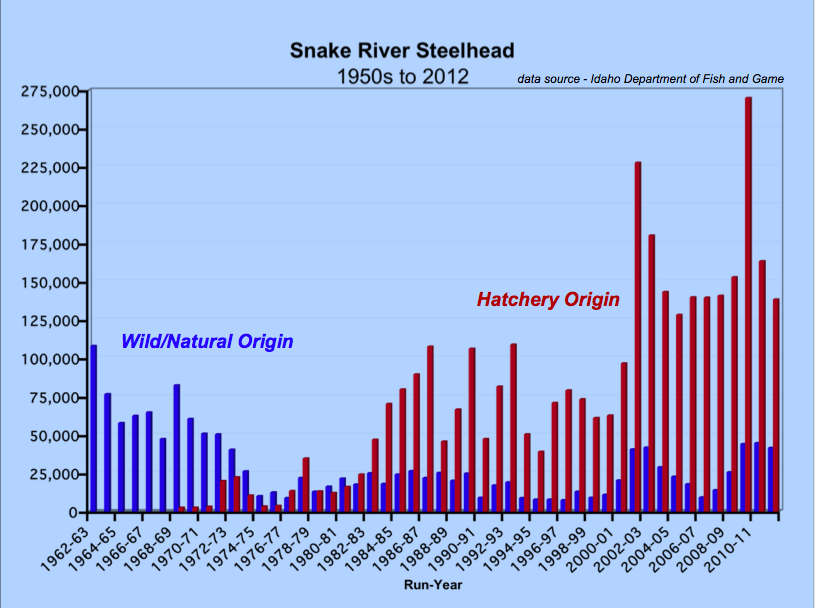 LEWISTON -- Warm water in the Snake and Columbia rivers has slowed early returning steelhead, but preseason projections call for decent returns of both A-run and B-run fish.
The forecast return of fall chinook and coho to the Snake River also looks promising, but high water temperatures represent a wild card for all three species.
A short section of the Clearwater River between its mouth and Memorial Bridge at Lewiston opened to catch-and-keep steelhead fishing Saturday. But the number of steelhead available to anglers is well below the 10-year average.
Only 696 steelhead were counted at Lower Granite Dam between July 1 and July 28. Last year, nearly 3,900 steelhead had made the trip, and the 10-year average is 2,863.
The counts at Bonneville Dam on the Columbia River are also well below average for this time of year. Through July 28, 43,469 steelhead were counted at Bonneville. Last year, the total for the same time period was 71,875, and the 10-year average is about 75,000.
Despite the slow start, fisheries managers are expecting a healthy return of steelhead -- 157,720 -- to Lower Granite Dam, including about 128,850 A-run fish and 28,770 B-run steelhead.
The high water temperatures in the two rivers could be responsible for the slow start, said Alan Byrne, anadromous fish manager for the Idaho Department of Fish and Game at Lewiston.
"Typically, what happens when we have warm water, the steelhead that hit Bonneville don't move very quickly up river. They kind of wait for things to cool off," he said. "We will probably start to see some fish come over Lower Granite, but I don't think there is going to be steelhead in large numbers coming over until we see some temperature relief."
When the Columbia River is warm, steelhead will often take detours into cool water tributaries like the Klickitat River, Drano Lake, Wind River and the White Salmon River.
Joe Hymer of the Washington Department of Fish and Wildlife at Vancouver said that is likely happening. But he also said it could be the run will not live up to the forecast. Both Hymer and Byrne said it's much too early in the run to draw any conclusions from the slow start.
"They can make that up pretty quickly if they start coming over," Byrne said.
Becky Johnson, production manager for Nez Perce Tribal Fisheries, said about 40,000 fall chinook are expected to return above Lower Granite Dam this year. Of those, about one-third will be wild fish and two-thirds will be hatchery fish. However, only about half of the hatchery fish have been marked by having their adipose fins clipped, which makes them legal for anglers to catch in open seasons. That means about two-thirds of the run won't be available for anglers.
Both Idaho and Washington are seeking permission from the National Marine Fisheries Service to allow anglers to keep unclipped fall chinook in the Snake River. But it doesn't appear that permission will come in time for this fall's fishing season.
Johnson said the forecast for coho salmon has yet to be finalized. But she said an early, unofficial estimate called for 8,000 to 10,000 to return above Lower Granite Dam. Coho are raised by the tribe, which needs about 2,000 for spawning in hatcheries. The tribe and Idaho fisheries officials haven't determined if fishing will be allowed.
Last year, about 18,000 coho returned to the Clearwater River, many more than expected. The surprising return led to the first coho fishing season on the Clearwater River in several decades.
Coho were declared extinct in 1985, but the tribe reintroduced them 10 years later.
---
Eric Barker
Steelhead Runs Should Start Warming Up
Lewiston Tribune, August 6, 2015
---
See what you can learn
learn more on topics covered in the film
see the video
read the script
learn the songs
discussion forum