---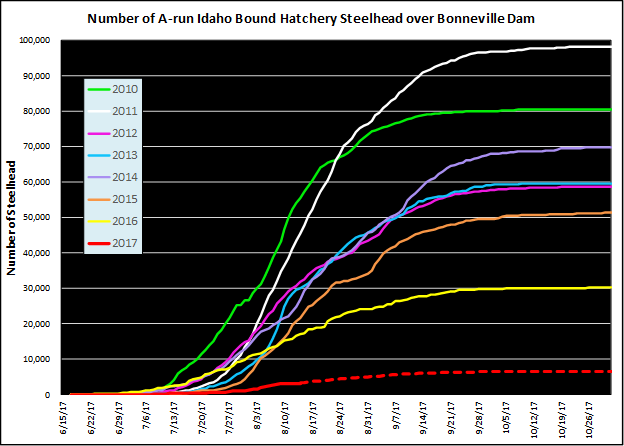 The return of A-run steelhead to the Columbia River basin is still dismal but the sea-run trout made a late push in the past week that prompted fisheries managers to upgrade their run forecast.
Fisheries managers now expect 97,100 A-run steelhead to return at least as far as Bonneville Dam. Preseason forecasts called for 112,100, a poor number compared to the long-term average. But the run started with a sputter and the forecast was downgraded to just 54,000 on Aug. 14.
In response, Idaho Department of Fish and Game officials canceled the harvest season for steelhead in all Idaho rivers but will allow catch-and-release fishing. The move is designed to ensure enough steelhead return to hatcheries to meet annual spawning goals. Harvest could be allowed later if the run continues to improve.
Washington and Oregon also closed steelhead harvest on the Snake River but both states will allow limited harvest in Snake River tributaries. Bag limits on the Grande Ronde, Tucannon and Touchet rivers in Washington were cut from two fish per day to just one.
In Oregon, anglers will also be allowed to keep one steelhead per day on the Grande Ronde and Imnaha rivers. The season opened Friday.
Jeremy Trump, district fish biologist for the Washington Department of Fish and Wildlife at Dayton, said PIT tag detections at Bonneville Dam indicate there will be enough steelhead returning to hatcheries on Snake River tributaries to allow harvest. A percentage of all hatchery fish are implanted with the tags as juveniles, allowing fish managers to track run strength to individual hatcheries when they return from the Pacific Ocean.
"It's looking like we should be OK to allow some harvest in our tributaries but we are trying to be sensitive to Idaho's needs," Trump said. "They went to catch-and-release and we try to keep rules the same on the main stem (Snake River)."
Joe DuPont, regional fisheries manager for the Idaho Department of Fish and Game at Lewiston, said he and others at the department are watching the run and will consider allowing harvest in some areas if the trend continues and there is good evidence that individual Idaho hatcheries will meet their spawning goals.
But the numbers are not yet strong enough for that to be considered.
"We are still a long ways from any previous years so we don't want to make any rash decisions."
Related Pages:
Fisheries Managers Forecast 'Unprecedentedly Low' Summer Steelhead by George Plaven, East Oregonian, 5/22/17

---
Fisheries impacted by fires

In an unexpected consequence of wildfires and smoke, only "essential" workers were allowed to be on the job at Bonneville Dam this week, and that does not include the fish counters.

Consequently, as Columbia River fish managers and anglers are desperately trying to monitor critically low runs of B-run steelhead, the fish counts are days behind.

Hatcheries have been impacted too.

The raging Eagle Creek fire forced Oregon fish officials to release more than 600,000 hatchery salmon on Tuesday, some were dumped six months earlier than expected.

Oregon's Department of Fish and Wildlife evacuated the 26 employees at the three hatchery facilities in Cascade.

The Bonneville, Oxbow and Cascade hatcheries are home to some six million fish, mainly coho and chinook.

The state was forced to either release hundreds of thousands of 5- to 6-inch hatchery fish now or risk losing them altogether, according to spokesman Ken Loffink.
---
Eric Barker
Columbia-Snake Steelhead Run Shows Slight Improvement
Spokesman-Review, September 10, 2017
---
See what you can learn
learn more on topics covered in the film
see the video
read the script
learn the songs
discussion forum