---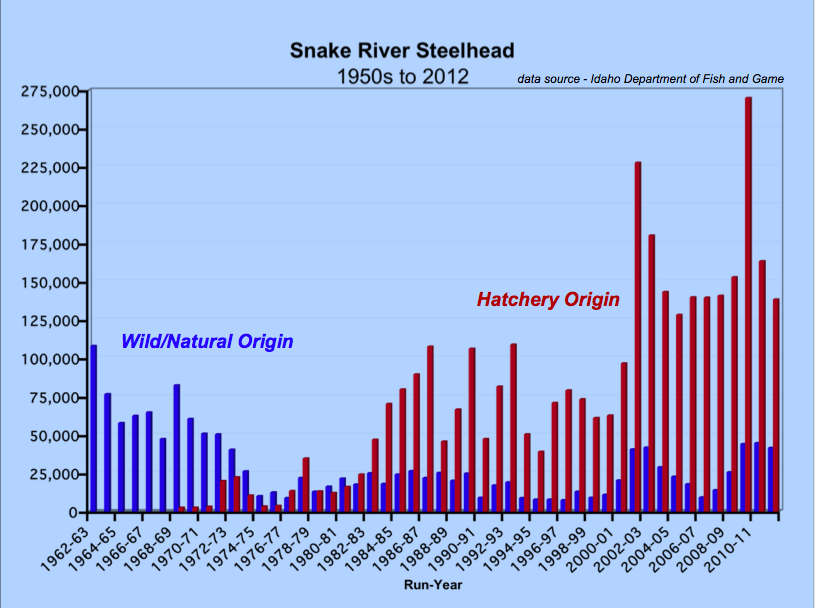 Idaho Fish and Game officials say they are confident adult steelhead returns to Dworshak National Fish Hatchery this winter and spring will be high enough to meet spawning targets despite a below-average run.
But fisheries officials from the state, U.S. Fish and Wildlife Service and Nez Perce Tribe are also working on plans to gather steelhead from other sites if collection lags behind goals. In addition, they are keeping close tabs on harvest and are poised to make emergency changes to ongoing fishing seasons if they determine too many fish are being caught.
"There will be enough fish left over for (spawning) but we will continue to monitor the fishery through the creel program," said Joe DuPont, regional fisheries manager for the Idaho Department of Fish and Game at Lewiston. "If things all of a sudden don't follow the same path they have in the past, we can make emergency changes if necessary."
Through late last month, about 13,000 hatchery B-run steelhead bound for the Clearwater River had been counted crossing Lower Granite Dam on the Snake River. Of those, about 4,500 are headed for the Dworshak Hatchery and that number is expected to rise to 5,400 as more fish trickle over the dam this month and another surge crosses in the spring. Dworshak attempts to trap about 1,500 returning adults each year to produce the next generation of fish.
Dworshak is the collection point for fish spawned at the hatchery and those spawned at the state-run Clearwater Hatchery, the Kooskia National Fish Hatchery and steelhead raised at the Magic Valley hatchery in southern Idaho.
DuPont said sport anglers have harvested about 580 of Dworshak-bound fish this fall and said by the time the season ends next spring, anglers could catch as many as 1,700. If anglers from the Nez Perce Tribe also harvest 1,700 Dworshak fish, that would leave about 2,000 for spawning.
Dworshak hatchery manager Mark Drobish said steelhead have been entering the trap there but it has been taking longer than normal to hit fall targets. The hatchery tries to collect 150 steelhead each in October, November and December and the rest of the 1,500 in the spring. Jerry McGehee, manager of the Clearwater Hatchery, said if the fish don't show up at Dworshak, plans have been made to trap steelhead that return to the Kooskia Hatchery.
For the past three years the state has partnered with anglers to catch steelhead in the South Fork and use them to develop a run specific to that tributary. McGehee said those fish could also be used to backfill any shortfalls at the Dworshak trap.
"Those are some of the options we are looking at if we get in a situation where we didn't collect full brood (adult spawning targets).
Right now we are still being optimistic (the fish) will materialize there at the Dworshak trap."
Returns of steelhead, spring and summer chinook and sockeye all dipped this year. But hatchery B-run steelhead were hit harder by a smaller than normal release of juvenile fish two years ago. Dworshak Hatchery normally releases about 2.1 million steelhead smolts. An outbreak of disease killed about 1 million juvenile fish and the hatchery was only able to release half its normal target in 2010.
Since that time, Drobish said, changes at the hatchery have cut back on disease outbreaks. The hatchery met its full release target in 2011 and 2012 and expects to do the same next spring.
---
Brett French
Scarcity of Idaho Steelhead Prompts Contingency Planning
Billings Gazette, December 13, 2012
---
See what you can learn
learn more on topics covered in the film
see the video
read the script
learn the songs
discussion forum