---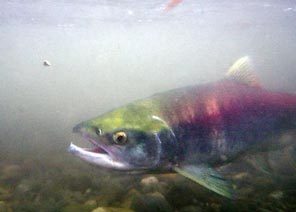 The sockeye run heading up the Columbia River right now is a dandy, and could be the largest return in almost 70 years.
"When I checked earlier this week the sockeye run was off to its fastest start on record," said Joe Hymer, a state Fish and Wildlife biologist in Vancouver.
So far, the total count is 66,468 sockeye, and should be a record since Bonneville Dam was constructed in 1938. The single-day fish count at Bonneville on Thursday was 15,543 sockeye, which is the highest single-day count since July 7, 1955 when it reached 27,112.
"It is a really big number coming back now, and we aren't even up to the typical peak yet," Hymer said.
The run should be about 50 percent complete by June 24 based on a 10-year average.
The sockeye return is large enough that state Fish and Wildlife is allowing anglers to retain sockeye as part of the adult daily catch limit today through June 28 from Bonneville Dam down to the Rocky Point-Tongue Point line, and today through July 31 from Bonneville to Priest Rapids Dam.
Earlier this week anglers fishing for hatchery steelhead and jack chinook in the Lower Columbia River from Kalama to Vancouver were catching incidental sockeye at an alarmingly good rate.
Sockeye in the Columbia River basin have declined from historic levels when runs were as large as 3 million fish. Construction of several key dams from 1901 to 1958 almost wiped out the migrating sockeye run.
The Snake River run heading back to Redfish Lake at Stanley, Idaho, was so bad that in 1991 it was listed on the Endangered Species Act. An average of fewer than 50 [and a low of 15 in 2006] Snake River sockeye have been counted yearly at the Lower Granite Dam since 1984. In 2007 only four fish made the long 900-mile trek from the mouth of the Pacific Ocean to Redfish Lake.
The preseason Columbia River forecast this year is 75,600 sockeye with 13,700 headed to the Wenatchee, 61,200 to the Okanogan and 700 destined to the Snake River.
"We know there is a real large number of sockeye coming over Bonneville. However, the turnoff to Lake Wenatchee is so variable that there is no mathematical way to figure it out just yet," said Art Viola, a state Fish and Wildlife biologist for north central Washington. "We may not know the answer until mid-July."
"I'm optimistic to have a sport fishery this year [in Lake Wenatchee] than we've had in the last three years. We need about 23,000 for spawning escapement, and then we need at least an additional 1,000 more fish to have a fishery."
Sport fishing for sockeye in Lake Wenatchee last occurred in 2004 and 2001. The fishery would typically open in early August and remain open until the harvestable surplus was taken.
Fish counting for sockeye at the Ballard Locks in Seattle is also under way, and a possible Lake Washington sockeye fishery this summer depends on those in-season fish counts.
The forecast is 105,600 sockeye, and the spawning goal is 350,000 before a fishery could be considered. Through June 17, 2,173 sockeye had been tallied at the locks.
Another place where a possible sockeye fishery could occur is Baker Lake where the return forecast is 25,000. State Fish and Wildlife officials are monitoring the return to see if the lake could be open for a sport fishery later this summer.
"We've never had a fishery in the lake before, so at this time we just don't know what to expect," said Brett Barkdull, a state Fish and Wildlife biologist. "As far as run timing, at the fish trap that is usually around mid-July."
---
Mark Yuasa
A Record Start for Columbia Sockeye
Seattle Times, June 13, 2008
---
See what you can learn
learn more on topics covered in the film
see the video
read the script
learn the songs
discussion forum