---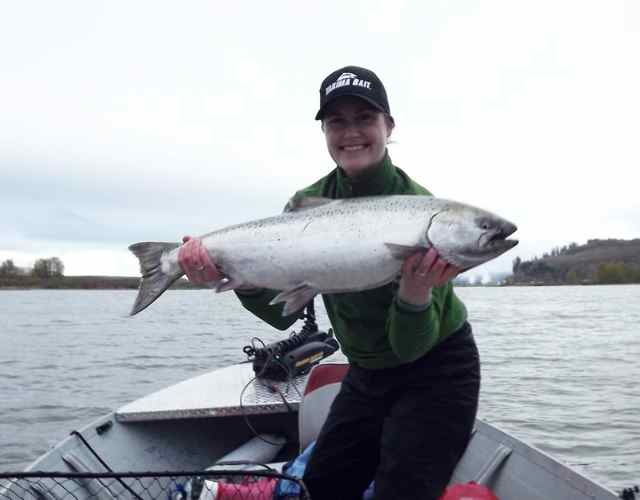 The spring chinook forecasts for Columbia River tributaries above Bonneville Dam are expected to be above last year's actual returns.
This spring, the Wind forecast is 3,600 spring chinook (6,500 was forecast last year with a 3,200 actual return); Drano Lake is 7,500 (9,800 and 6,500); and Klickitat is 2,100 (1,600 and 2,000).
The Wind return is down considerably where the recent average is about 9,000, and not as high as it was in the early 2000s when returns hit 25,000 to 26,000.
When looking back at the past 10 years for Drano the average is about 10,000 spring chinook, so this spring dips below it. The Klickitat 10-year average is 1,800, which shows a slight improvement this spring.
The peak of the returns historically is late April or early May. As the fish move upstream, the Wind can be good in mid-to-late May. Water flows and snowmelt runoff will all come into play on how good the run is and when the fish will show up.
Last month, a forecast of 160,400 upriver-bound Columbia River adult spring chinook was announced, compared to last year's forecast of `187,816 (232,500 in 2014 and the actual return was 289,000).
According to Joe Hymer, a state Fish and Wildlife biologist, this spring forecast ranks 14th of all runs going back to 1990.
The largest spring adult chinook return on record is 541,000 (forecast was 364,600) in 2001, and the worst is 12,792 (12,000 was the forecast) in 1995.
In the spring of 2016, 126,826 angler trips (151,713 in 2015) on Lower Columbia produced a catch of 12,666 adult spring chinook (19,586) and 2,621 steelhead with 3,776 spring chinook (5,052) and 693 steelhead released. These figures are gathered through aerial surveys and creel samples taken along 10 sections.
Anglers will find time to fish on the Lower Columbia in spring, but the total number of days hasn't been determined. The fishing seasons should be finalized by late January or early February.
The Lower Columbia from the I-5 Bridge downstream is currently opens for salmon and steelhead, with a two hatchery chinook daily limit.
In the sport fishery, anglers can keep only hatchery-marked spring chinook, which are identified by a clipped adipose fin located on top near the tail.
There are variables that make this salmon fishery a difficult one to pinpoint when fish will arrive in large numbers. Weather, high water levels from upstream runoff and snow melt and cold water temperatures dictate their migration pattern.
Over the past decade, the sport catch allocation below Bonneville Dam is often eaten up by early April even though the peak return occurs in late April or early May.
Other spring chinook forecasts for Lower Columbia tributaries show a decent outlook for the Cowlitz and Kalama rivers, but poor on the Lewis and Oregon's Willamette.
The Cowlitz spring chinook forecast is 17,100; Kalama is 3,100; Lewis is 700; and Willamette is 40,200 (70,100 was forecasted and 49,800 was the actual return).
The Cowlitz and Kalama jack chinook returns were strong in 2016. Jack salmon are small male fish that spend one year in the ocean before returning to freshwater to spawn.
The Cowlitz 2016 actual return of 22,500 adult spring chinook (25,100 was the forecast) was very similar to 2015, and was one of the largest adult returns seen since the early 1980s.
The Kalama 2016 actual return of 4,000 (4,900 was the forecast) was the biggest since 2007.
The 2016 actual return to the Lewis of 500 adult spring chinook (1,000 was the forecast) was the lowest dating back to at least 1980.

---
Mark Yuasa
Spring Chinook Forecasts Down for Columbia Tributaries Above Bonneville Dam
Seattle Times, January 15, 2017
---
See what you can learn
learn more on topics covered in the film
see the video
read the script
learn the songs
discussion forum