---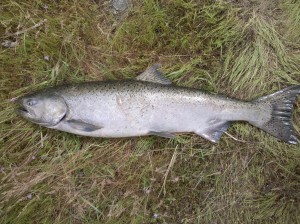 Spring chinook salmon fishing in the lower Columbia River will continue through April 22, but additional extensions into late April-early May appear unlikely.
Washington and Oregon agreed today to extend the season eight days from Saturday through April 22, a Sunday. The exception is Tuesday, April 17, which will be closed although gillnetting that day is doubtful.
Sport fishing originally was scheduled to close beginning April 7, but was extended last week through April 13.
Biologist John North of the Oregon Department of Fish and Wildlife said the sport catch of upper Columbia-origin salmon through April 20 is projected to be about 3,200 fish, or 25.3 percent of the early-season allocation.
Adding the weekend of April 21-22 would bring the catch to about 3,850, or 30 percent of the early sport allocation.
Guy Norman, regional director of the Washington Department of Fish and Wildlife, said late April-early May is the peak of the spring chinook return and catches can be volatile.
Even if the sport fishery is short of its allocation, by late April it is time to stop and better determine the strength or weakness of the run, Norman said.
A big run of 314,000 spring chinook is forecast to enter the Columbia destined for upstream of Bonneville Dam. Yet through Wednesday, only 138 adult chinook have been counted at Bonneville.
Bruce Jim, representing the four Columbia River treaty tribes, said 138 is the second-lowest cumulative count on record for April 11.
"We unfortunately do not see evidence that this run is materializing anywhere close to its forecast level," Jim said, calling for the state to nix a second sport-fishing extension.
Sportsmen have until June 15 to catch their chinook under the Columbia River management agreements, plus have the Willamette River as an angling alternative, Jim said.
"Our tribal ceremonies wait for the fish," he said. "It is only right that the non-Indians also wait for the fish."
Norman said spring chinook runs have been getting later and later and he does not believe the counts so far at Bonneville Dam are an accurate indicator.
If the final run size is 131,000, the states will meet their catch-balancing agreement with the tribes, said Cindy LeFleur, Columbia River policy coordinator for the Washington Department of Fish and Wildlife.
Both Norman and Williams said they were encouraged that 32 percent of the gillnet catch came from the Astoria area on Tuesday, perhaps a sign the salmon finally are entering the Columbia.
The early-season allocation for sportsmen is 12,700 upper Columbia chinook, of which about 30 percent will have been landed through April 22.
The gillnet early allocation is about 5,900. The net fleet has taken about 72 percent of its upper Columbia early allocation and has about 1,640 left to catch, North said.
Norman said the Columbia River Compact will meet at 1 p.m. Monday by teleconference to consider a commercial fishery on Tuesday, but deemed it unlikely.
North said the netters would have to have a per-vessel landing limit to structure a commercial fishery to catch so few chinook.
The Columbia has been cold, high and dirty for the past few weeks and it may get worse.
LeFleur said the Columbia is projected to be a high 320,000 cubic feet per second at Bonneville Dam through April.
Warmer temperatures and rain are forecast for the Snake River basin, anticipated to increase the flow, she added.
North said the water conditions make it hard to project catches.
"The flows are bouncing around," he said. "It clears, then it clouds back up."
Guide Greg Smith of Hammond, Ore., said the water conditions are hurting his business.
"We've cancelled a lot of days," he said.
State officials will meet at 1 p.m. April 19 to review the sport catches and decide on an extension or closure.
"That crystal ball we use isn't getting a lot clearer," said Steve Williams, an assistant administrator with the Oregon Department of Fish and Wildlife.
---
Allen Thomas
Lower Columbia Spring Chinook Fishing Extended Through April 22
The Columbian, April 12, 2012
---
See what you can learn
learn more on topics covered in the film
see the video
read the script
learn the songs
discussion forum