---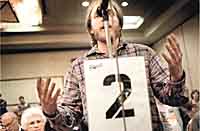 Four Snake River dams would be history if the decision were left to the people who had their say Tuesday in Spokane.
By a large margin, speakers at a federal hearing said the government should breach the Eastern Washington dams and let the river run free in an effort to save salmon.
As advocates in their cause, they counted the spirits of dead grandfathers and unborn grandchildren, explorers Meriwether Lewis and William Clark, and folk singer Woody Guthrie. They spoke of salmon as Northwest icons, claimed fishing as a birthright and called the dams a mistake that needs fixing.
"A lot of my people are lost because of the loss of fish," said Gayla Gould, a member of the Nez Perce Tribe. "That's why there's so much alcoholism on the reservation."
"You're messing with my heritage when you mess with the salmon," said Paul Decker, who described himself as the sixth-generation descendent of Oregon Trail pioneers.
"I'm basically motivated by competition, greed and the accumulation of wealth," said Mark Pinch, a commercial realtor and board member for the Spokane Area Economic Development Council.
Pinch said a free-flowing river and restored fish runs would be "a boon" to communities along the Snake and a lure for high-tech companies to come to Spokane.
Scattered throughout the audience were caps and T-shirts reading "Save Our Dams." The wearers urged skepticism of scientists who contend breaching the dams is the surest way to save salmon. They warned of economic ruin if the Snake River is allowed to run free, ending the barge traffic made possible by the dams.
Some expressed bewilderment that dams, whose good was once nearly universally accepted, could now be vilified.
"Breaching these dams would be a big step backwards in the progress of our nation," said Eleanor Kiner of Washington Women for Agriculture.
The lopsided mix of dam-lovers and dam-haters was similar to the crowd that gathered for a hearing last week in Portland. It remains to be seen whether it will change when nine federal agencies take their traveling salmon show to Clarkston, Wash., on Thursday.
Tuesday's two-session hearing drew perhaps 500 people. Nearly everyone expects Clarkston's hearing to draw far more, including many workers from Potlatch Corp. in neighboring Lewiston, Idaho.
Potlatch, Lewiston's biggest employer, is a high-profile opponent of breaching. Its union workers organized a low-key parade Tuesday, urging residents to attend Thursday's hearing.
Breaching proponents are similarly well-organized for Thursday. Environmental groups offer bus rides for students from Washington State University and University of Idaho. And the Nez Perce tribe is urging its members to attend.
---
Dan Hansen
Spokane Crowd Favors Removing Snake Dams
Spokesman Review, February 9, 2000
---
See what you can learn
learn more on topics covered in the film
see the video
read the script
learn the songs
discussion forum