---
"Tar sands is going to be the biggest problem. The answers are not all in for this, especially for a spill response."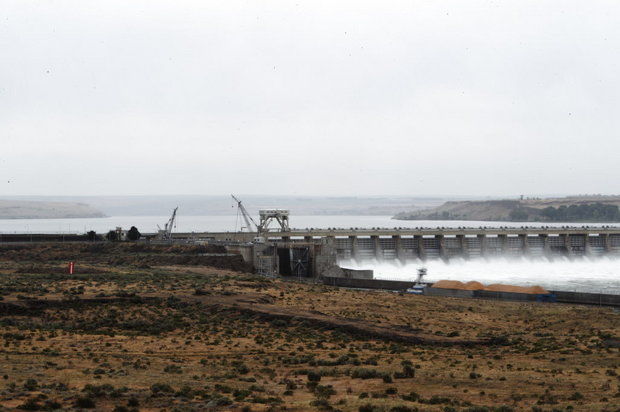 What would happen if oil spilled along the Middle Columbia River?
The Oregon Department of Environmental Quality and the U.S. Environmental Protection Agency spent Friday morning at Columbia Gorge Community College answering that question.
Mike Boykin, an EPA on-scene coordinator, opened the workshop with a lesson on crude oil, how it's measured and how it responds to different environments.
Richard Franklin, also an EPA on-scene coordinator, then explained the differences between Bakken crude oil and oil sands, which both come through the Columbia Gorge.
While Bakken is easier to clean since much of it evaporates after 24 hours, Franklin said, "Tar sands is going to be the biggest problem. The answers are not all in for this, especially for a spill response."
Franklin also went over available response tactics.
He said the priorities after an oil spill are safety, a stabilized situation and then environmental considerations. Three physical measures are taken: stop it, boom it and then suck it up with vacuum trucks if possible.
"We may not expect to get every molecule up," Franklin said.
Don Pettit, an emergency response planner for the DEQ, said while the goal is to return the site to pre-spill condition, it's not a question of if the environment with be impacted but how.
Pettit said a spill is considered clean when there is no visible oil, oil no longer rubs off on contact and oiled vegetation is removed.
"There will always be impacts on the environment from actions associated with cleaning up a spill," Pettit said.
"There will always be uncertainty in knowing what has been harmed, what to do about it and when to stop."
The police and fire department, Oregon Department of Fish and Wildlife, U.S Army Corps of Engineers, Washington Department of Ecology and U.S. Coast Guard would all report to an oil spill. Response always begins locally, then state resources, followed by federal, will be called if the spill becomes too much.
"The first day typically goes very well because everybody is out there, they know their job and they are doing it." EPA coordinator Mike Renz said.
Lead planner Sue Vezeau briefly went over the Mid-Columbia River Geographic Response Plan, which is being updated for the first time since 2004.
The GRP provides direction to responders in the early hours of a spill. Vezeau discussed notification procedures and identified boat launches to get booms on the water, which will be the first line of defense.
There are 62 boat launches in the plan, including nine in The Dalles.
"We are much better equipped to get oil off the water than before due to more collection strategies," Vezeau said.
Potential risks to the Columbia come from oil transported on large commercial vessels, pipelines, rail cars and trucks. The majority of oil transported by rail into Washington and Oregon enters Washington at the border with Idaho near Spokane.
The oil is transported west along the Columbia River to Vancouver before heading north toward refineries in Anacortes and Ferndale, near the Canadian border.
The newly updated GRP covers 198 miles of the river, beginning upstream of the Bonneville Dam and ending at the Hanford Site near the Tri-Cities.
All 1200 pages of the plan are available online at www.ecy.wa.gov/programs/spills/preparedness/GRP/ColumbiaRiver/MidColumbiaRiver.htm. Vezeau said the GRP is currently in draft form and still needs work before it's published.
Comments can be submitted online at www.rrt10nwac.com/Comment and or can be emailed to GRPs@ecy.wa.gov before 5 p.m. on May 15.
---
Derek Wiley
Oil Spill Plan is Being Updated
The Dalles Chronicle, April 21, 2015
---
See what you can learn
learn more on topics covered in the film
see the video
read the script
learn the songs
discussion forum