---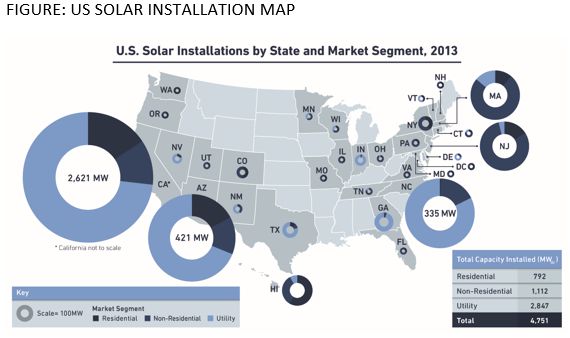 Riding a surge of public interest in alternative energy and especially consumer-generated electricity, the U.S. solar industry grew by a whopping 41 percent in 2013, pushing the nation's total photovoltaic (PV) solar capacity to more than 12,000 megawatts, according to new industry figures released this week.
The annual performance figures, compiled by the Solar Energy Industries Association and partner GTM Research, show solar is on a growth trajectory comparable to its chief competitor, wind energy, and suggests that the industry has reached a critical development milestone in its quest to make solar a viable source of electricity for everyday consumers.
"Today, solar is the fastest-growing source of renewable energy in America, generating enough clean, reliable and affordable electricity to power more than 2.2 million homes -- and we're just beginning to scratch the surface of our industry's enormous potential," SEIA President and CEO Rhone Resch said in a statement. "In fact, more solar has been installed in the U.S. in the last 18 months than in the 30 years prior. That's a remarkable record of achievement."
For the 12 months ending in December, installations of PV solar totaled 4,751 MW of new capacity with an estimated market value of $13.7 billion, according to SEIA's annual report. Roughly 60 percent of that new PV capacity was for utility-scale projects, while 23 percent was for commercial use and 17 percent was residential.
More than half of the new photovoltaic generation -- 2,621 MW -- came in one state, California, which was followed by Arizona (421 MW) and North Carolina (335 MW). Those three states plus Massachusetts and New Jersey accounted for 81 percent of all new PV installations for 2013, according to SEIA and GTM Research.
The industry also added roughly 410 MW of concentrated solar power (CSP) in the sun-drenched Southwest, increasing by 80 percent nation's production of solar power using large mirrors, or "heliostats," that direct the sun's energy to a central generation station.
Almost all of that additional CSP came from two plants: the 280 MW Solana Generating Station near Gila Bend, Ariz., which opened last fall (ClimateWire, Oct. 17, 2013), and the 125 MW Phase 1 of the Genesis Solar Energy Center, near Blythe, Calif. Last month, the industry celebrated the completion of the 377 MW Ivanpah Solar Electric Generating Station in California's Mojave Desert.
PV and installation costs plummet
While consumer and utility interest in solar power has reached unprecedented highs, solar markets have also benefited from an equally dramatic drop in installation costs.
By the end of 2013, the average weighted cost of a solar PV system was $2.59 per watt, a 15 percent drop from the year before, according to SEIA. Much of the downward price pressure was the result of sharply lower costs for crystalline PV cells and modules, especially those produced in China, and generally flattening costs for installation, operation and maintenance of rooftop solar systems.
But while solar's falling costs have helped spur consumer interest and overall investment in the technology, it has also cut deeply into the profit margins of U.S. solar manufacturers that have struggled to compete against foreign competitors, especially Chinese firms that have shipped millions of low-cost PV cells and modules into the United States.
At the urging of some U.S. manufacturers, including the United States' largest solar panel maker, Oregon-based SolarWorld, the Commerce Department in 2012 began imposing stiff duties on Chinese solar imports to counter what U.S. officials say are illegal subsidies provided to Chinese solar firms and the illegal dumping of below-cost solar products onto the U.S. market.
More recently, SolarWorld won a preliminary finding from the International Trade Commission that U.S. solar firms continued to be harmed by illegal trade practices by China and another key trade partner, Taiwan.
In another measure of its rising stature, solar accounted for 29 percent of all new electric power capacity added in the United States last year, trailing only natural gas, which claimed 46 percent of all new generation. By comparison, wind turbines accounted for just 7 percent of all new electricity generation for 2013, a steep drop-off from 2012, when wind power saw record growth.
Experts have attributed the shifting fortunes for wind power to the December 2012 expiration of a key federal tax incentive for wind energy that effectively severed development pipeline for new wind power projects that would have come into service last year. The incentive, known as the production tax credit (PTC), was restored in January 2013, leading to a marked rebound in wind projects (ClimateWire, Jan. 31).
DOE loan program helps
Shayle Kann, senior vice president of GTM Research, said in a statement that the solar industry's recent success is evidenced by the raw numbers. But 2013 also provided the industry a first glimpse of its path toward mainstream status. "The combination of rapid customer adoption, grassroots support for solar, improved financing terms, and public market successes displayed clear gains for solar in the eyes of both the general population and the investment community," he said.
The U.S. solar industry also has benefited from direct U.S. government investment by way of the Energy Department's SunShot Initiative and a guaranteed loan program to help stimulate innovation in solar products and manufacturing.
Minh Le, director of DOE's 4-year-old SunShot Initiative, said in a telephone interview that the program's goal of reducing solar's installed costs by 75 percent by 2020 is well on its way to being met.
The primary challenges going forward, he said, are in reducing "soft costs" for solar developers, who still face high hurdles in the siting, permitting and financing of solar arrays as well as resistance in some states and regions to moving solar power onto the electricity grid.
In fact, disagreements in a number of states over how to manage and regulate solar power that is produced by homeowners and businesses and then sold back to regional utilities under a business model called "distributed generation" promises to be one of the industry's toughest sticking points over the next several years.
While SunShot remains largely focused on technology, Le said that the DOE program will shift its focus in the coming years to helping solar firms overcome some of the soft cost hurdles they face in moving power to the grid.
"Certainly I think the trajectory is heading in the right direction," he said. "You already see many projects having financial viability without [government] incentives. And as the costs come down even more, those key solar regions around the country are going to become larger and larger."
---
Daniel Cusick
U.S. Solar Power Soars by 41% in 2013
E&E News, March 6, 2014
---
See what you can learn
learn more on topics covered in the film
see the video
read the script
learn the songs
discussion forum