---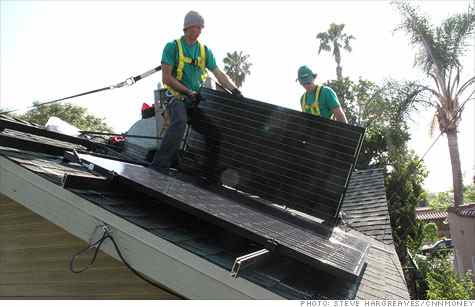 BOISE -- A sudden surge in solar energy projects puts Idaho on track to have more solar capacity per capita than any other state, says its largest utility company.
"Idaho Power now has contracts with projects representing 461 megawatts of total solar capacity," said Brad Bowlin, spokesman for the power company.
"We have several projects representing hundreds of additional megawatts that are currently in the process of seeking contracts," Bowlin said Tuesday in a phone interview from his office in Boise. "All of these contracts are for 'qualifying facilities' under the federal PURPA (federal Public Utility Regulatory Policies Act) law, meaning Idaho Power is required to purchase the energy they produce."
Idaho Power now has about 3 megawatts of total solar capacity on its system through its small-scale 'Net Metering' program -- mostly rooftop solar projects, he said.
The largest of the newly approved solar projects is the Grand View Solar II project, a so-called "utility-scale" solar project 20 miles southwest of Mountain Home. The 80-megawatt project, developed by Robert Paul of Boise, is due to be online by September 2016. The project is expected to include about 340,000 polysilicon photovoltaic panels on a single-axis tracking system, according to its application with the Idaho Public Utility Commission (IPUC).
The Grand View project and the Boise City Solar project, which together total 120 megawatts, were approved by the IPUC in November. The projects are the first of their type approved by the IPUC since it adopted an updated pricing method for intermittent projects -- projects using energy sources that fluctuate, such as wind or solar -- that fall under PURPA provisions.
The pricing method probably had little to do with the increase in solar project applications, however, said Rick Sterling, an engineering supervisor with the IPUC. Increased federal tax incentives and decreased project costs are more likely the driving factors behind the increase.
Tax incentives for solar projects "are set to expire at the end of 2016," he said, so there is a rush to beat the deadline."
In November, Idaho Power submitted another 11 solar projects for consideration. Six of the projects are owned by Ketchum-based Intermountain Energy Partners and developed by Mark van Gulik. The other five projects are owned by First Wind, a Boston company.
In addition, Idaho Power signed contracts in its Oregon service area for another 60 megawatts capacity, Bowlin said.
The panels planned for the Grand View project are about the same as the rooftop models, said Sterling.
It takes 7 acres of solar panels to generate 1 megawatt of electricity, said Phil DeVol, Idaho Power's resource-planning leader. Either the Grand View project or the Boise City project -- whichever is completed first -- will be the first utility-scale solar project in Idaho.
Numerous issues plagued an earlier utility-scale project, Sterling said. The project, Grand View Solar One, developed by Paul but sold later, "never got constructed."
The first project "had a sales agreement with Idaho Power, and that contract was approved by the IPUC," Bowlin said. "The project was scheduled to go online by Jan. 12, 2013, but the developer failed to meet that deadline."
The scheduled online date of the second Grand View project, as per the contract, is Sept. 1, 2016, he said.
When completed, the approved projects will not generate as much electricity as either hydroelectric power or wind power in Idaho, Bowlin said. Hydroelectric plants -- which can generate power round the clock -- represent a capacity of 1,709 megawatts of Idaho Power's energy. Total wind capacity in its system today is 577 megawatts, excluding 101 megawatts from the Elkhorn Wind Farm in Oregon.
Solar power could eventually surpass wind power in Idaho unless wind projects pick up again, Sterling said. Federal tax credits for wind projects expired at the end of 2014.
The Republican-run Congress has yet to indicate if it will renew the funding.
---
Mychel Matthews
Solar Power Gains Traction in Idaho
Twin Falls Times-News, January 14, 2015
---
See what you can learn
learn more on topics covered in the film
see the video
read the script
learn the songs
discussion forum