---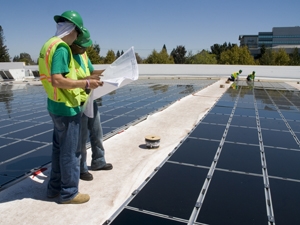 You can add another feather to the cap of SolarCity, the San Mateo-based solar energy provider that has just scored a bigger deal with Walmart.
SolarCity will install solar energy systems on the rooftops of up to 60 more Walmart stores in California. That's in addition to the 70 or so stores already under contract in the state with the world's largest retailer. SolarCity will own and maintain the solar energy systems and sell the power to Walmart, satisfying between 20 percent and 30 percent of each store's energy needs.
The deal moves Walmart closer to its aspirational goal of one day being 100 percent powered by renewable energy. It also means that 75 percent of its stores in California will have the solar energy systems. When complete by late 2013, the combined installations will generate up to 70 million kilowatt hours of energy annually.
"We've just scratched the surface on our goal to be supplied by 100 percent renewable energy, but this week's announcement is a major step forward," Walmart Spokeswoman Brooke Buchanan said in an email. "We are piloting a number of renewable energy technologies, including solar in a number of states and countries; we purchase 226 million kWh of wind power in Texas annually; and plan to have fuel cells installed at up to 20 locations in California by the end of this year."
The arrangement also allows Walmart to use clean energy at a price that is the same or below traditional sources and protects against fluctuating energy prices, she said. Already, the company's existing solar energy program with SolarCity has reduced its energy expenses by more than $1 million.
The deal is the latest in a string of announcements from SolarCity, which specializes in not just designing and installing the solar energy systems, but also financing and monitoring them. The company has more than 15,000 customers in a dozen states -- and counting.
Just a few weeks ago, the company announced a whale of a deal with the U.S. Army that will bring solar energy systems to the rooftops of as many as 160,000 private military residences over the next five years. That's about double the current number of residential solar installations in the U.S.
And in June, Google invested $280 million in SolarCity to fund residential solar projects. The money will go toward creating a fund that will finance the installation of between 7,000 and 9,000 homes, CNN reported at the time.
SolarCity's model is often credited for its success because it requires no capital investment for homeowners and businesses to get access to solar energy. It also doesn't hurt that the cost of solar panels is dropping. As Amy Westervelt reported last month, the decline in polysilicon, the main ingredient in photovoltaic panels, is moving solar power closer to grid parity with other energy sources.
Walmart has long said it would consider renewable energy only if it could achieve grid parity. Clearly, this latest SolarCity deal shows that, at least in the case of California, we may be already there.
---
Tilde Herrera
SolarCity Lands Another Big Deal as Walmart Steps Up Solar Plans
GreenBiz, September 22, 2011
---
See what you can learn
learn more on topics covered in the film
see the video
read the script
learn the songs
discussion forum