---
Community solar projects offer those without rooftop panels a way to tap the sun's power.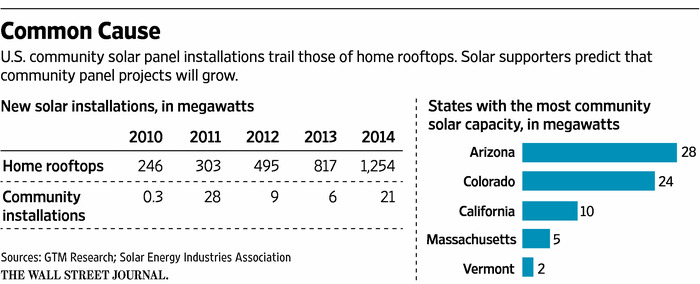 Solar power, once called the energy of the future, is actually the energy of today. This week in Anaheim California, Solar Power International (SPI), the largest solar power trade show in North America, will host 15,000 attendees with over 600 exhibitors to talk about solar energy. One indication of how the Obama administration views solar power is that Vice President Biden, the first sitting VP to ever address a solar power convention, will be delivering remarks at the plenary session.
According to the Solar Energy Industries Association (SEIA) "Solar is the fastest-growing source of energy in America, with almost 23 gigawatts (GW) of installed solar capacity nationwide. That is enough to provide clean, reliable electricity to nearly 5 million homes. Those numbers are projected to double by the end of 2016. In 2004, there were only 15,500 households with solar systems; today there are more than 785,000 individual solar systems in the U.S., with the average price of a residential system dropping by half in the last 6 years. Today, the U.S. solar industry employs 174,000 Americans - more than Google, Apple, Facebook and Twitter combined -- and pumps nearly $18 billion a year into our economy."
When President Obama launched his Clean Power Plan he said "Climate change is no longer just about the future that we're predicting for our children or our grandchildren; it's about the reality that we're living with every day, right now." He added "The Pentagon says that climate change poses immediate risks to our national security. While we can't say any single weather event is entirely caused by climate change, we've seen stronger storms, deeper droughts, and longer wildfire seasons. Charleston and Miami now flood at high tide. Shrinking ice caps forced National Geographic to make the biggest change in its atlas since the Soviet Union broke apart." According to the SEIA "The U.S. military is the largest federal solar user. The DOD opened 16M acres to renewable development and committed to 25 percent renewable energy, mostly solar, by 2025."
The administration also launched a National Community Solar Partnership "to unlock access to solar for the nearly 50 percent of households and business that are renters or do not have adequate roof space to install solar systems, including issuing a guide to Support States In Developing Community Solar Programs. It is setting a goal to install 300 megawatts (MW) of renewable energy in federally subsidized housing and providing technical assistance to make it easier to install solar, including clarifying how to use Federal funding."
One example of a federal program is CivicPACE, a project of the Department of Energy's Sun Shot grant program in collaboration with The Solar Foundation, Urban Ingenuity, and Clean Energy Solutions, Inc. CivicPACE is hosting a workshop at SPI to discuss the challenges and opportunities of financing energy upgrades for nonprofit institutions using Property Assessed Clean Energy (or PACE). This workshop will bring together solar business owners and managers, project developers, financial institutions, and other stakeholders working in the non-profit sector and is being moderated by Ian Fischer, COO of Urban Ingenuity.
Climate change and solar energy are becoming a major issue in the Presidential election, at least on the Democratic side. Hillary Clinton's commitment to solar energy as reported in the Guardian "by the end of her first term the US would have seven times more solar energy capacity than it does today. And by 2027, renewable energy would supply a third of the nation's electricity." It was also reported "Burning fossil fuels for electricity accounts for 31% of US greenhouse gas emissions and one estimate Clinton's 33% renewable target could slice another 4% off the US's existing pledge to cut emissions by 26-28% by 2025.
Continuing on its record-breaking trajectory, the United States solar industry surpassed 20 gigawatts (GW) of total operational solar photovoltaic (PV) capacity during the second quarter of this year. According to GTM Research and the Solar Energy Industries Association's (SEIA) Q2 2015 U.S. Solar Market Insight Report, the U.S. installed 1,393 megawatts of PV last quarter, showcasing both annual and quarterly growth.
So solar power is really the energy of today and indications are its growth in the future will provide for a healthier world as we confront the repercussions of climate change.
---
Peter D. Rosenstein Political consultant
Solar Power Today and Its Potential for the Future
Huffington Post, September 14, 2015
---
See what you can learn
learn more on topics covered in the film
see the video
read the script
learn the songs
discussion forum