---
The program is an incentive in HB 2021, a bill focused on pushing
power companies in Oregon to reduce their greenhouse gas emissions.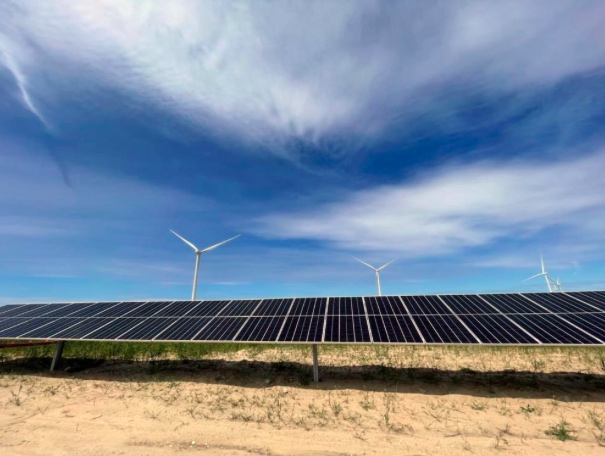 Renewable energy projects throughout the state have been awarded millions in grants -- and seven of the projects are in Southern Oregon.
The cities of Talent and Ashland, Rogue Community College, Phoenix-Talent School District, Medford School District, the Oregon State Police and Southern Oregon University will all receive money through the Community Renewable Energy Program, a grant program through the Oregon Department of Energy.
Half of the local awards will go for construction and half will be used to plan future projects.
"That's one of the really cool things about this program. It supports that planning side of the project that smaller organizations might not have the resources to do on their own. Then, if they can, come back and apply for the funds for construction," said Jennifer Kalez, communications director for the Oregon Department of Energy.
The city of Talent will receive $116,635 to construct two net-metered solar power sites using solar tracking stands with battery storage to supply back-up power for the city's Community Center, which will serve as the Emergency Response center, according to an email sent by Kalez.
Phoenix-Talent School District was awarded $1 million to build a ground mounted net-metered solar unit with battery storage, providing up to 500 hours of backup power. The installation will also include microgrid controllers to be able to use school facilities as an emergency shelter.
The district is one of several projects that include microgrid controls, or the ability to run the system if the main grid goes down, Kalez said. Without them, it can be difficult or impossible for renewable energy systems to operate independently of the grid. Like several others, the project is net-metered -- or has the ability to feed unused power into the grid and receive a rebate for it, she said.
Oregon State Police were awarded $38,273 to install net-metered, roof-mounted solar panels at its Southern Command Center with microgrid circuitry to use the electricity directly in the building.
SOU will receive $1 million to construct a net-metered solar array on elevated parking structures. The system will provide eight new electric vehicle charging stations.
The city of Ashland's $98,840 award will be used to create plans for a small "solar farm" -- a low-income community solar program.
Medford School District will get $85,000 to plan for a future project installing net-metered solar panels at two schools to provide electric vehicle charging and back-up power and storage.
Rogue Community College will use its $100,000 award to plan for a net-metered solar panel system with an energy storage microgrid at the Redwood Campus. The system would be used to power a back-up drinking water system on campus in case of an emergency. The plan will also consider creating electric vehicle charging stations at all three RCC campuses.
The Community Renewable Energy program was created through House Bill 2021, a bill introduced and sponsored in the Oregon Legislature last year by state Rep. Pam Marsh, D-Ashland. The budget for the program was $50 million, and she hopes to invest more.
"If we can get our Republican representatives to come back, we're going to put more funding in the program and get it through the next biennium because it's successful.We're seeing some cool projects funded," she said.
The program is aimed at creating opportunities for local governments and small "public bodies" -- such as school districts and tribes -- to generate their own power and thereby increase the availability of renewable energy and decrease reliance on the main power grid, Marsh said. Projects focused on resilience are given special preference in light of the weather in recent years.
"We've had continued challenges to the grid from changes in weather patterns, things like ice storms, heat waves, wildfires, multiple impacts. We have to have the ability to take care of people, for localities to be secure in power outages," Marsh said.
The program is an incentive in HB 2021, a bill focused on pushing power companies in Oregon to reduce their greenhouse gas emissions.
The bill requires retail electricity providers to reduce annual greenhouse gas emissions by 80% below baseline emissions by 2030, by 90% below baseline emissions by 2035 and 100% below baseline emissions by 2040.
"We deliberately made the grants accessible for those investor-owned utility companies, because we want them to be empowered to make these changes," Marsh said.
The providers are also required to create a plan for how they will meet these goals and submit those plans to the Department of Environmental Quality and the Public Utility Commission. The state's two largest providers -- Pacific Power and Portland General Electric -- have submitted plans that are currently under review, Marsh said.
Kalez said the program has already awarded about half of its funding and will continue funding projects through 2024 -- and beyond if more funding comes through the Legislature.
Related Sites:
Batteries Included - Fact Sheet by Jo Seel & Will Gorman, Lawrence Berkeley National Laboratory, April 2022

---
Morgan Rothborne
Millions Coming for Local Solar Projects Around Oregon
Capital Press, June 8, 2023
---
See what you can learn
learn more on topics covered in the film
see the video
read the script
learn the songs
discussion forum