---
The $520 Million White House Bid to Widen Access to Solar.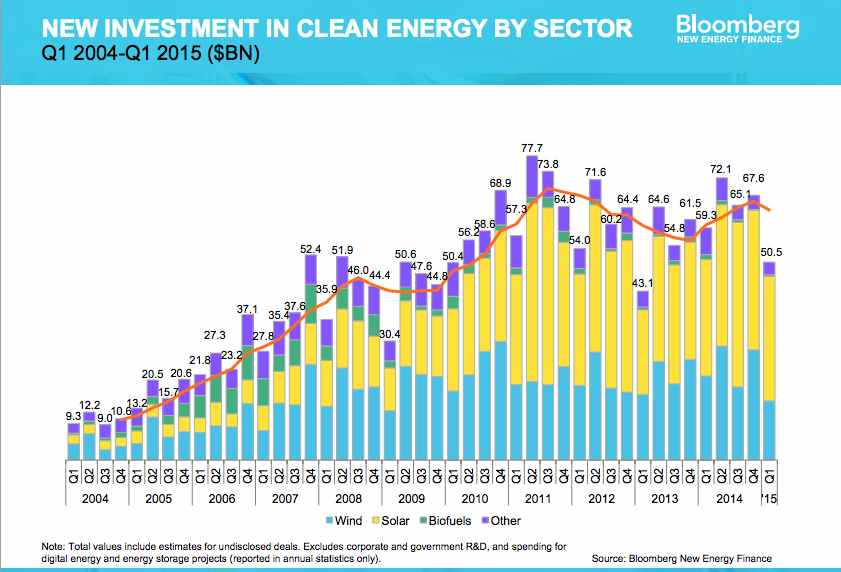 When solar panels first started appearing on rooftops, the buildings beneath those roofs were uniformly wealthy.
The up-front investment required to install solar, at $10,000 or more, was usually just too big a barrier for most U.S. households, not to mention those living paycheck to paycheck. The same could be said for small- or medium-sized businesses with tight cash flow.
In recent years, however, new business models from companies such as SunPower, Sungevity, SolarCity and Sunrun began extending leases and power purchase agreements to residential and commercial markets, making solar more accessible by cutting upfront costs.
Evolving investment models from such companies as Solar Mosaic and NextEra Energy Partners, through instruments such as yield cos and green bonds, have also emerged to democratize solar to some institutions, like schools.
Still, even with today's busy solar market -- as illustrated by a 75 percent jump in new installations this year compared to last year alone -- the renewable energy market remains largely divided between "haves" and "have nots," largely separated by long-established income and property ownership disparities.
Now, the Obama administration is aiming to start changing that. Last week, the President -- fresh off of announcing a $4 billion renewable energy fund with private investment partners -- has unveiled a set of initiatives to bring increased access to solar energy and solar jobs.
The "Increase Solar Access for All Americans" plan involves private sector investment of $520 million and partnerships with Citigroup, GRID Alternatives, SunEdison and half a dozen other companies as well as several states and cities.
Goals include; deploying 300 megawatts of solar electricity on federally-subsidized housing, training 76,000 people in solar jobs and spurring investment in 260 solar projects that would help low-income communities. U.S. military veterans will receive priority in job training.
The combined economic development emphasis on renewable energy alongside workforce training and housing also represents broader planning efforts underway in cities like Los Angeles, Seattle and New York to increase both environmental and social sustainability.
Stan Greschner, vice president of government relations at GRID Alternative, which will lead the job training portion of the Obama administration's new effort, told GreenBiz that the nonprofit will expand its programs but keep the same approach.
"At GRID we've been trying to push and lead the conversation that everybody should have access to solar energy and jobs -- to widen access to communities not participating in the clean energy economy," Greschner said.
But it's been a tough haul because solar generally still requires some discretionary income or high credit scores.
"Having the White House take the lead says to the country this is an important issue," he said. "It is a signal to the private sector, cities and states to invest."
Despite some gains provided by lease arrangements and yield cos, which have allowed some small businesses to be able to transition to solar, solar is still generally not available or seen as available to lower-income households.
"The biggest impediment continues to be the up-front costs" of installing solar, including equipment and permitting costs, Greschner said. "Although costs are down significantly in the past five years, they still remains a barrier."
While business models are beginning to scale and increase accessibility, strict limitations remain.
"Leases and PPAs are great but they require high credit scores and low-risk loan profile," he said.
One key characteristic of the new White House effort is a diverse cross-section of participants, from big banks to energy utilities to nonprofits or state and municipal governments.
NRG Energy Inc, Sun Edison, GRID Alternative, Citigroup, First Solar Inc., CPS Energy, Spear Point Energy, Grand Valley Power and Black Rock Solar are just some private companies which committed to be involved in the White House initiative, along with the National League of Cities; the states of New York, California, Hawaii and Vermont; the city of Cincinnati; the District of Columbia; and local government agencies and utilities.
Post-Solyndra syndrome
With the Solyndra loan debacle now years away, and evidence that solar energy is enjoying something of a heyday, the federal government is increasingly wading back into the market. Even as overall investment in renewable energy lags, solar stands out, according to Bloomberg.
New figures released by Bloomberg New Energy Finance this week indicated that solar investment is up 23 percent this year over last as of the second quarter.
Investors and companies and consumers all want to be in. According to Wiser Capital, one in three corporate investors say they plan to invest in solar over the next five years while 83 percent have said doing so is a priority. Why? Because solar is now seen as a money saver and a safer bet.
"I think there's a growing comfort with the asset class as a stable and reliable return. People are starting to understand the industry," said Megan Birney, investment manager and director of strategic affairs at Wiser Capital, a renewable energy investment firm.
Yet it varies state to state. Some states such as North Carolina and Arizona not only got rid of state tax incentives for solar installations but have imposed small fees to solar energy users, in a bid to save costs of coal-based utilities.
And in 18 months, the federal Investment Tax Credit for residential solar installations, a 30 percent tax credit, is set to expire.
So some observers say a new initiative coming out of the White House can partly make up for that as well as make jobs and financing more equitable across states because programs will not be dependent on the state politics around oil and coal and renewable energy.
"The phase-out of the ITC in a couple of years could depress the market but this is a little bit of a counter, so the industry as a whole should keep growing," Birney said.

---
Barbara Grady
The $520 Million White House Bid to Widen Access to Solar
GreenBiz, July 15, 2015
---
See what you can learn
learn more on topics covered in the film
see the video
read the script
learn the songs
discussion forum