---
Community solar project from Flathead Electric Cooperative
highlights opportunities in renewable resource development.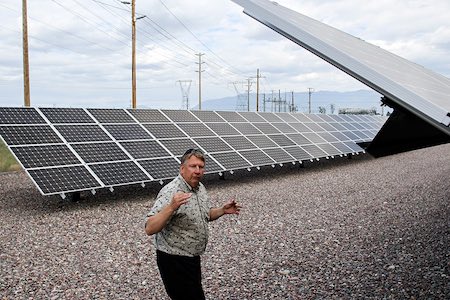 Out in a gravel field, next to Flathead Electric Cooperative's humming Stillwater Substation, sit four sections of future plans, hopes, and ideals soaking up the sunlight.
More than 350 solar panels stand sentinel just north of the intersection of Whitefish Stage Road and Reserve Drive, put in place last September to absorb energy from the sun.
While solar panels are no longer uncommon, the Sun Utility Network program is different. Like a community garden, this program allows individuals to purchase a single panel in the huge array, and each person reaps the benefits that the panel produces.
Flathead Electric Cooperative has spearheaded the project for the last few years, and with the official dedication ceremony last September, 356 panels in four sections went online. And of those panels, all but 17 were already purchased as of last week, according to FEC spokesperson Wendy Ostrom Price.
"We didn't know how it was going to go, so we're very happy with this," Ostrom Price said, standing in front of the panels last week.
The success of the project has been exciting for FEC, a company that usually deals with the distribution side of power, as opposed to the creation and cultivation side. The SUN program, Montana's first community solar project, has diversified the cooperative's energy interests, Ostrom Price said, and was driven largely by consumer demand.
"We've had members express to us their desire to support solar development," she said. "People are not buying these solar panels because it's an economically viable thing to do. They're doing it to support solar energy. We're doing it to meet their needs and diversify."
While it's true the numbers don't pencil out to automatic wealth, the solar panels in the SUN project are a long-term investment. The initial cost is about $900, but after a federal tax credit knocks off 30 percent, a panel costs about $630. This amount can be paid up front, or in $75 per month payments.
Owners can expect to generate about 30 kilowatt-hours per month on their individual panel, and then that power is credited to their account as it goes into the grid. Ross Holter, director of energy and member services, said it equals about $25 per year.
That means the panel will pay for itself in about 21 years, Holter said, though the owner does get the advantage of prepaying for power for the next couple of decades at a rate they locked in this year.
Ostrom Price said one customer purchased 19 panels, effectively paying for the power he will need in his simple cabin for the rest of his life. Another woman in her 90s bought panels for each of her grandchildren, knowing she would not see the financial payback but hoping her progeny would. (The Flathead Beacon owns two panels as well.)
SUN has made solar energy more accessible, Ostrom Price said, because people don't have to spend thousands of dollars on home solar kits or worry about installing them on a rental or home they might leave. Already, similar projects have popped up in Missoula and Ravalli counties.
Patrick Barkey, the director of the Bureau of Business and Economic Research, said the interest in such projects shows the emotional connection to renewable energy sources, but there are still many hurdles facing the industry, most notably the inability to efficiently and effectively store wind or solar energy when the wind isn't blowing or the sun isn't shining.
"Some of the things going on in solar have been more symbolic and demonstrative rather than having a big impact on the power sources," Barkey said. "But one of the biggest developments that has bearing for solar is happening in the Flathead."
Barkey was referring to ViZn Energy Systems' new battery prototype, which is making strides, particularly with interest from Germany. But the lack of a storage system still plagues many renewable energy projects, Barkey said, because the peak hour of energy usage is rarely during the heart of a sunny day.
"That (peak hour) is usually in the winter, at least in Montana, and is often in the early morning in the winter," Barkey said.
Tax credits are another potential roadblock in the future for renewable energy source development. The current federal credit knocking 30 percent off solar installations will end on Dec. 31, shifting down to 26 percent, and then 22 percent before it fully expires in 2021.
Mike Kadas, director of the state Department of Revenue, said the federal tax credits have more of an impact on people's decisions than smaller state tax credits do, but many Montanans have taken advantage of the state's financial boost while converting to renewable sources.
According to data that will be released in the department's upcoming fall biennial report, more than 11,500 Montanans used the state's energy conservation tax credit, for a total of $4,360,886, during 2014. That's nearly half a million dollars more than 2013, when energy conservation credit totaled $3,931,727.
Kadas said the cost of solar panels has decreased significantly in the last decade, allowing some credits to wind down. But other people will continue to purchase from renewable sources, he said, even if it costs a little more.
"In terms of motivations, money is one thing, but also people's values and beliefs is another," Kadas said. "I think clearly concern about the climate is driving some people to make those kinds of economic decisions."
That was the hope when FEC built the SUN array. They installed the panels without having sold a single one, Holter said, and people showed up very much in the if-you-build-it-they-will-come style. And the infrastructure needed to expand into a nearby field is already place.
It's a feel-good project, but it also sets up FEC to move more smoothly into the future, Ostrom Price said.
"These technologies are coming," she said. "We need to be ready."
For more information on the Solar Utility Network project, visit www.flatheadelectric.com or call 406-751-4483

---
Molly Priddy
Solar Energy Takes Root in the Flathead <-- Listen at original site.
Flathead Beacon, September 1, 2016
---
See what you can learn
learn more on topics covered in the film
see the video
read the script
learn the songs
discussion forum