---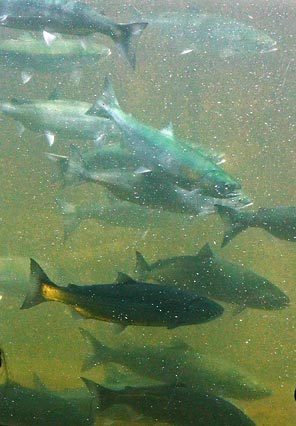 Apparently, sockeye salmon don't know about the dams.
They are back in record numbers this year.
What kind of record?
Well, more sockeye are coming upstream than have been seen since 1955, according to The Associated Press.
The returning numbers exceed any year since the last major dam was built on the Columbia or Snake rivers.
About 215,000 sockeye had been counted returning upriver by the end of last month.
At Lower Granite Dam, more than 800 sockeye were counted, the largest return since 1975, when the dam was constructed. That's 25 times the average return.
The time was when it seemed every fish swimming upriver had a $1 million price tag on its head and was escorted by a flotilla of environmental extremists warning that the end was at hand.
Turns out they were wrong.
There is disagreement over why the numbers are up so far.
Maybe, say some, it was the last two years' spills of extra water over the dams to help the young fish downriver. Maybe it was the litany of other changes at the region's dams.
Since sockeye may stay in the ocean one to four years before returning to their freshwater homes to spawn, it looks like we should have another two or three years of record runs.
But no one we know of is predicting that.
There are as many or more experts who believe ocean rather than river conditions are the big determiners of salmon counts.
For decades we've been told of the actions of El Nio and its beneficial effect on fish. Now scientists say the ocean is experiencing a cycle of nutrient-rich food upwelling in the Pacific.
We'll take it.
We might even stipulate that the dams cause some harm to some fish on the way downstream, but research shows it is a very small percentage of the fish. (bluefish recommends: Survival of Downstream Migration National Marine Fisheries Service, 12/21/00)
In other words, the battle cry "tear down the dams" that is still raised in these parts from time to time are mostly wasted.
The fish surely can't hear them.
Related Pages:
F&G Management Plans Helping in the Sockeye Recovery by Cal Groen, Idaho Statesman, 8/12/8
Don't Equate Strong Sockeye Return with Recovery by Rocky Barker, Idaho Statesman, 8/10/8
---
Editorial Board
Sockeye Get Past Their Dam Problem
Tri-City Herald, August 7, 2008
---
See what you can learn
learn more on topics covered in the film
see the video
read the script
learn the songs
discussion forum