---
'Conversion Rate' Last Dam To Lakes 50 Percent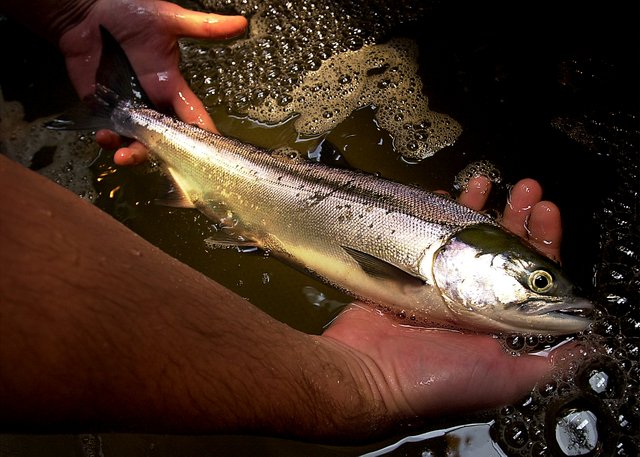 Fisheries officials corralled a total of 34 endangered Snake River sockeye salmon Wednesday in what has become an annual "roundup" of fish balking downstream of a cross-stream weir on the Salmon River in central Idaho's high country.
The weir at the Idaho Department of Fish and Game's Sawtooth Fish Hatchery, and one nearby on Redfish Lake Creek, are manned each late summer and fall to capture and evaluate sockeye spawners returning to the Stanley basin. The sockeye are held at Eagle Hatchery near Boise until spawning time.
This week's roundup involved wading biologists actually shooing the fish upstream toward the weir/trap.
A portion of the sockeye will be returned soon to central Idaho and released into Redfish Lake so they can spawn naturally. Others will be incorporated into the Snake River Sockeye Salmon Captive Broodstock Program, a multi-agency and tribal effort started in May 1991 to protect the population's genetic structure and to prevent the further decline of Idaho sockeye salmon.
The program releases both eggs and fish back to the habitat in a variety of ways. Fertilized eggs are planted in egg boxes and placed in lakes in the fall, presmolts are released directly to lakes in the fall, smolts are released to outlet streams in the spring, and prespawn adults are released to lakes in the fall. Smolts are sockeye in their second year that have reached the life stage where they are ready to begin the journey to the ocean.
A monitoring and evaluation effort is in place to document the success of the different reintroduction strategies.
Because of extremely low return numbers NOAA Fisheries in November 1991 listed the Snake River sockeye as endangered under the Endangered Species Act. Between 1991 and 1998, only 16 wild sockeye salmon returned to Idaho. All of these adults were incorporated into the captive breeding program and spawned at the Eagle Fish Hatchery.
Over the past twelve years, between 1999 and 2010, 3,193 hatchery-produced adult, sockeye salmon returned to the Sawtooth Valley. For comparison, in the 14 years from 1985 through 1998, 77 natural-origin sockeye salmon returned to Idaho.
The bulk of the fish that have returned so far this year, 161 out of 218, are of hatchery origin. A total of 57 "natural" origin sockeye have been trapped this year through Sept. 1. They were produced by "residual" sockeye that have resided in freshwater throughout their life cycle; from captive adult releases that spawned naturally and produced juvenile outmigrants, or from fertilized eggs that were outplanted in neighboring lakes, Pettit and Alturas. The adult releases include fish that began life in a hatchery, others that were released as juveniles and swam to the ocean to mature and return to spawn and also sockeye that were raised to adulthood in captivity.
This year's return will likely come close to matching the 2000 total of 257 adult sockeye, which is the fifth highest total since the late 1970s. The four highest totals were from 2008 through 2011, ranging from 650 to 1,355 adult fish. After leaving the Pacific the sockeye swim 900 river miles up the Columbia, Snake and Salmon rivers, passing up and over eight dams during their trip.
The uppermost dam, Lower Granite, is located about 400 miles downstream of the Stanley basin.
As of Wednesday a total of 459 sockeye had passed Lower Granite.
"We're at about a 50 percent conversion rate," Eagle Hatchery manager Dan Baker said of the survival rate of the sockeye from Lower Granite to the Sawtooth and Redfish Lake Creek weirs. For reasons unknown, at least at this point in time, that conversion rate is lower than the 60-70 percent conversion rate achieved in recent years.
Lower Granite sockeye counts have slowed to a trickle with nine total passing during the past week (ending Sept. 5). Trapping counts up in the Stanley basin have ranged from 2 to 6 fish daily over the past week.
The captive broodstock program is largely funded by the Bonneville Power Administration as mitigation for impacts to fish caused by the construction and operation of the federal Columbia River Power System, which includes which includes Columbia and lower Snake mainstem dams.
---
Staff
Most Returning Snake River Sockeye Hatchery Origin
Columbia Basin Bulletin, September 7, 2012
---
See what you can learn
learn more on topics covered in the film
see the video
read the script
learn the songs
discussion forum