---
New hatchery could improve species' prospects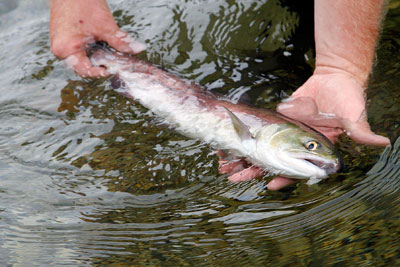 Given smolt survival rates in 2011, the number of sockeye salmon returning to Redfish Lake this year is disappointingly low. However, due to the startup of a new hatchery in southeastern Idaho, the species' long-term prospects look brighter.
The Idaho Department of Fish and Game reported that a total of 263 sockeye have reached two traps in the upper Salmon River basin, one at the Sawtooth Fish Hatchery and one at nearby Redfish Lake Creek. That's a little better than the 243 fish that arrived last year, but far fewer than the 1,071 that arrived during the banner year of 2011. In 1992, only one fish reached Redfish Lake Creek -- the legendary salmon named Lonesome Larry.
"It's not as high as it was a couple of years ago, but it's not in the basement either," Eagle Fish Hatchery Manager Dan Baker said. "We'll probably be in this sort of range for the next few years."
A spokeswoman for the Sawtooth Fish Hatchery said Tuesday that the department was in the process of pulling the traps out, ending the count for the year.
Redfish Lake sockeye were listed as endangered under the federal Endangered Species Act in 1991 and are now protected from fishing. Historically, up to 30,000 sockeye spawned in the Sawtooth Valley lakes each year.
Baker said this year's returns, made up of fish that left Redfish Lake two years ago, may have suffered from high water temperatures and low flows this summer.
"You're going to have natural ups and downs from year to year depending on the conditions," he said.
Baker said that about 80 fish were kept for the department's smolt rearing program at the Eagle hatchery and the rest were released to spawn and die in Redfish Lake. He said the captive fish have begun to spawn and the lake fish should be starting to as well.
The species should benefit from the new Springfield Hatchery, dedicated Sept. 6 on the upper end of American Falls Reservoir on the Snake River. Baker said the plan is to rear about 1 million smolts annually there. Those will be added to the approximately 200,000 smolts that are released each year at the Sawtooth Hatchery and the Oxbow Hatchery at Cascade Locks, Ore., just upstream from the Bonneville Dam.
Baker said the first batch of eggs will be sent to the new hatchery in December, and the first class of smolts will be transported to Redfish Lake and released in May 2015. Whatever number survive will return to the lake in 2017.
"If the program expands, we'll probably release some adults in Pettit Lake and Alturas Lake," he said.
Of all the North American sockeye populations, Redfish Lake sockeye reach the highest elevation -- more than 6,500 feet -- run the longest distance -- about 900 miles -- and travel the farthest south.
Related Pages:
Idaho Sockeye Hatchery Open for Business by Bill Rudolph, NW Fishletter, 9/19/13
Lonesome Larry Lives On: Sockeye's Genes to be Used at New Hatchery by Michael H. O'Donnell, Idaho State Journal, 9/7/13
New Sockeye Hatchery to Open Near American Falls Reservoir by Associated Press, Times-News, 9/4/13
Dedication for New Hatchery Intended to Move Snake River Sockeye Recovery to Next Level by Staff, Columbia Basin Bulletin, 8/16/13
---
Greg Moore
Sockeye Returns are Somewhat Low
Idaho Mountain Express, October 2, 2013
---
See what you can learn
learn more on topics covered in the film
see the video
read the script
learn the songs
discussion forum